Diversity and inclusion have become vital, beneficial aspects of company culture. First and foremost, ensuring that organizational culture is diverse and inclusive is morally sound and proves to employees and customers that a company values its people highly. Second, it promotes a better bottom line. According to Business News Daily,1 "...organizations with diverse workforces are 35% more likely to have above-average profit margins than companies with more homogenous employee bases." Additionally:
Inclusive teams outperform other teams by 80 percent.2
Gender-diverse companies are 15 percent more likely to perform at a higher level than other companies, and ethnically-diverse companies are 35 percent more likely to outperform their peers.3
Inclusive businesses are 2.9 times more likely to identify and build leaders and 1.7 times more likely to be innovation leaders in their market.4
One way to facilitate a company culture that makes all individuals feel welcomed and valued and maximizes employee performance is to create an inclusion and diversity training program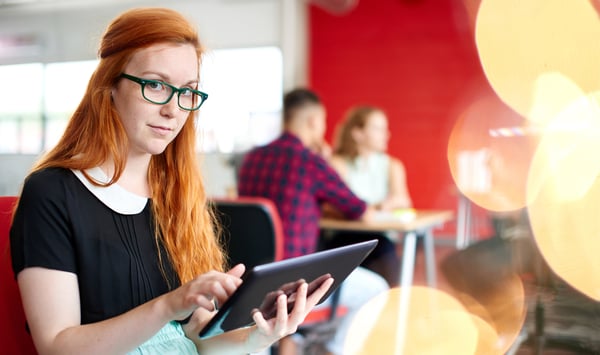 4 Tips for Creating an Online Inclusivity
and Diversity Training Program
Here's how to create online diversity training that gets great results:
1. Deploy an Online Learning Platform
The first step in assembling diversity training is to launch an eLearning system. A learning management system (LMS) is the right choice for many organizations because it features tools that foster content creation and allow administrators to easily deliver, track, and report on training. Once the diversity and inclusion training program content has been created, the course can be added to each employee's personalized online learning path. This feature would help learners remember to participate in diversity training and ensure they work through the training program in a timely manner.

Related Reading: 4 Easy Ways to Train a Diverse Workforce
2. Conduct a Training Needs Assessment
Once a learning management system, or some other type of eLearning platform, has been chosen, companies should conduct a training needs assessment. This will help them determine which diversity training topics will be most relevant to workers. Using this information, organizations can create effective training courses that avoid redundancy and narrow skills and knowledge gaps related to diversity and inclusion. A training needs assessment can also help administrators add specific content to an individual learner's inclusivity and diversity training program, depending on what type of skills and knowledge they are lacking.
Learn how to conduct a training needs analysis with eLearning Industry's 5-Step Guide For Conducting A Successful Training Needs Analysis.


3. Set Goals for the Program
As soon as you conduct a training needs assessment, it will be time to set some goals for your inclusivity and diversity training program. With learner training needs targeted, company leaders should determine what outcomes they want to see from the program before creating online courses. For example, any company that implements this type of eLearning program wants to see more inclusive behaviors from workers, but they need to specifically define what behaviors they want to see before developing course content. By having clear-cut goals for the training program, your company's L&D professionals can more easily create content for it.

4. Create Courses for the Program
After you've deployed a learning management system, conducted a training needs assessment, and set goals for the training program, you are ready to create courses that will make up the online inclusivity and diversity training program. Courses should be based on your organization's goals as well as the needs of your employees. Potential course topics could include addressing implicit bias, promoting gender equality, and optimizing diversity on teams. LMS content management and content creation tools will enable you to craft the diversity training content your organization will benefit most from. Alternatively, you can purchase diversity-themed courses from a third-party vendor or directly from your LMS provider, in some cases.
Has COVID-19 made employee training more difficult? If so, explore our COVID-19 eLearning Resources for helpful remote learning solutions.

Put Employees First and Promote a Better Bottom Line by Prioritizing Diversity in the Workplace

Referring to diversity in the workplace, Josh Bersin5 wrote in 2019, "...this topic has been raised in the public eye and research now proves that companies with great diversity outperform their peers by a significant margin. If you aren't taking this topic seriously, you should be." Launching an inclusivity and diversity training program is a logical step to take toward creating a company culture that puts people first while simultaneously fostering better performance and higher revenue.

The quicker you deploy an LMS, the quicker you can offer diversity training. With the TOPYX Quick Start Program, organizations can launch an eLearning system rapidly and begin creating a more diverse organization in record time.
---
Sources:
1. https://www.businessnewsdaily.com/9782-diversity-training.html
2. https://www2.deloitte.com/content/dam/Deloitte/au/Documents/human-capital/deloitte-au-hc-diversity-inclusion-soup-0513.pdf
3. https://www2.deloitte.com/content/dam/Deloitte/au/Documents/human-capital/deloitte-au-hc-diversity-inclusion-soup-0513.pdf
4. http://joshbersin.com/2015/12/why-diversity-and-inclusion-will-be-a-top-priority-for-2016/
5. http://joshbersin.com/2015/12/why-diversity-and-inclusion-will-be-a-top-priority-for-2016/