Over $130 billion is spent globally on corporate training each year.¹ Leaders are understanding more than ever that an employee's foundation of valuable skills is critical in building successful companies. Consequently, leaders are investing accordingly.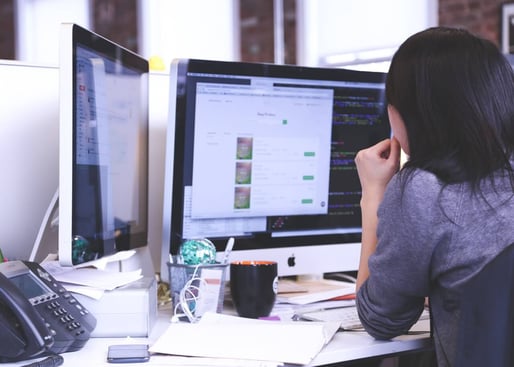 Among many benefits, employee training results in a more satisfied and retainable workforce. Entrepreneur stated, "According to Canadian tourism and hospitality HR association Go2HR, around 40% of employees who do not receive adequate training end up leaving their post within a year."² 'Adequate' is the key word here. If training is not sufficiently engaging, challenging, and relevant, it will not bolster skill sets or encourage worker loyalty.
To Ensure Quality Training, Measure Its Effectiveness
Quality corporate training is paramount, and will only work if training effectiveness is measured. Calculating the potency of employee training helps leaders:
Determine what is and isn't working with training.

Make helpful changes to an L&D initiative.

Understand how training individually impacts employees.
Delivering a corporate training program is only half the employee training battle. The other half is measuring the effectiveness of an L&D program. A corporate LMS is an ideal tool for accomplishing this.
Related Reading: How to Design an Effective LMS Training Program

3 Ways to Calculate Training Success Through an LMS
There are a variety of methods company leaders can use to verify the success of an L&D program. One is by using a social learning management system (LMS).
An LMS, also referred to as an eLearning system or online learning platform, is a computer software program designed to deliver, track, and report training. Three ways an LMS helps corporate leaders accurately measure the effectiveness of employee training include:
Enabling the custom design of scenarios and simulations

-- A major perk of an LMS is that it allows administrators to custom design scenarios and simulations. These are perfect for measuring the results of training since simulations can be built to test an employee's knowledge of skills relayed in training. eLearning expert Christopher Pappas wrote, "(In the simulations and scenarios), ask (employees) to perform specific tasks, and observe the outcome of the scenario to check if the participants pass or fail the test. If they fail, you may need to revise your method, modify certain behaviors, remedy mistakes, or to provide additional training content until they master the learning objectives."³
Providing insight through LMS reporting features

-- When measuring the outcomes of training, put an

LMS' reporting features

to full use. These features give instructors, managers, and executives access to easy-to-read reports that reveal employee training performance. Reports provide leaders immediate feedback about what is and isn't working for individual employees, and helps them make impactful changes to training.
Gleaning worker feedback through surveys

-- In the past, surveys were essential to the process of determining training effectiveness. Most corporate LMSs offer updated, paper-free

surveying/polling tools

that make it effortless for workers to provide feedback on training. A learning management system's reporting tools quickly deliver the contents of surveys to administrators, giving them an instant rundown of employees' personal experiences with training.
Billions of dollars each year are spent on corporate training. Carefully measuring the effectiveness of training can go a long way toward maximizing a company's training investment. An LMS is a tool created to do this. Request a demo of the award-winning LMS TOPYX today.
---
References
Forbes. Spending on corporate training soars: employee capabilities now a priority.

https://www.forbes.com/sites/joshbersin/2014/02/04/the-recovery-arrives-corporate-training-spend-skyrockets/#2abefd40c5a7

. Feb 4, 2014.

Entrepreneur. How investing in employee training benefits your business.

https://www.entrepreneur.com/article/275842#

. May 16, 2016.

Pappas, Christopher. 8 Tips to Measure Your Online Training Effectiveness.

https://elearningindustry.com/8-tips-to-measure-your-online-training-effectiveness

. June 1, 2015.