The majority of companies offer employee training of some type, but not all training is geared toward individual learners. The fact that 33 percent of employees are disengaged at work makes this evident as quality, personalized employee training can contribute to greater levels of overall engagement.1
Learners are more likely to be engaged with training that is designed with their needs in mind and isn't one-size-fits-all. By designing learner-centric remote training materials for your workforce (for example, eLearning that uses inclusive language and includes real-life scenarios and interactive elements), you can promote higher rates of employee engagement and a better ROI for your company's investment in training. You can also encourage learners to take greater responsibility for their own training experiences.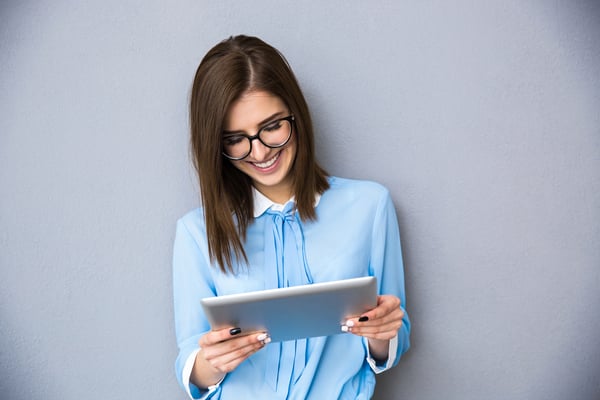 3 tips for making corporate
eLearning learner-centric
There are many benefits to offering learner-centric online employee training. eLearningIndustry.com2 cited the following benefits of a learner-centric online learning program:
It offers a fully personalized training experience
It boosts knowledge retention
It improves on-the-job performance
It builds teamwork and critical thinking skills
It creates an online training environment that ties into a real-world context
Here are a few ways your company can ensure training is centered on learners and their personal needs:
1. Give learners control over their own learning experience
A large aspect of creating learner-centric training is giving learners more control over their own learning journey. "In a learner-centered training environment, employees are in control of their own online training experience," stated eLearningIndustry.com.3 When an eLearning course is self-paced, it truly is about the learner as it can be completed on their timetable. Offering on-demand eLearning courses that can be accessed via mobile device will enable you to make learning self-paced for your employees.


2. Survey employees to create relevant training
Employee training doesn't have to be dry and uninteresting. It can be intellectually rich, engaging, and fun. To ensure your company's eLearning program truly speaks to employees and adds value to their lives, make sure it is relevant. To do this, simply survey individual employees to find out what their training goals are. Once you understand what your workers' training goals are, you can pass that information along to your L&D team members. They will then have the information necessary to create eLearning that is more relevant to employees and add it to their online learning paths.
Related Reading: Does an Online LMS Increase Employees Engagement?

3. Invest in an online learning platform that personalizes training
Not every online learning platform promotes personalized training, but a learning experience platform does. A learning experience platform (LXP, or sometimes LEP) is a software tool used to create and manage customized virtual learning experiences. LXPs are used by a variety of businesses, brands, and organizations to remotely teach or train employees, customers, members, and volunteers. LXPs are beneficial for companies not just because they deliver personalized training recommendations that are curated specifically for each learner, but also because they promote learner buy-in and help employees effortlessly fit training into their workdays.
Related Reading: 3 Benefits of a Learning Experience Platform (LXP) for Employee Training


Find an LXP geared toward your employees' training needs
In 2019, the LXP market was valued at over $300 million.4 Many new LXPs are on the market today, and there are more to come. This may make it challenging to find the right learning experience platform for your company. To get started, give TOPYX learning experience platform a try. TOPYX LXP will create individualized learning experiences for each of your employees via social learning through chat, forums, and online communities, badging and gamification, standardized and personalized learning paths, and mobile learning and certifications. Request a demo of TOPYX LXP to learn more.
---
Sources:
1. https://elearningindustry.com/5-tips-for-combating-employee-disengagement
2. https://elearningindustry.com/top-5-benefits-learner-centered-online-training
3. https://elearningindustry.com/top-5-benefits-learner-centered-online-training
4. https://joshbersin.com/2019/03/learning-experience-platform-lxp-market-grows-up-now-too-big-to-ignore/