As of April 2020, 66 percent of employees were working from home due to the coronavirus crisis.1 This has not only created logistical problems for employers but also caused many employees to feel disconnected from their coworkers. As the pandemic shows no sign of slowing, it's vital that companies do everything they can now to ensure remote and on-site employees remain connected. In fact, organizational leaders can create a workforce that is more in sync than ever before in the midst of the pandemic.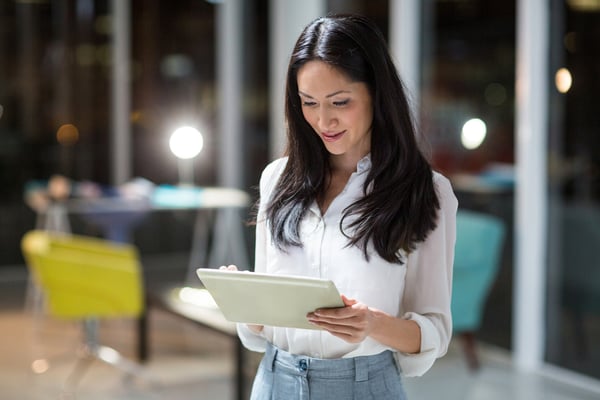 3 ways to create a connected workforce as the
third wave of COVID-19 approaches
The COVID-19 pandemic has caused workforces to become dispersed and emotionally detached. With these tips, you can reconnect your employees and strengthen your company as the third wave of the coronavirus crisis hits:
1. Add small segments of cross-department training to employees' learning paths

Empathy is a key ingredient to connected company culture. And in these unsettling times, empathy is critical. L&D leaders can build empathy among staff by simply adding segments of cross-department training to their online learning paths. "Cross-department training can help instill into employees a healthy understanding and respect for different job positions," stated eLearningIndustry.com.2 "This is usually lacking in organizations without a cross-department training program, where it's easy for one class of employees to dismiss the importance and difficulty of the work performed by another team."
Segments of cross-department training don't need to be large to be effective. As employees, whether remote or on-site, gain even a slightly better understanding of some of their peers' daily job tasks, they will feel more connected to their coworkers.
Related Reading: How eLearning Tools Enable Remote Training During the COVID19 Pandemic

2. Allow employees to contribute to training
Another way to promote cohesion in a dispersed workforce is by enabling employees to contribute to training. This not only boosts connection by exposing learners to training created in part by their peers, but it also promotes knowledge sharing. "As corporate organizations get more digital and employees have access to a ton of information, the concept of knowledge sharing becomes critical," explained a contributor to Everyone Social.3 "Not only is knowledge sharing important for the internal communication between executives and employees, but to develop a more unified and engaged workforce." Companies can use an online learning platform such as a learning experience platform (LXP) to enable employees, like seasoned professionals and subject matter experts, to contribute to training.
Related Reading: 3 Ways an LXP Simplifies Employee Training

3. Give employees a voice concerning COVID-19
It's important that every employee, no matter what location they work from, feels they have a voice concerning the COVID-19 pandemic. There is no employee the coronavirus crisis hasn't affected, and you can use eLearning social learning tools, such as forums and online communities, to enable learners to voice their experiences and concerns about the pandemic. This will promote connection by helping employees discover common ground with their coworkers.
Also, giving employees permission and an online space to discuss how the pandemic is impacting them personally and connecting them with resources designed to help them succeed at work as the pandemic continues to develop will help your organization build trust with staff.
Related Reading: 3 Ways COVID-19 is Changing Learning in the Workplace
Connect your workforce using a learning experience platform (LXP)
The quickest way to bring your employees together virtually and provide them with a sense of normalcy is by implementing an online learning platform. If you want to create remote training experiences that are individualized for each employee, a learning experience platform may be right for you. An LXP is a software tool used to create and manage customized virtual learning experiences. Learning experience platforms are used by a variety of businesses, brands, and organizations to remotely teach or train employees, customers, members, and volunteers.
LXPs are great at connecting dispersed workforces because they feature social learning tools that make eLearning more engaging. Request a demo of TOPYX LXP to learn more about how a learning experience platform can help you reconnect your workforce and build a stronger organization.
---
Sources:
1. https://smallbiztrends.com/2020/04/work-from-home-during-coronavirus.html
2. https://elearningindustry.com/benefits-cross-department-training-employees
3. https://everyonesocial.com/blog/knowledge-sharing/