In a 2020 survey, 70% of respondents said their organization used a learning management system (LMS).1 However, every company dealing with the aftermath of the coronavirus pandemic needs a learning management system. An LMS packs a major punch of benefits that no organization can afford to miss out on - especially those recovering from the effects of the pandemic.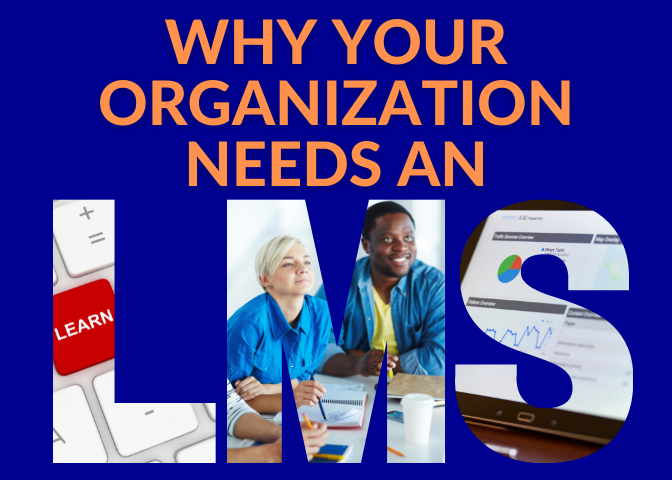 An LMS Supports Remote Training
Remote work is here to stay, according to the Laurinburg Exchange.2 The source cited a survey by PwC that was conducted in January 2021 that indicated 83% of employers believe the transition to remote work was a success for their organization. Just 17% are interested in returning to a pre-pandemic work model.
"Employees support it too, or some hybrid model of remote work and in-office time; in that same survey, over half of them said they preferred to work remotely three days a week or more," wrote a contributor to the Laurinburg Exchange. "Remote work doesn't appear to be going anywhere…"
The shift to virtual work has created an urgent need for better remote training. That's why an LMS is essential for companies. It makes it easy for organizations to provide remote training for their employees.
Setting up a remote training program can seem challenging, especially if you're starting from scratch. A full-featured, fully hosted learning management system makes it simple to implement remote training for employees.
TOPYX LMS can help you train your employees, members, customers, contractors, and volunteers remotely. With the TOPYX Quick Start Program, you can deploy remote training in a matter of days. TOPYX includes content on compliance, leadership, and covid-related course materials. TOPYX LMS also offers setup, training, and support at no extra cost. Features like LMS reporting, social learning, LMS integrations, and certifications management will make users' learning experiences engaging and promote LMS adoption.
An LMS Can Save Your Company Money
An LMS doesn't just enable companies to distribute, track, and report on remote training. Another way an LMS can benefit a company is by saving an organization money. Some organizational leaders may not be aware of this. There are a few reasons why an LMS can help these leaders cut business costs. For example, an LMS reduces the cost of corporate training and increases employee productivity.
In-person training, or classroom-style training, can be expensive. Imagine there is a company based in several locations, and each location has about 500 employees. Perhaps 30-50 employees could fit into one training space. Just think of the hours it would take to train all employees for just one session. And remember, the training spaces may need to be rented, and the instructors must be paid. This demonstrates how costs for in-person training can easily get out of hand.
eLearning can cost a fraction of the price of in-person training. Why? Because it eliminates the need for classroom rental spaces, travel related to training, physical training materials, and instructor salaries.
"If a participant needs to stay in a specific city in order to complete their course or certification, this can often be very costly," stated the article Online Learning vs In-Person Training: 6 Key Differences.3 "Going out of town for a couple days to attend a seminar or conference can also often be expensive."
In-person training can put a strain on a company's budget. Online training delivered via LMS is cost-effective if there are no per-user fees associated with the LMS. Note that an LMS that has a user cap and per-user fees can be a financial liability, so it's important to research LMS pricing models. A flat-fee LMS that enables remote training is your best bet.
Another reason why an LMS can improve a company's bottom line is because it promotes employee productivity. A contributor to Rallyware wrote,
"...a FlexJobs' survey published mid-December 2020 showed that 95% of employees are just as or more productive when working from home, while 51% claim their productivity increased. These are the employees at the companies who early on went through digital transformation adopting state-of-the-art communication and operational technologies."4
An LMS is a technology that encourages communication, training, and productivity. Launching a flat-rate LMS can result in a good ROI for training and a healthier bottom line.
An LMS Can Be Personalized to Learners' Individual Needs
In addition to enabling remote training and saving organizations money, an LMS can be personalized to the unique learning needs of users. Employees have different learning styles, different levels of experience, and different personalities. Because of these variables, online learning delivered through an LMS tends to be more effective than in-person training, which is often one-size-fits-all.
Unlike classroom-style training, eLearning courses can be tailored to meet employees' individual needs. According to Christopher Pappas, contributor to eLearning Industry,
"Every online learner has their own interests, strengths, learning needs, and knowledge base. Differentiated instruction in eLearning gives eLearning professionals the opportunity to create eLearning courses that honor these differences, instead of trying to make the learner fit into a 'typical learner' mold."5
An LMS gives employees resources that are helpful to them specifically (for example, videos for visual learners and interactive games for those who desire a more hands-on learning approach). Individualized learning paths make online learning the most effective, comprehensive style of corporate training available. And mobile learning enables employees to learn anytime, anywhere.
Mobile learning is one of the most important LMS features. Mobile learning drives employee engagement with training and increases a learner's chance of success with training. A few of the benefits of mobile learning include:
1) Accessible training - Online learning courses that can be accessed from anywhere, on any device give users the flexibility to learn at their own pace and on their own schedule. This boosts engagement.
2) Lower training costs - Most employees already own smartphones or tablets on which they can engage in mobile learning. This means there are no added hardware or connectivity charges for the company, which drives down training costs.
3) Increased productivity - Mobile learning gives employees the gift of flexible training. It provides them with freedom outside of office hours. With mobile learning, your employees can train at work, at home, or standing in line at the grocery store. This frees up time for them to be even more productive at work.
With the TOPYX LMS mobile learning feature, learners can access content on demand, regardless of location or time zone. All a user needs for a superior training experience is an internet connection and a mobile device.
An LMS Connects a Dispersed Workforce
Remote work and training may be good for productivity, but it can increase feelings of social isolation and make it harder for employees to connect. Since most companies have at least a portion of their employees working remotely, it makes sense that the majority of organizations should use an LMS to connect dispersed workforces. An LMS will help companies ensure workers feel like they are part of a community and enable employees to get to know their coworkers.
There are multiple ways an LMS unites a dispersed workforce. One way is through social learning functionality. Social learning accelerates content curation and knowledge sharing and enhances productivity for remote teams. It also allows administrators to create and moderate sustainable learning communities.
TOPYX LMS leverages current social functionalities for learners and adapts them to fit the LMS environment. Utilizing the TOPYX social learning feature gives administrators the ability to monitor user involvement while promoting a more engaged and collaborative online learning experience. The TOPYX social learning feature includes:
Communities for Advancing Learning
Forums, Upvoting, Media Galleries
Events and Publications
Marketing Announcements
Sponsor Links
Web Conferencing
Learn more about TOPYX LMS social learning functionality and how it can benefit your organization.
Additionally, many LMSs can be deployed in a number of major languages. This breaks down language barriers, promotes team productivity, and fosters social connection and organizational growth.
Why Your Company Needs TOPYX LMS
An LMS offers incredible benefits to any company. It is essential to successfully training employees throughout the pandemic and beyond, and ensuring they remain connected to the company. If you are in the 30% of businesses that don't currently use an LMS, you are missing out.
Looking for an LMS that makes remote training simple for both learners and administrators, cuts costs, provides a personalized learning experience for each user, and can connect a dispersed workforce? Look no further than TOPYX LMS. Best of all, there are no per-user fees associated with TOPYX. It is a flat-rate learning management system with no hidden fees.
Request a free LMS demo of TOPYX to learn more.
Wondering how TOPYX LMS has helped organizations successfully navigate employee training during the pandemic? Download the Convey Health Solutions Case Study.
References:
1) Statista. https://www.statista.com/statistics/826097/lms-use-learning-and-development/.
2) Laurinburg Exchange. https://www.laurinburgexchange.com/opinion/53828/remote-work-is-here-to-stay.
3) Sky Prep. https://skyprep.com/2021/03/23/online-learning-vs-in-person-training-6-key-differences/.
4) Rallyware. https://www.rallyware.com/remote-employee-training-vital-to-maintaining-productivity-in-a-post-covid-world.
5) eLearning Industry. https://elearningindustry.com/differentiated-instruction-in-elearning-what-elearning-professionals-should-know.