Forward-thinking technology companies understand that both employee and customer training is vital to increased productivity and a healthy bottom line. Many choose eLearning software to help them train their workforce. "eLearning can help IT companies and departments tremendously, addressing their training needs in an automated, centrally managed, time and cost-effective way," stated eLearning Fits the IT Industry to a T.¹

While online learning is a staple for most large tech companies, not just any eLearning solution will do. Choosing software that doesn't have the tools a tech company needs takes an organization further from its goals and wastes part of the training budget. Implementing an LMS with features designed to support the needs of technology companies helps effectively train staff and customers and maintain a competitive edge.
3 Common Features of the Best eLearning Software for Technology Companies
Here are three features every tech company should look for in an LMS:
1. Content management
LMS content management tools help technology companies provide customer training that the company can control access to. That means any information that's outdated can quickly be updated or removed so as not to confuse customers.

Using content management tools, administrators can create a comprehensive content library with all the necessary reference materials customers need, for example. Additionally, tiered levels of access can be created. Customers with lesser subscriptions would have access to less features.

While driving sales isn't the primary goal of content management features, creating training content that alludes to features included in higher subscription or product tiers could help tech companies generate more income by encouraging customers to purchase larger plans to gain access to more features.
2. Certifications
The right LMS for a technology company will include a certifications feature. LMS certifications support the needs of tech companies as some organizations only hire employees who are certified in the use of different software systems. Certifications confirm that workers possess the skills a job calls for and ensure a workforce's competency. Also, certifications benefit a tech company's customers by proving to the customer company that their staff is knowledgeable about the correct use of products.
3. Integrations and LMS reporting
Tech companies shouldn't invest in eLearning software that does not integrate with other systems via LMS integrations. For example, by integrating its LMS with a CRM, a technology company can more accurately measure customer engagement. The more engaged a customer is, the more likely they are to participate in more courses. Companies can use that information to devising sales strategies or referral programs that target engaged customers because they're more likely to make additional purchases and refer new customers.

LMS reporting tools also give administrators helpful insights into customer behavior, such as which customers have employee training on their software. Using these insights, they could correlate customer engagement and training with retention, as well as create training courses that appeal to a wider variety of customers.

Related Reading: How to Solve 3 of Your Technology Company's Key Challenges with an LMS
Are Your LMS Features Meeting Your Tech Company's Needs?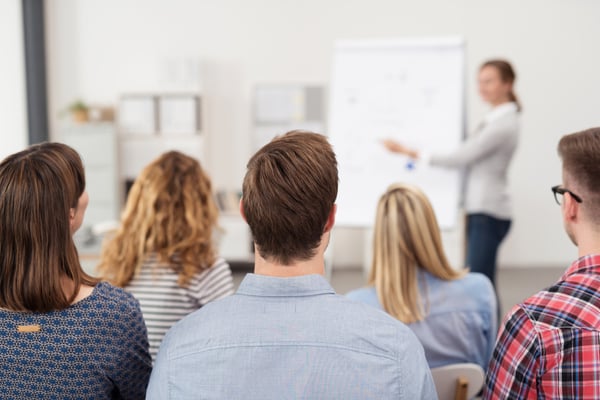 Conducting a training needs assessment will help you pinpoint exactly what you require from a learning solution. Whatever your tech company's needs are, the best eLearning software for your industry will provide features such as content management, certifications, integrations, reporting, and analytics. These tools will support organizational goals, promote growth, and drive sales.

Interested in learning about some additional eLearning software features that will benefit your technology company? Check out these key features.
---
References:

1. Talent LMS. eLearning fits the IT industry to a T. https://www.talentlms.com/industries/information-technology.