Training is like oxygen to a company. Without it, a company dies. With a healthy amount of it, an organization will not only survive but will also thrive. Most company leaders are fully aware of this and try to offer employee training, even if only during the onboarding process.
While it's good that employers provide training for their employees, it doesn't mean that training is always effective. Some methods of training delivery are simply more impactful than others. It's amazing how the same exact training content is more effective delivered through one method as opposed to another. Traditionally, employers have delivered training in-person, but today's organizational leaders are wising up to the fact that, like it or not, technology plays a huge role in training. As time marches on, technology will likely be solely relied upon to meet training needs.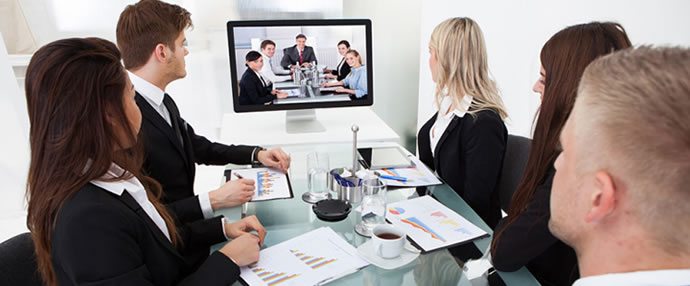 There is a vast array of technologies that are used to deliver training to employees. One is video. Video-based training has become quite popular. In the 2015 Video for Learning Pulse Survey, the Brandon Hall Group reported that about 95 percent of companies use some degree of video in their training1. The Brandon Hall Group commented, "When we consider the types of training available, video has the potential to be some of the most engaging, if used properly." Still, not every employer is into the idea of video-based training. What these individuals need is a little more information about what this type of training entails, how it benefits learners, and why it is more effective than other types of training.
3 Benefits of Video-Based Training Courses
Video-based training courses pack an impressive punch in the area of benefits. For example, a video-based training course is…
Convenient – It can be completed at home or on the go.
Self-paced – A learner can choose his or her own rate at which to advance in the course.
Knowledge retention promoting – It's proven that video-based courses benefit learners by increasing knowledge retention.
Let's take a closer look at each of these characteristics of video-based training.
Convenient

First and foremost, video-based training is convenient. Since learners access videos online, they can watch training videos anytime and any place, at home or at a coffee shop. A video's accessibility makes it extremely attractive to a busy employee trying to juggle the demands of life. Also, the more accessible training materials are, the more likely it is that they will be studied. It's safe to say that workers are more likely to watch a quick, engaging video than to complete take-home paper assignments or some other time-consuming training task.
Self-paced

The self-paced nature of video-based training is one of the main reasons for its appeal, especially to learners. Unlike traditional courses that pack a lot of information into a two- or three-hour session, video-based training can be consumed in bite-sized pieces. This helps workers retain the information their employers pay for them to be exposed to. Also, this promotes low-stress learning.
Increases knowledge retention

Any type of training can and does get monotonous. Video breaks up monotony by providing some much-needed variation in course-material delivery, which increases retention of information2. The Huffington Post's article Research Confirms Video Improves Learning Results3 says, "On the student side of things, video may be the best way to improve learning styles, especially when it comes to remembering key facts and figures. Forrester Research estimates one minute4 of online video equates to approximately 1.8 million written words." In short, video is a must for increasing knowledge retention in employees.
The Brain's Favorable Response to Video
The main reason people learn well via video is not because it is fun, can be self-paced, or is convenient; it is because the brain has a favorable response to video. Psychology Today's article Video vs. Text: The Brain Perspective5, written by Liraz Margalit, unpacks this subject. It explains that the human brain processes videos 60,000 times faster than it does text. Since we are designed to avoid cognitive stress, it is natural that we would prefer learning that is spoon-fed to us, so to speak. Spoon-fed or not, video-based learning is more effective than text-based learning. Margalit wrote, "When we watch a video, we become immersed in it and create an empathetic connection with the screen. If you want your visitors to fall in love with your content, it makes sense to deliver it via video… it is much easier for us to become emotionally attached to something we watch in a video than something we read in an article." This principle can also apply to employee training. If employees connect emotionally with the training materials being presented to them, there's a better chance that they will retain the information. This is good news for employers who have to disperse "dry" training content that is tough to engage with. It goes to reason that the more disengaging the training content is, the more important it is to present it, at least partially, through video.
How Effective are Video-Based Training Courses, Really?
At the end of the day, company decision makers want to know that something is worth their time and money before they invest in it. These individuals may like the idea of video-based training courses but hold back on implementing them because they are simply not convinced that they are necessary. They know that video requires more bandwidth; therefore, they will only invest in video-based training if it is truly worth their money. What these leaders need are facts about the effectiveness of video in training. KommiReddy Deepika supplies them in his article Video-Based Learning for Effective Training Programs6:
"Statistics say that every individual is likely to remember only 10% of textual content, 65% of visual content, but 95% of audio-visual content. Hence, organizations should incorporate this mode of learning to train their employees effectively as it enhances self-learning and engages learners' attention throughout the course."
These statistics speak for themselves.
Vern Hanzlik, Senior Vice President and General Manager, Qumu, thinks video-based training courses are particularly helpful during the onboarding process. In his article 3 Ways to Use Video for Effective Employee Training7, he wrote, "Communicating large amounts of complex information is best done in a visual manner, which traditionally has meant in-person. Instead of sending employees to the one location where subject matter experts or Human Resources personnel are, managers can use video to share knowledge from multiple people quicker and easier. One tip is to create brief videos of easy-to-digest content. Each video can cover a different policy or topic. Videos shorter than five minutes can be quickly absorbed and comprehended. With a video platform solution, new hires can quickly access a library of video assets that cover corporate policies, including travel, hiring, and benefit programs. When video assets are managed by an enterprise video platform, managers also can ensure that employees watch the videos and comply with onboarding by tracking viewer statistics for each new team member."
Additionally, contributors at KZO Innovations see the value in video training, especially as it affects those who some may refer to as "problem employees." KZO wrote, "Videos reinforce the view or message you want to deliver in a non-threatening, positive way. For instance, in presenting a program on working with difficult people, you might find a video that highlights the characteristics of one of your more difficult team members. The training video can, in a non-threatening way, focus attention on the negative consequences of certain types of behavior without personalizing the message. In the same way, a training video can reinforce behaviors that have positive results."8
Clearly, training is more effective when video is involved.
Case Study Proves Video's Effectiveness in Reinforcing Previous Learning
In 2012, a case study was performed in an effort to prove or disprove the effectiveness of video in training situations9. As is stated on the US National Library of Medicine's website, "The purpose of this study was to estimate the efficacy of…video as an instrument to refresh and reinforce nursing techniques. A two-arm randomized controlled trial (RCT) design was chosen: both groups attended lessons in the classroom as well as in the laboratory; a month later while one group received written information as a refresher, the other group watched the video. Both groups were evaluated in a blinded fashion. A total of 223 students agreed to take part in the study." What was the result of the study? The learners who watched the video "were better able to apply the technique, resulting in a better performance. The video, therefore, represents an important tool to refresh and reinforce previous learning." Video can be offered to corporate employees for an equally powerful result.
When Should Employers Use Video-Based Training?
There are several specific instances when employers should use video-based training: to provide product education, to effectively onboard new workers, to summarize a course, to simulate new software, and to train workers in essential soft skills.
Product education

A product cannot be confidently marketed and sold by someone without a keen understanding of what it is and how it works. With this in mind, companies that sell products have the hefty responsibility of training their employees in product use. Video-based training is ideal for demonstrating new products to workers. Short videos can be watched over and over, until an employee feels they have a handle on a new product.
Onboarding

New hires should have a plethora of training materials at their fingertips (they are certainly going to need them). Videos explaining a company's vision, mission, procedures, and protocols cannot be overemphasized during the onboarding process.
Course summaries

With in-person training, course summaries are usually provided in the form of syllabi. It may be more efficient to put together a 2-to-5-minute video that outlines a course and offer it to learners, along with a syllabus. This would give learners a better idea of what a course will be about and will require of them.
Software simulations

Most companies constantly develop new software applications. It is crucial to team production that each and every employee understands how to utilize new software apps. A great way to disperse software simulations to employees is through video. The main benefit of using video-based training for software simulations is that it facilitates the use of software in real-time, giving employees the practice they need.
Soft-skills training

There are too many soft-skills failures in today's workplace. This can lead to lagging productivity. Employers can correct this by offering soft-skills training in communication, leadership, problem solving, relationship building, etc., via succinct videos. Since managers sometimes take for granted that their employees are already strong in these types of skills, employees are often embarrassed to ask for training in soft skills. Employers who offer video-based training in this area to all employees lessen the risk of singling out workers who are deficient in soft skills.
How to Integrate Video Into Employee Training
After reading the statistics concerning the benefits of video-based training, many employers will be ready and willing to integrate video into employee training. The question is, "How?" Here are a few tips, as outlined by KZO Innovations, for successfully weaving video into any employee-training course:
"Present video in short spurts (no longer than 5 minutes per section)"10
Keep the content current – users can tell when videos contain old visuals10
Ensure it downloads quickly10
Remove 'talking heads' – no one wants to be lectured."10
Another option for integrating video into training is to implement a social learning management system (LMS). An LMS has built-in video features that can be automatically included in an online course. An LMS, also known as an eLearning system, can be ideal for employers who want to utilize more video-based training. Integrating video into training courses costs money, depending upon the bandwidth and infrastructure needed to support it. In some cases it is best to launch a full-featured LMS instead of trying to randomly place video in training courses.
Employee-training programs are becoming increasingly video-based. In what ways does your company utilize video in training?
---
References:
http://www.brandonhall.com/blogs/95-of-companies-use-video-for-learning/
https://kzoinnovations.com/why-videos-are-effective-in-training
http://www.huffingtonpost.com/michal-tsur/research-confirms-video-i_b_5064181.html
http://www.brainshark.com/Ideas-Blog/2013/June/use-video-to-promote-your-brand-twitter.aspx
https://www.psychologytoday.com/blog/behind-online-behavior/201505/video-vs-text-the-brain-perspective
http://blog.commlabindia.com/elearning-design/video-based-learning-effective-training-program
https://trainingmag.com/3-ways-use-video-effective-employee-training
https://kzoinnovations.com/why-videos-are-effective-in-training
http://www.ncbi.nlm.nih.gov/pmc/articles/PMC3540345/
https://kzoinnovations.com/why-videos-are-effective-in-training