Blended learning is a hybrid learning approach that combines in-person training with online learning. It helps corporate training programs "increase effectiveness and decrease the costs of curriculum. Supplementing in-person training with digital content can help employees retain and apply the skills they need to be successful," stated Blended Learning is the Future of Corporate Training.¹
Blended learning not only boosts corporate training effectiveness and lowers training costs, but also²:
Increases knowledge retention

Allows for a more flexible training schedule

Improves application of learning

Provides peer-to-peer learning opportunities
Are you interested in implementing a blended learning program? A learning management system can make this task easier.
Support a Blended Learning Program with These 4 LMS Features
A learning management system (LMS) is the perfect eLearning tool for supporting a blended learning program. Here are four LMS features that make encouraging blended learning a breeze:
Learning paths -- Learning paths allow LMS administrators and instructors to create a specific order for course delivery. It gives them a measure of control over the learning process by deciding who can access what training and setting limits accordingly. This keeps learners on track and ensures no one gets left behind or too far ahead in the training process.
Learning paths promote a blended learning program by providing learners with a sense of cohesiveness and organization that can sometimes be lacking in a hybrid learning program. This helps ensure ongoing participation in training and increases comprehension, whether learning happens online or face-to-face.
Learning paths also allow administrators to specify when in-person training should happen during the overall learning path. Students could begin by completing several eCourses in the LMS, then transition to an online class before taking a final assessment in the LMS, for example. The learning path specifies how students will move through the online and in-person training, ensuring both elements complement each other and provide a unified experience.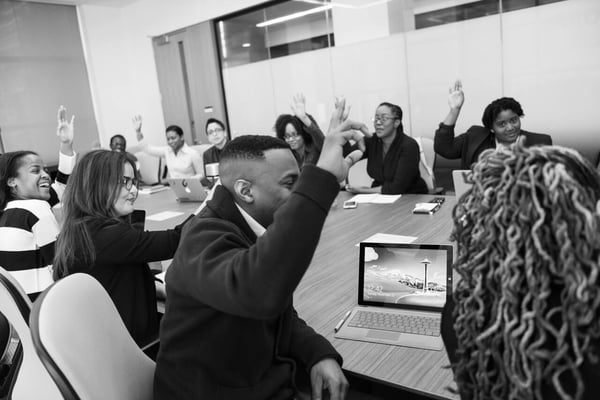 Social learning -- Social learning tools include forums, web conferencing, real-time chat, calendaring, announcements, events, and more. They encourage collaboration and make interacting with a learning management system more exciting.
Social learning tools encourage blended learning by giving learners greater access to instructors or HR staff outside of a live training session. These LMS features help employees get their questions answered quickly, keeping them engaged with training. They also give learners the opportunity to share knowledge and interact with peers, strengthening in-person and online learning experiences.
Virtual classrooms -- Virtual classrooms give employees the classroom experience from their comfort of their homes or workstations. After accessing an LMS, workers can simply enter their virtual classroom and attend instructor-led courses, either in real time or, if the course was pre-recorded, at a later time.
Virtual classroom promotes blended learning by making instructor-led courses available to learners 24/7. This feature lets employees stream media and use playback to take courses that they would otherwise have to physically attend.
Learning analytics and reporting -- LMS reporting tools give administrators much-needed feedback on how learners are doing in their courses and what needs to be adjusted so training can be optimized. Because of this, analytics and reporting are among the most important LMS features for fostering a hybrid learning program.
Reporting tools support a blended learning program by allowing administrators to quickly pull data on user activity and performance. This shows them where they need to strengthen instruction, whether online or in-person, and gives them direction about how to increase the impact of a blended learning program.
"Learning technology and face-to-face instruction can be an unbeatable team." -- eLearning Industry³
Improve Learning Outcomes with a Corporate Blended Learning Program
A case study done by the U.S. Department of Education discovered that blended learning programs improved learning outcomes more effectively than classroom training or online training alone.4 Improve the learning outcomes of your company's employee training program by using an LMS to promote blended learning.
---
References:
Verb. Blended learning is the future of corporate training. https://verb.net/blog/leadership-development/blended-learning-for-corporate-training/.
Center for Creative Leadership. 5 things corporate ed programs gain from blended learning. https://www.ccl.org/blog/corporate-education-blended-learning/.
eLearning Industry. 7 tips to implement blended learning in corporate training. https://elearningindustry.com/7-blended-learning-tips-implement-blended-learning-corporate-training.
U.S. Department of Education. Evaluation of evidence-based practices in online learning. https://www2.ed.gov/rschstat/eval/tech/evidence-based-practices/finalreport.pdf.