Retail companies face multiple challenges when it comes to onboarding and retaining new hires. Every year, retail companies experience staff churn at a rate of 5 percent per month,¹ struggle to replace lost employees, and create a positive atmosphere that helps new hires be effective and build careers at the company.

There are many contributors to new hire success in the retail sector, one of the most important of which is ineffective onboarding.² Using social learning techniques, companies can improve onboarding and help employees become successful, productive staff members over the long term.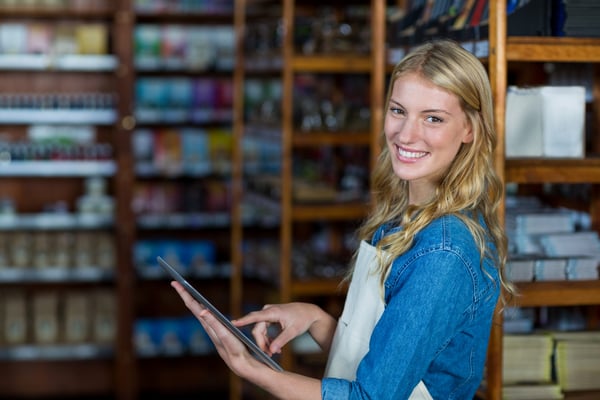 Social Learning Tips that Create a Better Retail Onboarding Program
1. Connect new hires with their coworkers before the first day of work
The first day at a new job is less intimidating when you're familiar with your manager, co-workers, or fellow new hires. Make new retail employees feel more comfortable before work begins by connecting them with one another online.
There are many ways to introduce new hires online. Simply adding them to a private Facebook group for new retail employees can be helpful and is cost-effective for companies. Seasoned retail employees can moderate the group and answer most questions members post. You can also share "welcome" video with the group, as well as a virtual tour. After 90 days, members could be removed from the group to ensure it remains tailored to new hires.
2. Have new employees assess themselves and one another
Giving and receiving feedback helps new hires reflect on what they've learned and improve in the future. It can also be a positive social experience because, while most company leaders assume feedback should be given by supervisors, retail workers can also give themselves and others feedback. Make Experiential Learning Part of the Onboarding Process³ stated,
"Most people are their own harshest critics, so just having new hires watch themselves demonstrating a skill or completing a task on video allows them to become a source of internal feedback for themselves."
Ask new retail employees to watch videos of themselves and others to provide feedback as part of their employee training program. All feedback should be constructive, with employees pitching potential improvements and working closely with their colleagues to improve next time. Not only does this activity add a social element to learning, it also gives employees ownership over their actions in a real-world setting, which can help them understand and retain information.
3. Make learning more competitive
Friendly competition can engage new retail employees and help them connect with one another. Consider motivating your employees by creating a social competition that rewards new hires for learning processes or serving customers correctly. Highlight each employee's status in a leaderboard to show how they stack up against their peers.
Just be sure to keep the competition positive, rewarding employees with badges or other incentives to motivate learning. To ensure the competition is positive for everyone involved, you can also provide rewards for employees who help their colleagues succeed. That creates a supportive atmosphere that emphasizes growth for everyone involved.
If you don't have leaderboards or incentives, you can still create a gamified social learning experience with other visual indicators of progress, including progress bars, levels, and achievements, to make retail training even more engaging.
4. Use an LMS to foster communication
Many companies have made digital transformation a top priority. But while digital transformation can decrease costs and improve efficiency, it can also lead to overly standardized training that employees find static or boring. To keep retail employees engaged, retail companies must be intentional about making onboarding programs personal despite the occasionally standardized feel of online learning.
Communication is at the core of social learning and can make an otherwise dry online onboarding program more fun. An LMS makes communication easier for new retail employees with social learning features such as live chat. In many cases, realtime chat is a more appropriate vehicle for communication than email since it gives workers immediate access to one another, as well as to managers who are available to answer questions.
You can also consider creating online communities that allow retail employees to connect with other new hires working in the same position. Employees in the same department will often feel more supported by connecting with a community that's been through similar experiences.
Related Reading: Can LMS Software Make Your Employee Onboarding Program More Effective?
Social Learning Optimizes Retail Onboarding
People are inherently social creatures. Even as we move to online tools and professional training, people want to interact with others and connect with their peers.
Improve onboarding for sales and customer service reps by making training more social using social media platforms, video learning, gamified learning, and LMS social learning features. This will help to engage new hires and may decrease costs associated with turnover.
---
References:

1. Atrivity. Retail onboarding tips for 2018. https://blog.atrivity.com/retail-onboarding-tips-2018.

2. thrive. Reduce turnover with better employee onboarding. https://thrivetrm.com/reduce-turnover-better-employee-onboarding/.

3. Learning Solutions. Make experiential learning part of the onboarding experience. http://www.learningsolutionsmag.com/articles/make-experiential-learning-part-of-the-onboarding-process.