Your company has a sea of competitors. If you're unsure of how to create a top-performing business, you will lose customers and stunt organizational growth.
Positioning your company to stand out in the crowd can be a feat, but using LMS software makes it easier. A learning management system is essential to a progressive organization as it delivers a unique blend of benefits that help companies develop a competitive advantage.
"The competitive organization requires a learning system that drives business performance by integrating learning into business processes for employees, customers, suppliers and partners." -- Chief Learning Officer¹
Give Your Company a Competitive Edge in 3 Ways with an LMS
With LMS software, you can give your organization a competitive edge. Here are three ways an LMS sets your business up for success and gives it a leg up on competition:
LMS software measures employee engagement

-- On average, 69 percent of high-performing companies formally measure employee engagement, as opposed just 54 percent of regular companies.² Leaders of these organizations understand that engaged employees tend to pay attention to training, work hard and remain loyal to their employers, helping them outperform competitors.
"Only 13 percent of employees around the world are engaged at work."³ If disengagement is an issue for your organization, implement measures to mitigate this with LMS software.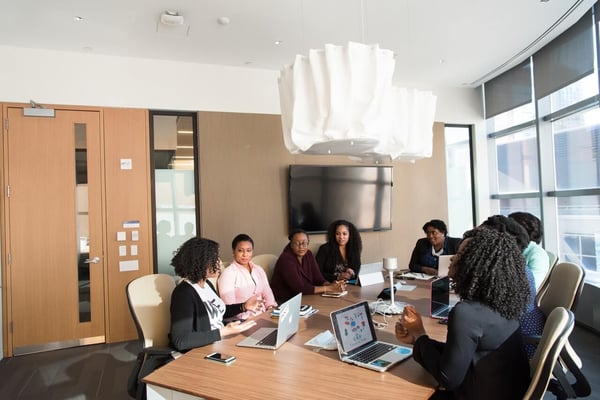 eLearning software measures employee engagement with training by gathering data on how quickly learners complete eLearning courses and how often they log onto the learning management system. Also, it allows administrators to measure overall employee engagement, not just engagement with training, by conducting polls and surveys using LMS social learning features.
LMS Software Clarifies Business Goals to Employees

-- Getting employees up to speed on your company's priorities is essential for reaching high-level goals and becoming a serious competitor. But on average, only 16 percent of front-line employees understand the connection between their job and corporate priorities.

4
When employees aren't clear on what a company's goals are and how important their day-to-day work is to meeting those goals, their performance will lag. LMS software solves this by allowing administrators to create eLearning courses that align with and clarify business objectives and help workers develop the skills needed to effectively function in their unique roles.
LMS Software Develops Communication Skills in Workers

-- Exceptional communication among employees is a key indicator of financial performance globally, and a communication ROI study from 2008 found that "a significant improvement in communication effectiveness is associated with a nearly 16 percent increase in market value."

5

Companies with effective communication are also 50 percent less likely to experience employee turnover.
LMS software develops communication skills in employees through collaborative learning features that encourage knowledge sharing and peer-to-peer learning. These features enhance productivity for remote teams and connect remote employees, requiring communication and promoting team-building.
Related Reading: 4 Ways a Social Learning Management System Can Improve Communication
Is Your LMS Giving Your Company a Competitive Advantage?
LMS software can result in an incredible improvement in business performance and growth by helping employees connect with your company and perform better. Implementing a learning management system could be the best move you can make to give your company a competitive advantage.
---
References:
Chief Learning Officer. LMS: your key to competitive advantage. http://www.clomedia.com/2004/01/02/lms-your-key-to-competitive-advantage/.
AON. A well-oiled machine: what high-performing companies are doing that you're not. https://radford.aon.com/insights/articles/2018/What-High-Performing-Companies-Are-Doing-That-You-Are-Not.
Gallup. The worldwide employee engagement crisis. https://news.gallup.com/businessjournal/188033/worldwide-employee-engagement-crisis.aspx.
Boardview. 22 mind-blowing stats. https://boardview.io/blog/goal-setting-22-mind-blowing-stats/.
Luss, Richard. Secrets of top performers: how companies with highly effective employee communication differentiate themselves – the methodology behind the 2007/2008 Communication ROI StudyTM. https://robertoigarza.files.wordpress.com/2008/11/rep-effective-employee-communication-ww-2008.pdf.