Most companies require employees to complete compliance courses that result in certification as part of on-the-job training. Compliance training can be incredibly important to an employee's success in the workplace. It shouldn't be underrated, and neither should the benefits of certification.
What Is Compliance Training?
Compliance training is training that arms employees with knowledge about a company's practices and protocols, educating them on topics like these:
Sexual harassment

Americans with Disabilities Act

Workplace Violence

Family Medical Leave Act

Conflicts of Interest
Compliance training in the workplace is important because it gets everyone, no matter their position, on the same page about critical and legal issues. This may minimize a company's risk of litigation in the future. When certification is the end result of a compliance course, that course's effectiveness is increased.
"Compliance training is an important factor in the workplace that helps your organization avoid unwanted costs and harm that may arise from an injury or illness to your employees and customers." -- Benefits of Compliance Training¹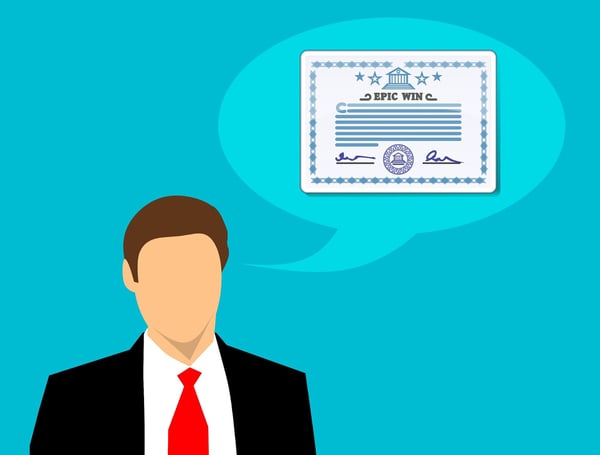 Benefits of Using an LMS for Compliance training Certifications
An employee's learning path is the journey of learning/training he or she takes. These individualized paths develop employees and increase their professional value and competence.
Compliance training courses that result in certification are important aspects of one's learning path. The benefits of certification are numerous. For example, certification results in...
Better trained employees

A higher ROI on training investments

Increased company credibility

Worldwide recognition of employees

A documented commitment to safety

Third-party endorsement of employees' knowledge and skills
Also, earning certifications often motivates employees to actively pursue ongoing training.
"Learning paths help employees learn vital skills, practices, and protocols. They prevent the loss of costly training knowledge, and in doing so lower a company's bottom line. This is what makes learning paths valuable, even indispensable, to any corporation." -- TOPYX, What is a Learning Path? The Benefits of eLearning in Corporate Training
Track Certification and Compliance Course Completion with an LMS
While company leaders are aware of the importance of compliance training, Compliance Next reported that 30 percent of compliance pros in the U.S. don't measure the effectiveness of their compliance programs.² It's hard to say exactly why this is, but it could be because compliance training is difficult to track.
When a company has hundreds of employees, keeping up with who is certified, who needs to be certified in a certain course, and whose certification is about to expire can be daunting. A social learning management system (LMS) can make compliance training certification a breeze for learners and administrators by:
Delivering compliance training courses in a convenient online format.

Tracking certification and compliance course completion.
An employee's learning path, which often includes compliance certification, is crucial to his or her success at work. Is your company using an LMS to promote compliance training certification?
Looking for an LMS that will elevate an employee's learning path by promoting compliance training certification? Look no further than TOPYX, a corporate LMS that streamlines compliance management. Request a free, personalized demo of TOPYX to learn more.
---
References:
Digital Chalk. Benefits of compliance training.

https://www.digitalchalk.com/blog/benefits-of-compliance-training

. December 9, 2013.
Compliance Next. Understanding the basics.

https://www.navexglobal.com/compliancenext/understanding-the-basics/the-ultimate-list-of-compliance-program-statistics/

.