Companies are increasing their focus on the customer experience, and for good reason: happy customers are loyal customers. Thirty-five Customer Experience Statistics to Know for 2019¹ stated,
"Customers no longer base their loyalty on price or product. Instead, they stay loyal with companies due to the experience they receive. If you cannot keep up with their increasing demands, your customers will leave you."
Are your current customers loyal to your brand? If not, the problem could be with your customer experience, and customer service training could help improve it.
Customer Service Training Statistics You Should Know
Customer service training is critical for customer satisfaction and retention. According to American Express²:
One-third of Americans will consider switching companies after one bad service experience.

At least 50 percent of Americans have cancelled a transaction or purchase as a result of poor service.

Most Americans tell 15 people about a negative customer service experience.
In many cases, companies have just one shot at offering great service to potential customers. The only way they can ensure top-notch service is to train customer service staff well.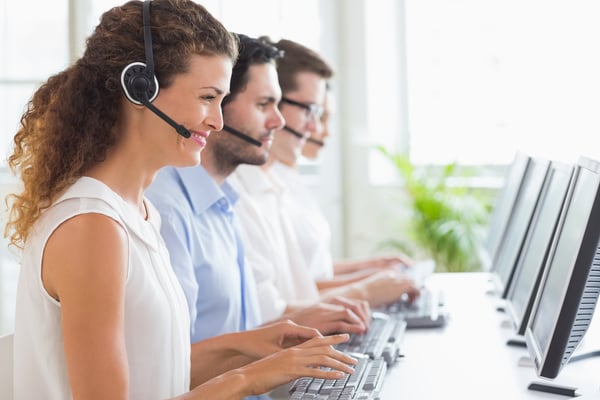 4 Ways to Train Customer Service Employees Using Learning Management Software
Online employee training is cost-effective, engaging, convenient, and accessible for learners.³ Here are a few ways your company can use learning management software to train customer service employees:
1) Build courses and curriculums for specific customer service roles -- Utilizing the learning paths feature that many types of learning management software offer will help you individualize and optimize customer service training for staff.
The learning paths feature allows administrators to deliver relevant content to employees in all roles within the sphere of customer service. By designing a learning path specifically for each of your company's customer service workers, you can differentiate materials for front-line customer service representatives and loyalty representatives, for example.
2) Create an online knowledge hub -- Learning management software makes it possible for administrators to create an online knowledge hub for customer service workers. Demonstration videos, documents, blog posts, articles, online courses, microlearning segments, and webinars can be stored in this hub and accessed at a moment's notice by an employee via desktop or mobile device.
A customer service knowledge hub should be filled with supplementary materials that are separate from an employee's set learning path. Think along the lines of quick tips, frequently asked questions, and essential de-escalation techniques that employees can access immediately when they're in a crisis situation. Make sure all resources should be easily searchable so that trainees can quickly find answers to their questions, providing the best possible customer service.
3) Enable roleplay scenarios -- A fun way employees can immediately put what they've learned in an online course to use is through roleplay with peers and/or supervisors. This helps new hires adjust to the idea of communicating directly with customers before they actually have to do so. Roleplay can also be a great tool for helping customer service representatives get comfortable with difficult situations, such as irate customers.
Learning management software is equipped with social learning features, such as real-time chat and webinar functionality, that can be used to enable peer-to-peer or peer-to-manager roleplay. Skype and regular email can also be used for this purpose. These tools are particularly beneficial for employees who work with online customer service, such as live chat, video calls, and email, as they enable roleplay over the same medium employees will be using in their everyday work.
4) Encourage brainstorming and knowledge sharing -- Not everything has to be learned firsthand. Customer service staff can learn just as readily from other employees' successes, failures, and ideas.
Forums, a common learning management software feature, promote knowledge sharing, brainstorming, and transparency. Optimize your trainees' experiences with forums by adding multimedia to discussion threads. 7 Tips on How to Use Forums in eLearning4 stated,
"Include links to YouTube videos, articles, and online scenarios that will engage and inspire your learners. You can also link back to learning materials you've created, such as a page within the eLearning course or an eLearning assessment. Just make sure that the links you provide are relevant to the conversation."
Does Your Customer Service Training Program Need an Upgrade?
One way to measure the skill of your customer service staff is to take stock of how satisfied your customers are and if your customer base is growing or not. If you notice deficiencies in this area, try implementing online customer service training with an LMS.
Interested in learning more about how learning management software promotes good customer service? Check out 3 Ways LMS-Based Training Increases Customer Service.
---
References:
35 customer experience statistics to know for 2019. https://www.superoffice.com/blog/customer-experience-statistics/.
Help Scout. 75 customer service stats and facts you can't afford to ignore. https://www.helpscout.net/75-customer-service-facts-quotes-statistics/.
eLearning Industry. 9 advantages of online training. https://elearningindustry.com/advantages-of-online-training-9.
7 tips on how to use forums in eLearning. https://elearningindustry.com/7-tips-use-forums-in-elearning.