When a customer has a good experience with a company, he or she tells about 9 people on average.1 This means that great customer service is one of the most effective (not to mention free) modes of advertising for businesses. On the flip side, whereas a satisfied customer will refer 9 people to a business, an angry customer will deter at least 16 potential customers from a company.2 Clearly, the power to build up or tear down a business is in the hands of customers. This explains why customer service training is crucial.
Employee Training: the Key to Exceptional Customer Service
It is critical that employees provide exemplary customer service with every interaction. Since employee training promotes above-average customer service, company decision makers should make it a point to deliver customer care training to all employees on a regular basis. Regular training not only increases customer service; it also boosts a business's overall performance. According to IBM, "84% of employees in Best Performing Organizations are receiving the training they need compared with 16% in the worst performing companies."3 A customer service training program improves a worker's communication, listening, problem-solving, and organizational skills. A learning management system (LMS) is the ideal tool to deliver an effective customer service training program.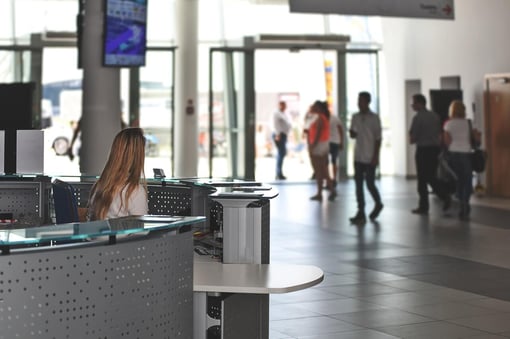 3 Ways an LMS-Based Training Program Boosts Customer Service
A learning management system's main function is to deliver, report on, and track training. An LMS can deliver a variety of types of training to employees, especially customer service training. Here are a few ways LMS-based training increases a business's overall level of customer service:
1) An LMS provides ongoing customer service training -- Customer care training should not just happen during onboarding. Since products and services are constantly being updated, so should training. An LMS makes it easy for administrators to update current eLearning courses and modules as well as develop new ones. This facilitates a steady stream of fresh customer service training that equips employees to satisfy customers.
2) An LMS tracks employee progress -- Learning management systems not only deliver on-demand training, but they also track learner progress. This helps managers tailor an LMS-based training program to individual learners, increasing knowledge retention. Finding out how an employee is developing in the area of customer service skills is as simple as logging onto an LMS and viewing the individual's reports. If any skills are lacking, the training program can be fine tuned to meet the employee's needs.
3) An LMS gives staff members opportunities to provide feedback -- An important aspect of quality customer service training is consistent employee feedback. Gathering input from staff members interacting with an LMS-based training program is the quickest way to improve it. LMS social features such as polls enable staff members to instantaneously provide valuable feedback that, when considered and implemented, exponentially increases a customer care training program's effectiveness.
Ensure Quality Customer Service Training with an LMS
If a company makes 100 customers happy in one week, those individuals will refer about 900 new customers to the business. Conversely, 100 unhappy customers can potentially turn 1600 people against a business. Providing consistent, quality customer service training via an LMS is the best way company leaders can ensure positive customer service experiences.
Interested in delivering your company's next customer service training program through an LMS? Request a free demo of the fully hosted LMS TOPYX today.
Read more about how to develop a corporate L&D program with an LMS in our blog article Best Practices to Create a Best-in-Class Corporate L&D Program.
---
References
1, 2. Groove. 22 customer support statistics that you absolutely need to know. https://www.groovehq.com/support/customer-support-statistics. February 14, 2017.
3. IBM. The value of training. https://www-03.ibm.com/services/learning/pdfs/IBMTraining-TheValueofTraining.pdf.