For companies wanting to deliver the highest quality employee training possible, eLearning can be a game-changer. Online learning is accessible, engaging, and effective, and it can also significantly drive employee retention.1 However, the initial cost of implementing online learning is a deterrent to some organizations. With a few tips, these companies can deliver eLearning to their employees while staying within their L&D budget.
Save Money While Implementing eLearning with These 4 Tips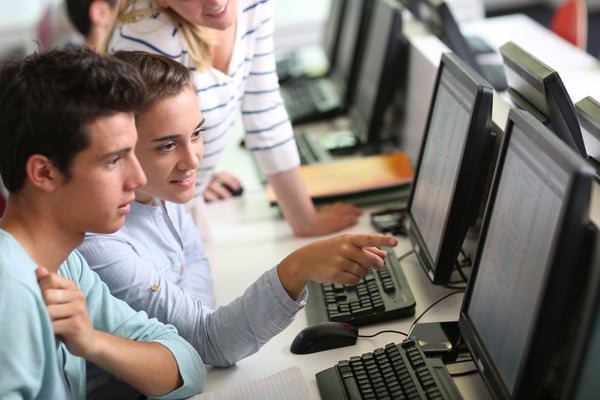 Here are a few ways your company can stay budget-conscious while creating compelling online learning experiences for employees:
1. Recycle educational content
Recycling educational content is one of the best ways to save money when implementing eLearning. Most companies have some material that can be reused for online learning. Examples include conference recordings, webinars, videos, documents, eLearning templates, and podcasts your organization has used for training purposes in the past. Modernize your old lessons and content to make them fun and engaging. Avoid significant customizations and only make modest changes when necessary.
2.Use a flat-rate LMS
Many companies end up saving money when they switch from in-person training to online training. "...studies indicate that eLearning has the potential to reduce overall training time by 40% to 60%," according to eLearning Industry.2 "This helps businesses cut down on various expenses and also increase productivity, which in turn leads to greater profitability."
However, not every LMS promotes low-cost training. For example, some learning management systems charge customers per user. These costs can add up over time. Opting for a flat-rate LMS may be the best choice for organizations with small L&D budgets.
3. Create a graphics toolkit
Companies that must keep online learning costs low should consider creating an eLearning graphics toolkit. Graphics can be reused in many different types of eLearning courses. A graphics toolkit will help you contain all your images in one secure location so that you don't have to dig through old project files to find the images you need when creating online learning courses. Examples of graphics you can include in your toolkit include knowledge checks, backgrounds, templates, videos, and characters. Storing these graphics in one place will help you stay organized while keeping eLearning costs down.

4. Use screen recording tools
Screen recording tools can help you integrate screen recordings or interactive videos into your online learning courses without paying for a professional production. If you're interested in screen recording, check out solutions like Adobe Captivate or Camtasia.

Want to learn more about the benefits of a flat-fee LMS? Explore our blog post, "Why a Flat-Fee LMS Might Save Your Company Money" or request a personalized demo.
---
References:
https://elearningindustry.com/benefits-of-elearning-top-5

https://elearningindustry.com/elearning-development-costs-less-than-traditional-training-6-reasons