Over the past several weeks, the U.S. has seen a surge of COVID-19 cases as businesses have gradually reopened. As a result, some employers are choosing to send employees back home to work remotely due to the unstable nature of the COVID-19 pandemic. As cases continue to ebb and flow, some companies may periodically reinstate work-from-home requirements to protect their staff. Alternatively, organizations may choose a hybrid work model where some employees work from home and some from the office. Either way, a learning management system (LMS) will give companies the flexibility they need in this challenging time.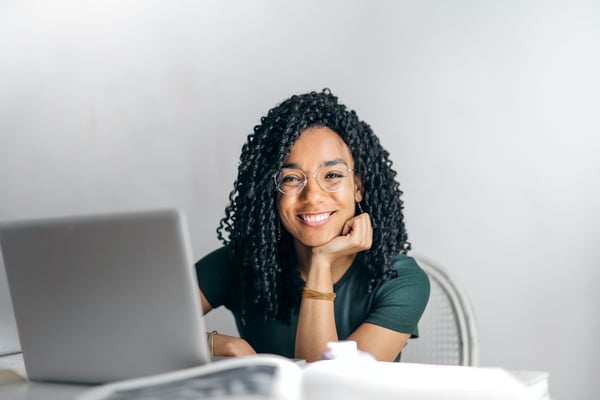 Prepare your employees to work from home by planning for remote training
Is your organization one that plans to have all workers or a sizable portion of employees return to their home to work as COVID-19 plays out? If so, now is the time to start preparing your company and workforce for this change. One of the ways you can do this is by planning for remote training.
No matter what location your employees work from, one thing is certain: employee training can't get put on the backburner. Employee training promotes worker job satisfaction, morale, and motivation, as well as increases innovation and financial gain for the company.2 If you plan to reinstate your work-from-home policy, consider creating a train-from-home policy that requires employees to regularly participate in training. To do this, you will need to implement an eLearning platform, such as a learning management system, that enables you to create, distribute, track, and report on employee training.
Once you've launched an LMS, you can use its learning path feature to create learning pathways for individual employees. Learning paths include intentionally placed and spaced eLearning courses pertinent to an employee's professional goals and growth. Additionally, you can include all necessary compliance courses on any given learning path. The learning paths feature of an LMS can be invaluable to remote employees who need a clear-cut online learning plan with deadlines and learning objectives.
Educate workers about why a work-from-home policy is necessary

Not everyone at your workplace will agree that reinstating a work-from-home policy is the right decision, and that's okay. But you can help prevent hostility toward your decision by ensuring that every employee, from management to entry-level, understands why you've reinstated the policy. To do this, you could create an online course that details why work-from-home is the best choice for your company. An eLearning course will have the ability to go far more in-depth than a simple email, although you may want to send workers an introductory email with a link to the course.
When creating your online learning course, keep any questions in mind you feel your employees have about the work-from-home policy, and particularly the plans you have for transitioning workers to an at-home environment. They will likely be wondering if they will have set or flexible office hours, how long they will be working from home, how they will connect with their coworkers and supervisors, etc. Address each of these questions with a thorough answer. Deliver your content with text, audio, video, quiz, simulation, and other interactive learning mediums. Class participants must have the opportunity to ask follow-up questions. Use LMS social learning tools such as email, chat, and forums to facilitate this.
An LMS gives companies the flexibility needed to manage a remote workforce
An LMS can offer companies navigating the COVID-19 pandemic the flexibility they need to make the right decision about where their employees will work, whether from a home or office setting. For example, the right learning management system will enable your organization to make plans for remote learning and help you educate your entire workforce about why a work-from-home policy is being reinstated. Launch an LMS rapidly with our Quick Start Program or request an LMS demo of the TOPYX platform today.
---
Sources:
1. https://abcnews.go.com/Health/coronavirus-updates-us-records-50000-cases-2nd-straight/story?id=72160763
2.https://managementhelp.org/training/basics/reasons-for-training.htm