Effective corporate training and development programs are key to improved employee productivity. The right training program will provide employees with technical and soft skills needed to perform at a higher level. If you are looking for ways to get better outcomes from your training investment, make it your goal to gather and implement quality feedback from learners.

"The best source of information about organizational performance and needs are your current employees," stated the Society for Human Resource Management.1 "They know a lot about what's going on and what, if anything, should be changed. They'll appreciate your interest and provide valuable feedback about what could be better or eliminated."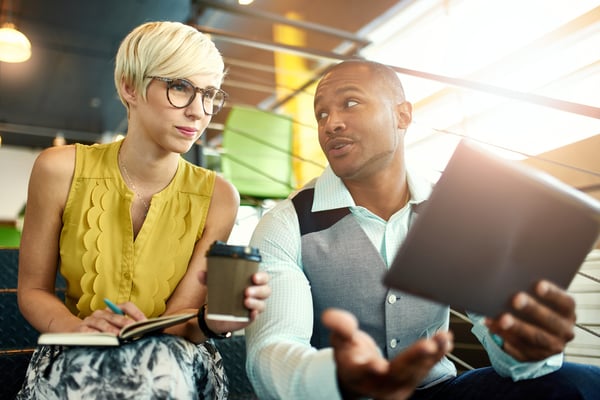 4 Ways to Get Better Feedback from Learners and Optimize Your Corporate Training Program
The needs SHRM refers to could include training needs. Here are a few ways to get the learner feedback you need to create a best-in-class corporate L&D program:
1. Ask Timely Survey Questions
The easiest way to get feedback from learners is by distributing surveys that address the online training course or program they just completed. When creating surveys, your questions should be very clear, directing learners to give you the feedback you need and preventing them from having to guess what information to share. Questions that are open-ended and detailed will be most effective as they encourage thorough explanations from employees.
Related blog: 3 Ways to Increase the Effectiveness of Online Training Courses with an LMS
2. Make Surveys Anonymous
If the feedback that learners provide you with is not totally honest, it won't be helpful. To encourage honest feedback, make surveys anonymous. eLearningIndustry.com stated, "This is particularly effective in corporate training, where traditionally employees feel more comfortable when allowed to express their opinions anonymously within the organizational context."2 This is a simple way to facilitate valuable learner feedback that you can take into consideration when tweaking your corporate learning program.
3. Incentivize Feedback
Incentivizing feedback lets employees know you value their suggestions. Giving feedback takes time and effort, and most employees don't have much spare time. You may find that rewarding learners for providing feedback results in better, more consistent feedback. There are many ways to incentivize learners' input on training. For example, you could enter a learner's name into a drawing every time they complete a survey. You should clarify with employees that only surveys that are thoroughly and thoughtfully filled out will be eligible to be incentivized.
4. Implement Feedback
To improve online employee training, it is vital to implement the tips learners provide you with, even if that means making significant changes to training. Integrating employees' ideas for improving training into your corporate learning program is a surefire way to improve it and ensure it will be more useful to learners in the future. Also, by implementing employees' suggestions and showing them that you value it as well as their time, learners will be encouraged to continue to give timely, honest feedback.
Related blog: 3 Benefits of a Learning Experience Platform (LXP) for Employee Training
Improve Corporate Training with an Learning Management System

Gathering and implementing better feedback from learners is just one of many ways to improve your corporate training program. A learning management system can help you take employee training to the next level by distributing online surveys, as well as through LMS features like mobile learning, social learning, learning paths, and more. A learning management system can also help you make necessary changes to corporate training by allowing you to track learner performance and progress.

Learn more about using a learning management system for corporate training or contact TOPYX to request a personalized LMS demo.
---
References:
1. https://www.shrm.org/resourcesandtools/hr-topics/organizational-and-employee-development/pages/key-steps-for-better-training-development-programs.aspx
2. https://elearningindustry.com/4-elearning-course-evaluation-strategies-to-receive-valuable-feedback