2020 was a tough year for businesses throughout many industries due to the COVID-19 pandemic. Hardships force businesses to adapt, and a major change that came about last year was the increased usage of remote work. In fact, remote work increased by 125 percent in 2020.1 Other changes that affected businesses include a dip in productivity (there was a 7.2 percent drop in productivity after March 2020 in the U.S.2) and smaller workforces due to staff cutbacks. Many companies are still reeling from these changes and taking steps to get back on their feet.
While 2021 will surely present its own set of roadblocks and changes, it also brings with it new opportunities. If businesses take advantage of these opportunities using a learning management system (LMS), they can reap benefits such as increased rates of employee retention, improved remote training, and a larger overall staff base.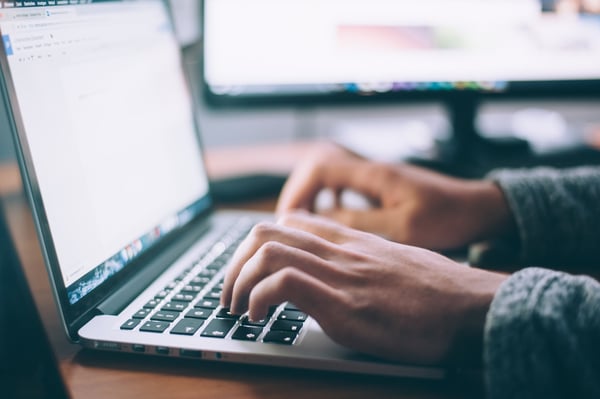 An LMS can help you rebuild your workforce through
remote onboarding
As of June of last year, 7.7 million people had lost their jobs with employer health coverage due to the pandemic. But this year, things are looking up. As vaccines are administered and the economy reopens, old and new jobs will become available. Your company may even have new job openings soon. This means you have a golden opportunity to rebuild your workforce, which can lead to a healthier bottom line since more employees equals more productivity. Also, companies that have a structured onboarding program may experience a 60 percent year-over-year revenue increase.3
To quickly fill positions and rebuild your workforce, hiring managers need an onboarding program that is effective and user-friendly. If you plan to offer new hires the option of working from home, your onboarding program will need to support remote training. An LMS will help you capitalize on the opportunity to onboard your new hires quickly and get them up to speed with their peers by enabling you to:
Customize the program to your company's brand and users' unique training needs.
Deliver the program to those working and learning from home via

mobile learning

and other LMS features.
Report on the training program using LMS reporting and analytics
In addition to onboarding new hires, you can use an LMS to provide ongoing training to workers. This is significant because, according to CNBC, "94 percent of employees say that they would stay at a company longer if it simply invested in helping them learn."4 This leads us to our next point: an LMS can allow your company to improve employee retention in 2021.
Related Reading: Can LMS Software Make Your Employee Onboarding Program More Effective?
Improve employee retention rates in 2021 with a learning
management system
2021 will provide opportunities to not only rebuild your workforce through onboarding but also to retain your workforce and reduce leaves of absence through targeted remote training that addresses workers' concerns. This can be accomplished with an LMS.
One of the biggest hurdles companies experienced in 2020 was the loss of workers and reduced productivity. Everyone is aware that many individuals lost their jobs last year, but it's important to remember that not all employees who were out of work had an objection to their situation. Some of them voluntarily left their jobs, and a lot of Americans are currently contemplating leaving their positions.
In October of 2020, CBS News reported that 25 percent of Americans were thinking about quitting their jobs due to concerns about the coronavirus crisis,5 and one-fifth had taken a leave of absence. Also, "Since the crisis began, 40% of working parents have had to change their employment situation, according to a new survey from career website FlexJobs," stated CNBC. "Of those polled, 25% voluntarily reduced their hours and 15% quit entirely. Of those who quit, 38% don't plan to rejoin the workforce." This has resulted in huge losses in productivity and revenue for businesses.
By using an LMS to deliver targeted online employee training that addresses all the concerns your employees may have about the coronavirus pandemic (or anything else), you can prevent staff attrition and keep low productivity due to fears around COVID-19 at bay.
Prepare for change with an LMS
If 2020 taught us one thing, it's that businesses must be agile and ready to adapt to sudden changes. Because an LMS gives a business the tools it needs to quickly onboard employees and provide the specific remote training they need, it makes businesses more resilient and more competitive, setting them up for success now and in the future.
Do you need a new LMS for the new year that will help your company make the most of every opportunity 2021 presents? If so, request an LMS demo of the TOPYX platform today.
---
Sources:
[1] https://www.aternity.com/wp-content/uploads/2020/04/Global-Remote-Work-Productivity-Tracker-Vol-1.pdf
[2] https://www.aternity.com/wp-content/uploads/2020/04/Global-Remote-Work-Productivity-Tracker-Vol-1.pdf
[3] https://www.rootinc.com/pdfs/whitepapers/Onboarding_Whitepaper_082012.pdf
[4] https://www.cnbc.com/2019/02/27/94percent-of-employees-would-stay-at-a-company-for-this-one-reason.html
[5] https://www.cbsnews.com/news/pandemic-concerns-u-s-workers-quitting-jobs/