The past several months have proven very challenging for healthcare workers. They are faced with the near-impossible task of dealing with the COVID-19 pandemic firsthand, in many cases risking their lives to care for coronavirus patients. Others are working tirelessly to stay on top of the administrative duties the global health crisis has created.
All those working in healthcare must have access to healthcare training that gives them the skills they need to successfully navigate the COVID-19 pandemic. By implementing a few tips, your healthcare company can empower its L&D team to consistently create excellent healthcare training.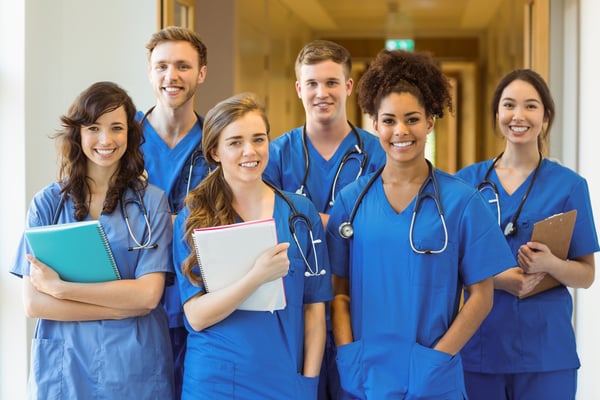 3 ways to help your L&D staff create
engaging healthcare training
Here are a few ways you can empower your learning and development team to create effective and enjoyable healthcare training:
1. Provide more training for L&D team members
It can be a challenge for training designers to create high-quality training when they are not receiving sufficient training themselves. By providing training courses focused on issues such as COVID-related health and safety best practices, how to make online courses more interactive, and general instructional design, your L&D staff can develop and maintain a skill set that enables them to create the healthcare training your workers need most. By performing regular L&D training assessments and surveys, you can measure your learning and development team's level of training engagement and comprehension, which will help you make changes to their training if necessary.
Related Reading: Leveraging eLearning Gamification in Online L&D Programs


2. Help L&D employees understand their target audiences
When learning and development professionals are in sync with their target audience, they can assemble content that best meets their needs, especially during this challenging time. To foster this connection, healthcare companies could offer an "Understanding Your Audience" online course to L&D staff. Organizations could also develop "a day in the life" videos that feature a typical day for each type of healthcare worker. These videos would ideally give training designers an inside look at what each healthcare employee does and the skills they would benefit from most. Additionally, L&D staff could watch short video interviews featuring individuals from various departments within the organization needing healthcare training to further learn their audience.
3. Encourage L&D staff to create content based on past training data
To create relevant, up-to-date healthcare training, make sure to review past training data. This data provides training designers with insight into how well learners liked past training courses, how quickly they completed them, and whether or not they ultimately benefited from the courses. Learning and development professionals can use LMS reporting features to analyze past training data like participation rates, assessment scores, and more to recommend or develop new courses. The information derived from LMS reports is also vital because it helps company leaders determine the ROI they are receiving from their training investment.


Find a healthcare LMS your L&D team and employees will love
Learning and development staff need the right eLearning tools to create the healthcare online employee training your employees require. This training is necessary to provide excellent care and remain compliant with new regulatory requirements during the COVID-19 pandemic. TOPYX healthcare LMS has built-in features that will enable your L&D team to create, deliver, track, and report on healthcare training. Other features streamline the training process for workers, giving them round-the-clock mobile access to healthcare training. Learn more by requesting a demo of TOPYX LMS.
Interested in deploying a healthcare LMS quickly? Implement a learning management system in days using our Quick Start Program.