According to Entrepreneur.com, a recent study by Columbia University indicated that employee turnover at an organization with rich company culture was likely to be about 13.9 percent, while job turnover at a company with sub-par culture could potentially be 48.4 percent.¹ Company culture, which was defined by this source as "the personality of an organization from the employee perspective, and includes the company's mission, expectations, and work atmosphere" has a big impact on employee satisfaction/productivity and, as stated above, turnover.² Organizational leaders may be surprised to learn that eLearning can maximize company culture like no other tool.
Related Reading: What Is eLearning?
What Does eLearning Have to Do with Company Culture?
eLearning is a tool that effectively promotes training within an organization, but that's not all it does. It also has the ability to boost company culture in unique and powerful ways. If leveraged correctly, eLearning can become an unstoppable force in a company's mission to create rich organizational culture. This is because eLearning promotes a learning culture, not a training culture.
According to the article Training Culture vs. Learning Culture, a training culture places the responsibility of learning and development solely on managers.³ On the flip side, "in a learning culture, responsibility for learning resides with each employee and each team. In that kind of culture, employees are expected to seek out the knowledge and skills they need, when and where that knowledge and those skills are needed." This engages and excites employees, enriching organizational culture.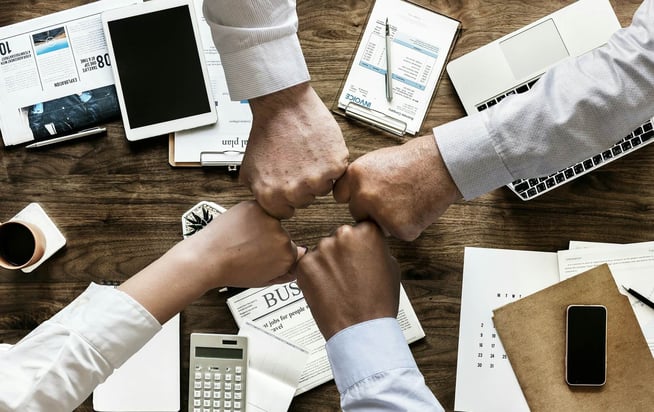 3 Reasons eLearning Maximizes Company Culture
Online learning can transform company culture. Here are a few reasons why:
eLearning is informal -- Most of what we learn, we learn informally (through conversation or observation), not in a classroom. Informal learning boosts information retention and is therefore valuable to companies driving L&D initiatives. Learn more about this in our blog article Encourage Informal Learning with an LMS.
eLearning is convenient

--

A key to great company culture is effective training.4 A huge factor in employee participation in training is convenience. eLearning brings training onto the cloud where it can be accessed at any time, from any place, on any device. This removes many barriers to learning, including language barriers as some eLearning tools allow training to be deployed in a variety of languages. With eLearning, employees can train at home or on the go, increasing the likelihood that costly training will not go to waste.
eLearning is social

--

In larger companies, it's easy for employees to feel like a number. eLearning changes this by connecting employees -- even those who work remotely -- via web conferencing, real-time chat, calendaring, and other social features. This creates a sense of unity within an organization and generates an innovative, pleasant work atmosphere.
When learning is based online and is informal, convenient, and social, it is engaging. This is the type of training that transforms organizational culture.
Improve Company Culture with the LMS TOPYX
Ready to radically shift your organization's culture? If so, request a free demo of TOPYX LMS. TOPYX is an award-winning learning management system that organizations like 3M, Honeywell, and Rotary International trust. Discover TOPYX's LMS features here.
"An LMS like TOPYX can begin to transform corporate culture in about three weeks, which is the approximate length of time it takes to be implemented." -- How to Quickly Transform Your Company's Culture with an LMS
Company leaders should work to improve company culture because doing so reduces job turnover and promotes productivity. Utilizing eLearning is a potent way to maximize company culture and get a business, organization, or nonprofit association on the fast track to success.
Is your company leveraging eLearning to boost company culture?
---
References
1, 2. Entrepreneur. It really pays to have a rich company culture. https://www.entrepreneur.com/article/238640.
3. eLearning Learning. Training culture vs. learning culture. http://www.elearninglearning.com/culture/?open-article-id=3396649&article-title=training-culture-vs--learning-culture&blog-domain=typepad.com&blog-title=the-peformance-improvement. February 12, 2015.
4. Forbes. How your training program affects company culture. https://www.forbes.com/sites/williamcraig/2016/02/06/how-your-training-program-affects-company-culture/#561f27759eaa. February 6, 2016.