Most businesspeople understand the importance of cultivating positive organizational culture. After all, company culture has much to do with an organization's growth, financial health and rate of employee retention. A company's culture, or its personality, can be good or bad, pleasant or less-than-desirable. But here is some good news: however lacking it may be, an organization's personality can be transformed quickly and easily with a learning management system (LMS).
An LMS fosters corporate unity, employee motivation and workplace confidence, which lead to an upgraded company culture. Does your organization's culture need to be improved?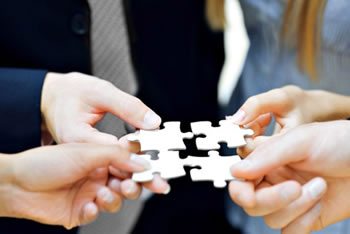 Is Your Company's Culture Positive or Negative?
It seems that employees either love or tolerate the companies they work for. While some of this depends upon an employee's attitude, much of it can be attributed to a company's culture. Business owners should make no mistake in understanding that both employees and customers can feel a culture when they walk through a corporation's doors.
What type of culture does your company have? Is it positive or negative, attractive or offensive? Ask yourself the following questions to find out:
Do my employees seem to genuinely enjoy coming to work?
Do I have dependable employees?
Does my company have a high turnover rate?
Are qualified prospects actively seeking employment at my organization?
Do my employees seem to respect and support one another?
When answered honestly, these questions will reveal the type of culture your organization possesses.
If your company has a culture that is negative, don't fall into the trap of feeling helpless. As a business owner you can take an active role in changing your organization's personality simply by implementing a Learning Management System. Whether your company's culture is sub-par or satisfactory, an LMS can help make it outstanding.
An LMS Will Effectively Alter Your Company's Culture
Most business owners are surprised to discover that eLearning systems are powerful components in changing company culture. While learning management systems are not cure-alls for organizational culture, they are certainly agents for positive overhaul. For example, an LMS has the potential to:
Create corporate unity – The beauty of eLearning is that it breaks down educational barriers and brings information directly to employees (this is especially true of mobile learning). Because of this level of mobility, an LMS can help supervisors see that all employees are on the same page concerning organizational matters and training. In this way, eLearning systems help to create a vital sense of unity within an organization.
Increase employee motivation – An increase in employee motivation within an organization brings about a shift that is almost tangible as it sets dry, mundane corporate culture aflame with enthusiasm. Deepika Baddapuri of CommLab India suggests, "eLearning will improve employee motivation, as it reduces the variability introduced through multiple (training) sessions in different locations. Downloadable certificates provide evidence of learning and success, which adds value to the learning and promotes Learning Culture."
Strengthen workplace confidence – For an employee, there is nothing more disheartening than the feeling of being out-of-the-know concerning organizational issues. Employees' lack of education about certain policies and uncertainty of an organization's behavioral requirements will certainly reduce workplace confidence. An effective LMS can mitigate this problem by delivering necessary training to every employee within an organization. There is no better way a company can strengthen the workplace confidence of its individual employees than by implementing an LMS.
The Right eLearning System Can Change Organizational Culture in Just a Few Weeks
An LMS can help heal negative company culture, but not just any LMS. Business owners should seek a Learning Management System that is cost-effective, can host unlimited users, and offers free customization, support and implementation. Also, since the sooner an LMS is implemented, the sooner company culture will change, it's best to choose a Learning Management System that can be utilized quickly.
An LMS like TOPYX can begin to transform corporate culture in about three weeks, which is the approximate length of time it takes to be implemented. TOPYX is an award winning LMS software as a service (SaaS) platform that has positively impacted the culture of organizations such as Morton Salt, American Farm Bureau Federation, US Department of Homeland Security, and Big Brothers Big Sisters. Implementing TOPYX is an ideal way to commence your organization's cultural transformation.
Businesses Can't Afford to Neglect eLearning
Technology has totally changed how workplaces operate. Nicole Fallon, Business News Daily's Assistant Editor, says, "People aren't chained to their desks the way they were even five years ago. As a modern, mobile workforce, we're shedding the desktop and clunky software in for systems and tools that give us the freedom to work with anyone." One of the primary tools that give employees the freedom to work with anyone is eLearning software.
Numerous products and services promise to heal unhealthy company culture, but few actually deliver on this pledge. A Learning Management System, however, can turn organizational culture around in a short period of time. Other cures may have the ability to improve company culture, but an eLearning system can transform it.