On a scale of 1 to 10 (1 being "not important at all" and 10 being "crucial"), LMS user experience is an 11. The user experience, or UX, of a learning management system (LMS) can promote an L&D program, or it can do the exact opposite. A contributor to eLearning Industry wrote,
"...your online learners must use the LMS to access online training materials that are relevant to them. Their user experience has a significant impact on knowledge retention and real-world applicability."¹
While an LMS gives people access to online training materials, good UX design gives people easy access to an LMS and encourages training. Is your company's LMS easy to use?
3 Benefits of Creating the Best LMS User Experience
When LMS user experience is consistently convenient and positive, company leaders can expect several benefits:
A better ROI in training as a result of increased L&D program effectiveness and knowledge retention.

Employees who are more data-literate as a result of regularly utilizing the LMS.

Learners/employees who are on the same page about company best practices, policies, and essential skills as a result of standardized training that the LMS provides.
"A consistent and engaging UX lays the foundation for all other features and functions the tool provides. It covers everything from the platform's navigation fidelity to its interface design." -- eLearning Industry²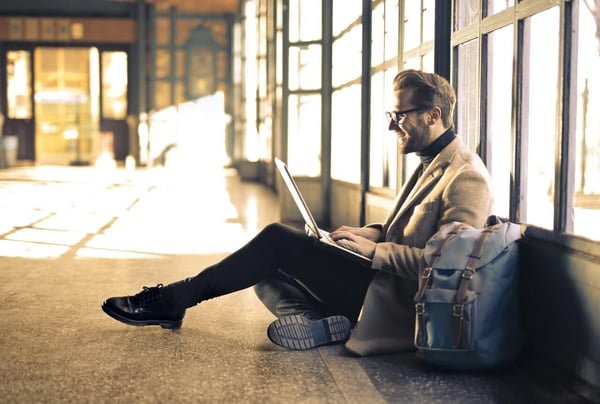 Increase the user experience of Your LMS in 2 Easy Steps
When you create the best LMS user experience, wonderful things happen. These two steps will help you increase your company's LMS user experience and ensure learners are consistently engaged in training:
Simplify sign-on procedures -- Nothing will deter someone from using an LMS like a complicated sign-on procedure. When learners don't access the LMS and participate in training, your company's ROI in eLearning plummets. Help users receive all the benefits of eLearning by enabling a Single Sign-On (SSO) login procedure via LMS integrations. Our blog article Important Tips to Fully Utilize LMS Integrations states,
"The average employee's attention span lasts about three seconds. A Single Sign-on (SSO) integration enables a quicker sign-on login process, delivering a user experience that encourages workers to actually log onto an LMS often and interact with training frequently."
Learn more about what an LMS integration is and how to use it to increase the UX of your LMS.
Mind the design of your LMS -- LMS design has a lot to do with the experience users will have with the platform. Overly busy, loud graphic designs can be distracting, whereas interfaces designed to appeal visually to users facilitate the learning process. Using different types of media such as audio and video is also key to designing a great LMS UX. LMS-based learning that is well-organized and sensible is also critical to creating a good UX. Why User Experience Design is Important for Training Your Employees³ states,
"If the design of the eLearning lessons is unhelpful or disorganized, it will hurt user experience. On the contrary, if the design of the lessons is organized, simple to understand, and easy to grasp, then user experience will vastly improve. The key here is to have simple navigation with your training on a format that appeals to both your incoming (Millennials) and established workforce (Gen Xers)."
Both of these tips have to do with making things as simple as possible for learning management system users. The simpler an LMS is to access and train on, the more apt individuals are to use it. When it comes to LMS login procedures and design, simpler is better.
The best LMS UX creates increased buy-in
Is your company's LMS difficult to access? Are you not seeing the results you'd hoped for when making the initial investment in the learning management system? TOPYX aligns with Single Sign-on (SSO), API, FTP, and FTPS to deliver a superior UX. This will reduce the need for your user base to repeatedly sign in and keep track of several passwords. A free 10 minute assessment can help determine how to create the best LMS user experience that will increase buy-in.
---
References:
1, 2. eLearning Industry. LMS user experience: does it really matter? https://elearningindustry.com/learning-management-system-lms-user-experience-matter
3. eLearning Industry. Why user experience design is important for training your employees. https://elearningindustry.com/user-experience-design-training-employees/.