Online learning is valuable – this statement is practically inarguable. Over the past couple of decades, online learning has slowly but surely crept into nearly every type of company, organization, educational institution, nonprofit, multinational, association, and healthcare establishment.
Why? The answer is simple: online learning, or eLearning, is both incredibly convenient and highly effective for adult learners. Because of this, it has become a go-to delivery system for corporate training.
It is common knowledge that online learning is crucial to the welfare of any organization. Still, every once in a while we all need a few reminders of why this is the case. These reminders help us help others understand why eLearning is relevant and how it can positively impact their lives.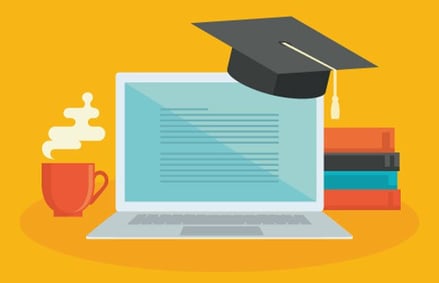 5 Reasons Why Online Learning is Valuable
Did you know that eLearning is a $56.2 billion industry? It's true. Obviously, corporate leaders understand the need for online learning. They don't flinch at the idea of dropping hard-earned dollars on it. To these individuals, as well as to the eLearning community worldwide, online learning isn't merely significant. It is imperative.
Here are a few reasons why:
1. Online Learning Increases Information Retention
Companies spend billions of dollars each year on learning and development programs. But, no amount of money ensures that employees truly understand, retain, and integrate the information presented to them via training.
How can company leaders make sure their workers retain training information? One way is to implement online learning. After all, eLearning can increase information retention rates by up to 60% in adult learners by reducing cognitive overload.
2. Online Learning Lowers Company Bottom Lines
Most people don't often consider online learning's ability to lower a company's bottom line. The fact is, though, that eLearning is more cost effective than other types of training.
Classroom-style corporate learning can be quite costly. Especially when you consider all of its expenses, including instructors' salaries, paper-based materials, and more. Online learning can be fairly cheap in comparison.
In his article, "How eLearning Dramatically Reduces Corporate Training Costs", Christopher Pappas wrote:
"According to research cited in Judith B. Strother's report, which featured the findings of Hall and LeCavalier, a number of big brands cut their training costs by switching to blended learning. For example, Ernst and Young reduced its costs by 35% and reduced its training time by about 52%. The same report also stated that IBM saved big when it moved to online corporate training. IBM actually cut its costs by roughly $200 million. This amount was approximately one-third of its prior training budget."
In this article, Pappas also cited other examples of online learning lowering various companies' bottom lines. In a separate article, the same author reported, "e-Learning saves businesses at least 50% when they replace traditional instructor-based training with e-Learning." Clearly, online learning is a wise investment for organizations on a budget.
3. Online Learning Is "Green"
Unlike other types of learning, online learning is "green." It seriously reduces companies' carbon footprints by eradicating the need for training-related travel. It also eliminates the need for paper products.
Related Blog: 2 Simple Steps to Create a Minimalist eLearning Environment
4. Online Learning Is Engaging
"Fun" is not a word often used to describe traditional corporate learning. But, non-traditional training (eLearning or blended learning) is usually much more engaging than its classroom-style alternative. Online learning combines games, visual and auditory stimulation, social media, as well as collaborative and social features.
Features like realtime chat and video conferencing can create learning experiences that are not just effective, but also enjoyable. The "fun factor" of eLearning keeps adult learners coming back again and again. Engaged eLearners participate in training that is essential to their success as well as to the success of their organization.
5. Online Learning Caters To Multi-Generational Workforces
Not every training model caters to the needs of multiple generations. But, online learning does. Andy Lancaster, Head of Learning and Development, CIPD, wrote:
"We need to recognise that we now have multi-generational learning and digital is becoming an increasing part of many people's day-to-day environment. This isn't limited to a younger generation. In fact, the older generations are now using digital technology more and more. As an institute we want to embrace a learning delivery mechanism where those who are excited and interested in digital can have a brilliant learning experience with us."
Workforces that are multi-generational would most likely benefit from having online training available.
Organization-Wide Value of Online Learning
Why is online learning important? It is engaging. It meets the needs of many different types of learners. It reduces an organization's carbon footprint as well as its bottom line. It also promotes learning retention. Not only that, online learning provides companies with valuable training solutions. Solutions tailor-made for the adult learners in their workplace.
---
References
https://elearningindustry.com/top-10-e-learning-statistics-for-2014-you-need-to-know
https://elearningindustry.com/dramatically-reduce-corporate-training-costs
http://www2.cipd.co.uk/community/blogs/b/leading-in-learning/archive/2016/09/12/6-reasons-why-online-learning-is-so-important