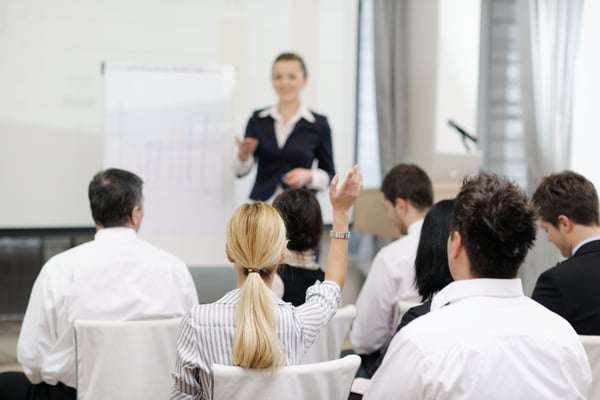 Do you believe that corporate training is a burden that most employees prefer not to bear? If so, think again. Today's average employee wants more corporate training opportunities, and 74% fear that they won't reach their full potential.¹ Your company can serve up more impactful corporate training to staff by implementing the most effective corporate training technologies available.
Corporate Training Technologies Your Company Should Consider Implementing
Interested in investing in corporate training technologies that drive positive employee training outcomes? Here are a few to consider:
1. Mobile Learning
The benefits of mobile learning are numerous. Mobile learning allows employees to participate in online training at any time, from any mobile device. It improves learning completion, employee retention rates, and workplace performance. Also, many employees find mobile learning easy to engage with since the average person touches the screen of their mobile phone 2,617 times per day.² "All in all, mobile learning backed with an easy to use mobile-friendly LMS is a great way to maximise the learning ROI in your organisation," wrote a contributor to eLearning Industry.³
2. Video Learning
Many company leaders have found video learning to be the ideal type of training for their workforce. This is because video learning is so engaging. A contributor to Forbes cited some facts about video learning from various sources: "YouTube reports mobile video consumption rises 100% every year…. A whopping 80% of users recall a video ad they viewed in the past 30 days…. 92% of mobile video consumers share videos with others."⁴
Clearly, people prefer to consume information via video. Since learners will retain 95 percent of a message conveyed through video, and a mere 10 percent of the message delivered through text, it makes sense for corporations to invest in video learning.⁵
3. Learning Management System
A learning management system (LMS) is an online learning platform designed to help administrators create, distribute, track, and report on employee training. It is a well-established corporate training technology that can deliver excellent results to companies and learners. Most LMSs have many features, including mobile learning, social learning, online learning paths, integrations, and more. A learning management system can personalize eLearning for employees, increase accessibility for training, store data, and improve resource allocation. Also, an LMS can save your company money by reducing training costs.
4. Big Data Analytics Tools
Another type of technology that can enhance corporate training is big data analytics tools. When analyzed correctly, big data has the potential to help administrators improve corporate training drastically by looking at previous experiences and using those insights to make positive changes. By investing in big data analytics tools, corporations can ensure employee training is always evolving in the right direction.
Find the Best LMS for Your Company
A learning management system can be the ideal corporate training technology to invest in before any others because it includes mobile learning functionality, allows administrators to include video learning content in eLearning courses, and can help you improve your corporate training program by organizing big data.
Visit our blog to learn how to find the best LMS for your company or request a personalized LMS demo today.
---
References:
1. https://elearningindustry.com/5-facts-about-corporate-training-hard-believe
2. https://trainingindustry.com/blog/learning-technologies/the-benefits-of-mobile-learning/
3. https://elearningindustry.com/mobile-learning-roi-mobile-friendly-lms-maximizing
4. https://www.forbes.com/sites/miketempleman/2017/09/06/17-stats-about-video-marketing/#3e3a8458567f
5. https://elearningindustry.com/video-based-learning-for-corporate-training-8-examples