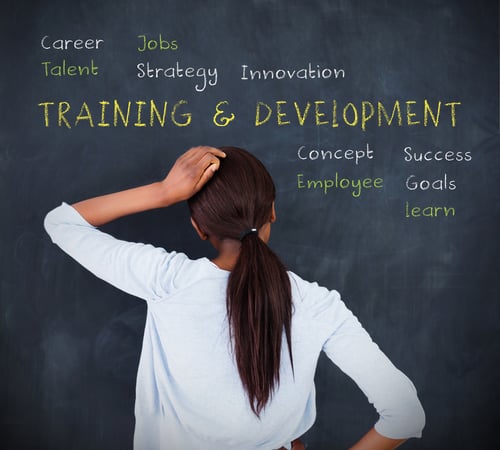 Training is crucial for employees across all industries -- especially those in the nonprofit sector. "Nonprofit leaders, especially executive directors, have to serve many roles from finance, governance, and human resources to marketing & PR, fundraising, program development and more," per Society for Nonprofits.1 "There are very few who come to these nonprofit leadership positions with all the knowledge and experience necessary to handle each of these diverse roles with ease."

Nonprofit training gets employees up to speed with their coworkers as quickly as possible, helps them function effectively in their respective job roles, and continually closes knowledge gaps. By actively improving nonprofit employee training, your nonprofit can increase worker productivity, recruitment, and retention, as well as motivate learners.2
How to Optimize Nonprofit Training in 4 Steps
Implement these tips to get better results from your nonprofit training program:
1. Incentivize learning
Humans are intrinsically motivated by incentives. Take advantage of this by using incentives to improve your nonprofit employee training program and increase learner participation.
Incentivizing nonprofit training can be as easy as tying a small reward to each learning segment workers complete. Reward learners for participating in online training, such as those delivered with a nonprofit LMS, with a digital badge or printable certificate. For in-person training, offer verbal praise to a group of learners, distribute physical certificates, or end the training session a few minutes early. Offering financial incentives can also be very effective in maximizing engagement.
Many nonprofits run on limited budgets, but this doesn't mean employees shouldn't be rewarded for learning. The key is to find incentives that your organization can afford and that learners will appreciate. Some training incentives, such as extra time for a break or lunch, are free. Think along those lines if you have a strict budget.
2. Connect training content to organizational goals
In the nonprofit sector, employee turnover is a significant problem. "Nonprofit turnover is twice that of for-profit companies, and it is not because of comparative salary inequities!" stated MissionBox.3 "In several national research surveys, nonprofit staff reported that they left their organization because they felt a lack of engagement with the broader goals and processes of the nonprofit for which they worked."
Nonprofits can increase employee engagement and decrease turnover by connecting employee training content to organizational goals. Administrators should also ensure that learners understand how the skills they are learning will help them support company goals. For example, your nonprofit may have a goal of managing your donors better. For your organization to meet this goal, your communications team may need training in customer service. Conveying your specific goal to learners, as well as filling them in on how exactly the skills they are learning will help them manage donors more optimally, will increase their engagement with training, their job role, and your company.
3. Individualize training
In order to make the biggest impact, a nonprofit training program should be personalized enough to meet the educational and intellectual needs of individual workers. That's why one-size-fits-all training programs are being phased out by many organizations.
Some learners may fare better with training content that is a little easier than what your current training program provides. Conversely, some people might benefit from the more challenging training content. While there are multiple methods for determining the effectiveness of training, administrators can find out if learners think training is too difficult or too easy and then make appropriate adjustments using LMS reporting. Surveying learners about their training experiences is also a tried-and-true way to discover any changes that you should make to an employee training program.
4. Career Pathing
Another way to improve your nonprofit training program is by implementing career pathing. Adjust the difficulty level of your training content to meet the intellectual needs of learners and create employee career paths to improve a worker's training experience. This fosters participation and encourages workers to stay on staff longer thanks to long-term goals.
Still trying to decide if your nonprofit needs an LMS to improve training? To learn more, read our blog post, "How Nonprofits Benefit from a Learning Management System" or contact an LMS expert at TOPYX today.
---
References:
https://www.snpo.org/lino/
https://www.missionbox.com/article/325/best-practices-for-nonprofit-staff-development
https://www.missionbox.com/article/325/best-practices-for-nonprofit-staff-development