Wondering what LMS trends to expect in 2020?
If so, you're not alone. Many organizational leaders are searching for information about the learning management system and eLearning trends for 2020. Staying current and aligning your company with these trends can help you create more effective training for your workforce and get the best ROI from your current LMS.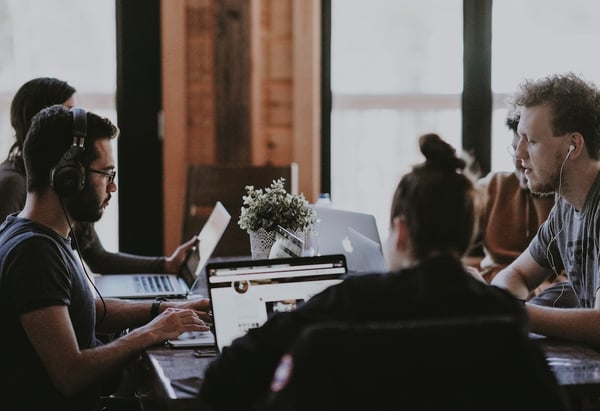 LMS and eLearning Trends to Watch in 2020
Here are several impactful LMS trends you'll notice this year:
1. The eLearning market is experiencing rapid growth
Think eLearning is popular now? Look to the future, where the global eLearning market will reach $325 billion by 2025.1 Just two years ago the market hit $190 billion,2 and in 2015 the market was estimated to reach $107 billion,3 so it's easy to see the incredible growth of the global eLearning market.
"The rise in the adoption of technology-enabled teaching & training techniques is driving the e-learning market growth," stated Global Market Insights.4 "Some of the major emerging technologies in the industry include AR & VR devices, AI platform, Big Data, machine learning, and wearable devices." Staying up-to-date with these emerging technologies will help companies offer cutting-edge training to employees and remain competitive in their respective industries.
2. eLearning content is changing
In the past, eLearning content has mostly focused on compliance and regulatory tracking. However, over time, the focus of eLearning content has changed. It is no longer primarily centered around compliance, but around leadership and work-life soft skills training.
This LMS trend is particularly beneficial to learners since such skills are highly transferable and add weight to a resume. It is also helpful to employers who are trying to mitigate the sizable soft skills shortage (a study reported by SHRM indicated that at least 30 percent of job candidates do not have sufficient soft skills5). By taking note of this trend happening in eLearning content and following suit, organizations can narrow the soft skills gap.
3. Data analytics is becoming a most-used LMS feature
According to Learning Technologies Awards 2019 e-Magazine, 82 percent of L&D managers think reporting analytics is one of the most important LMS features.6 This statistic points to a top LMS trend of 2020, which indicates that companies are relying more heavily on LMS reports.
This trend was probably sparked in part by the uptick in digital transformation initiatives last year. As of December 2019, 70 percent of companies either had a digital transformation strategy in place, or were developing one, per Forbes7.
Companies are becoming more data-driven, and that data must be accounted for. Just one way organizations are accounting for data is by using their LMS's data analytics feature more often. Companies that follow this trend will be more organized and better able to handle the quickly changing digital landscape in the workplace, which ultimately affects how corporate training is designed, delivered, and tracked.
4. Learning management systems are adopting new technologies to improve content delivery
Learning technologies, such as learning management systems, are constantly being changed to better meet the needs of organizations and their learners. LMS designers have improved the way eLearning systems deliver content to users by enabling LMSs to adopt new technologies that enhance content delivery.
Some of the newer LMS content delivery formats we are seeing and will continue to see include social learning, mobile learning, virtual reality, interactive video, and AI. This LMS trend promotes user adoption, engagement, knowledge retention, and skills transfer.
For example, learners are 75 percent more likely to watch a video than read a report, according to a Forrester Research Report,8 and smartphone users included in a study on mobile learning finished their courses 45 percent more quickly than those who trained on computers, reported Lynda.com.9 Companies that stay in step with this trend will reap similar benefits.
New LMS Trends Can Result in Better Training Outcomes
Each year, LMS trends evolve. Some changes are more drastic than others, but all affect corporate training as a whole and impact the future of the LMS industry. Companies that acknowledge and adopt LMS trends will be able to deliver optimal training to their employees, and will see better training outcomes.
What LMS trends are you expecting to see in 2020?
Interested in learning more? Download our free 2020 eLearning Trends Report or contact TOPYX to request a personalized LMS demo today.
---
References:
[1] https://elearningindustry.com/top-elearning-statistics-2019
[2] https://www.gminsights.com/industry-analysis/elearning-market-size
[3] https://elearningindustry.com/elearning-statistics-and-facts-for-2015
[4] https://www.gminsights.com/industry-analysis/elearning-market-size
[5] https://www.shrm.org/hr-today/trends-and-forecasting/research-and-surveys/Documents/SHRM%20Skills%20Gap%202019.pdf
[6] https://view.pagetiger.com/LearningTechnologiesAwardsEMagazine/issue-13/PDF.pdf
[7] https://www.forbes.com/sites/blakemorgan/2019/12/16/100-stats-on-digital-transformation-and-customer-experience/#65265df63bf3
[8] https://www.comprehensivemedia.com/wp-content/uploads/Comprehensive_Media_20_Ways_To_Save_eBook02.pdf
[9] https://cdn.lynda.com/cms/asset/text/lyndacom-whitepaper-mobile-learning-benefits-20151245042329.pdf