The first case of COVID-19 in the U.S. was reported on January 21st, 2020.1 Since then, millions of employees have made the transition from working from the office to working from home. On April 21st, it was reported that 66 percent of all employees in the U.S. were working from home as a result of the coronavirus pandemic.2
While some individuals have begun returning to the office, others have remained at home. "About 74 percent of CFOs surveyed by Gartner expect some of their employees who were forced to work from home because of the COVID-19 coronavirus pandemic to continue working remotely after the pandemic ends," stated CRN.3 It is important that employers ensure their employees who work from home successfully transition from in-person training to online employee training/remote training.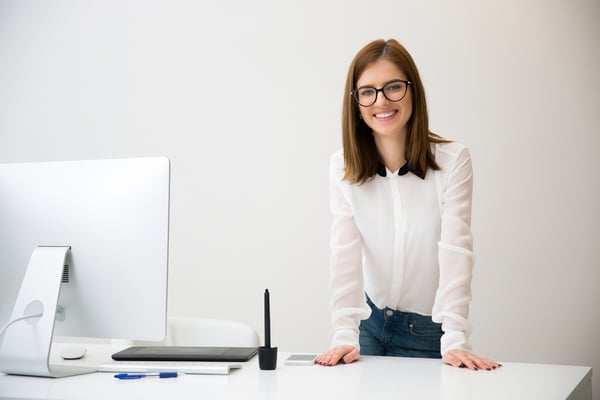 How to ensure your employees transition
between the office and home successfully
Here are a few tips for helping your work-from-home employees adopt remote training successfully, even in the midst of COVID-19:
1. Keep online courses simple
A quick way to discourage participation in eLearning is to make online courses lengthy and complicated. Conversely, keeping courses simple will promote engagement and set learners up for success. There are a few ways you can simplify eLearning courses. First and most importantly, you should identify employees' performance gaps. "You must uncover how much your employees know, how well they know it, and what they still need to learn," stated eLearning Industry.4 "Learning as much as possible about your employees allows you to create relevant and practical online training courses. It also prevents cognitive overload, as you can skip topics they already know and move onto more pressing matters." Discover your employees' performance gaps by having both workers as well as supervisors complete assessments designed to evaluate employee performance.
Related Reading: 4 tips to make online employee training more effective for remote workers

2. Launch a user-friendly eLearning system
Another way to help workers transition to remote training is to launch a user-friendly online learning system. A learning experience platform (LXP) is among the most engaging eLearning platforms on the learning technology market. It is easy-to-navigate and has a "'Netflix-like' interface, with recommendations, panels, mobile interfaces, and AI-driven recommendations," said Josh Bersin.5 Bersin went on to explain that LXPs accommodate all forms of content, including podcasts, articles, videos, and more, and even enable workers to publish their own content.
A learning experience platform may help employees transition more easily to remote training by engaging learners with content tailored to their role. An LXP is more than an eLearning platform -- it is a personalized online learning experience for employees.


3. Monitor learner engagement with eLearning system reports
Keeping a pulse on learner engagement is critical when your workforce is dispersed and employees can easily become disconnected from the company as well as their peers and supervisors. Without monitoring learner engagement, it will be tough to tailor training content to employees' needs.
eLearning Industry suggested monitoring learner engagement using eLearning system reports: "Having access to Learning Management System (LMS) reports can prove vital for getting lots of insight into your business that you wouldn't be able to get easily otherwise."6 A contributor noted that eLearning system reports indicate how quickly learners start and finish their courses, how long they spend on individual modules, and what their quiz results are. This feature should provide all the data companies need to assess learner engagement and make changes to training accordingly.
Related Reading: How to Support Remote Training as Working from Home Becomes the New Normal
eLearning has massive value for companies during the COVID-19 pandemic and beyond
eLearning can help make employee training consistent regardless of whether someone is at home or at the office. This is noteworthy since we may see employees going back to the office, but also going back to a home setting, eventually. Remote training provides consistency no matter where employees are, unlike in-person training that is manual and more labor-intensive. Online training has tremendous value whether companies are in the midst of a pandemic or not.
Ready to launch an effective, user-friendly eLearning system that will enable remote training quickly and easily? You can deploy the TOPYX learning experience platform in days with our Quick Start Program.
---
Sources:
1. https://abcnews.go.com/Health/timeline-coronavirus-started/story?id=69435165
2. https://smallbiztrends.com/2020/04/work-from-home-during-coronavirus.html
3. https://www.crn.com/news/running-your-business/some-may-work-from-home-permanently-after-covid-19-gartner
4. https://elearningindustry.com/tips-simplify-online-training-courses
5. https://joshbersin.com/2018/09/the-learning-experience-platform-lxp-market-expands/
6. https://elearningindustry.com/monitor-learner-engagement-lms-reports-4-ways