Organizational transformation starts with a permanent behavioral change in a company's employees. In addition to driving transformation for companies, behavioral change improves employee satisfaction, boosts profitability, and saves time by improving worker efficiency. L&D teams can and should strive to incite behavioral change through remote training due to the current global health crisis.
"Organizations incapable of change rarely last very long," said a contributor to eLearningIndustry.com.1 "This means that if your training doesn't lead to behavior change, it's a complete waste of your training budget! L&D led behavior-change initiatives will keep everyone working toward the same goals and through a common framework."
Interestingly, an eLearning system can be an incredible catalyst for sparking behavioral change in your entire workforce.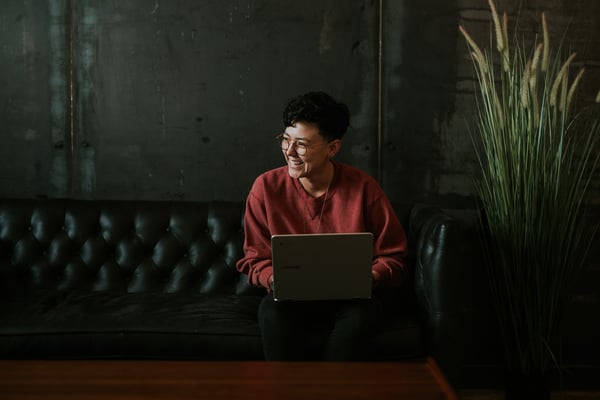 3 ways to promote behavioral change in your
staff using an eLearning system


Many organizations use an eLearning system to upskill their staff. One of the reasons for this is because training often delivers a great ROI. In fact, for every $1,500 that companies spend per employee on training each year, their profit margins improve by about 24 percent.2 But employee training software doesn't just improve a company's bottom line, it also helps organizational leaders empower behavioral change.
To promote behavioral change in your staff, use an online learning platform to do the following:
1. Offer skills-based training courses

Behavior often doesn't change until new skills are learned. "We must have some kind of skill to be able to manifest the behavior consistently," Rework stated.3 Therefore, a good way to promote such change is to use an eLearning system to create and deliver skills-based training online.
A contributor to MediaBistro referred to skills-based training as "short courses that teach working professionals new trends and new information within their job function."4 Skills-based training can help individuals excel within their positions that may be constantly evolving. Your L&D team can use eLearning system features such as content management to create skills-based courses tailored to your company's needs. These courses will provide the skills workers must have to begin to manifest new behaviors at work.
Related Reading: 3 Soft Skills Your Corporate Training Program Should Prioritize in 2020
2. Create a digital reward system
Few things drive behavior change as powerfully as rewards. Digital rewards, such as badges, will go a long way toward creating permanent behavioral change in your workforce. "Organizations that use badging get real results," stated Harvard Business Review.5 "Of employees who'd received IBM badges, 87% reported that they were more engaged thanks to badging, and 72% of IBM managers use badges 'to recognize employees for achievement.'"
Digital certifications can be used similarly to badges. Additionally, gamified online learning rewards learners with digital prizes, as well as with the confidence that comes with mastering new levels of a game or simulation.
Related Reading: 3 Best Practices for Employee Training Gamification
3. Space out learning
Properly spacing online training will help improve knowledge retention, skills acquisition, and behavioral change in employees. ATD contributor B. Price Kerfoot, associate professor of surgery at Harvard Medical School, noticed early in their career how helpful it was to space learning for his students.
Kerfoot said, "The question for educators is how to most effectively structure the educational process to prevent forgetting, to boost long-term retention, and to generate meaningful behavior change. It is this question that led me to search for solutions within the field of cognitive psychology and ultimately to develop a new form of online education (termed 'spaced education') based on these brain science insights."6
L&D specialists can space employee learning to support knowledge retention and meaningful behavioral change. How far apart you should space training is dependent upon the difficulty and length of the online courses being offered. You may choose to break up longer courses into mini-courses or even remove an entire training segment from an employee's learning path so that their other courses can be spaced out more widely.
Find the right eLearning system for your organization
To cause long-lasting changes in employee behavior and begin the process of organizational transformation, your company needs an eLearning system that includes tools designed to enable L&D teams to create, deliver, track, and report on online training. This type of platform makes it easy to offer skills-based training courses, deliver digital rewards, and space out training; all of which are linked to behavioral change in workers.
Request a demo of TOPYX eLearning system to find out how an online learning platform can serve and support your organization.
---
Sources:
[1] https://elearningindustry.com/employee-behaviour-change-leverage-learning-and-development-process
[2] https://elearningindustry.com/top-elearning-statistics-2019
[3] https://www.cornerstoneondemand.com/rework/did-you-know-skills-are-not-behaviors
[4] https://www.mediabistro.com/climb-the-ladder/skills-expertise/skills-based-training/
[5] https://www.harvardbusiness.org/for-organizations-and-learners-the-benefits-of-badging-are-clear/
[6] https://www.td.org/insights/harnessing-brain-science-to-drive-behavior-change-in-healthcare