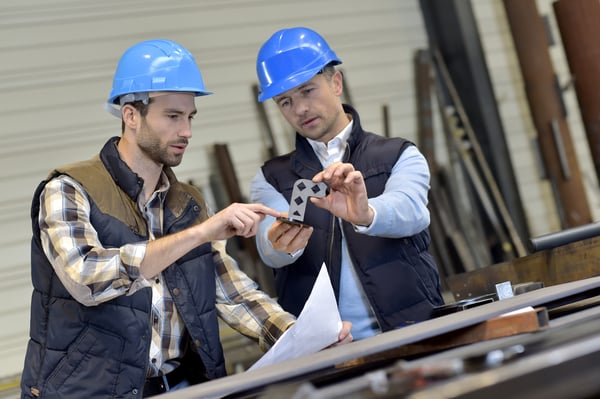 Investing in your employees' education is one of the smartest business moves you can make as a company leader. The reason for this is simple: employee training has an incredible return on investment. For example, Discover Financial saw a $1.44 savings for each dollar spent on education reimbursement, according to Chief Learning Officer.¹ Also, providing ample employee training boosts worker engagement. "Employee development is a way that you can keep your employees engaged at work to prevent boredom from setting in," stated Inc. Additionally, investing in employee education can help companies lower staff turnover, narrow corporate skills gaps, and promote from within.
3 Ways Investing in Employee Training Pays Off
Here are a few ways that investing in employee training will benefit your company:
1. Employee training lowers turnover
The costs associated with employee turnover can be crushing to a business. For example, the average employee exit costs a company 33 percent of the worker's annual salary.³ By investing in employee training, companies can insulate themselves from excessive turnover. One of the reasons why training employees is key to retaining employees is because, according to LinkedIn, "94% of employees would stay at a company longer if it invested in their career."⁴
Also, "Upon leaving their position, approximately 25% of people report the reason for their departure as a lack of training and development opportunities," wrote a contributor to Findcourses.⁵ Providing sufficient employee training opportunities may be the single best way to prevent turnover and its associated costs.
2. Employee training closes corporate skills gaps
Every company has skills shortages. By investing in employee training, companies can best deal with a corporate skills gap. "83% of HR professionals are having recruiting difficulty and of those HR professionals, 75% say there is a shortage of skills in candidates for job openings," indicated SHRM's skills gap research.⁶ SHRM suggested that companies mitigate this issue by rekindling entry-level job training programs and participating in community partnerships to "rebuild the broken talent creation system." For best results, a company's L&D team should work with departmental leaders to create targeted training that strategically narrows skills gaps.
3. Employee training helps employers promote from within
Many employees start at the entry level, and they should be provided with training to meet their needs as new hires. However, by regularly moving some of these workers out of entry-level roles (i.e., promoting from within), companies can save money and positively impact company culture. "Promoting from within a company boosts morale and helps keep productivity high," stated The Houston Chronicle.⁷ "If your employees know there is a potential career path within the organization, you are less likely to lose promising staff to another organization." Training employees past an entry-level position also builds their confidence and helps them reach their career goals, which may strengthen their loyalty to your company.
Why a Learning Management System (LMS) is the Ideal Corporate Training Investment
There are numerous practical ways to invest in your employees' education. One is to implement an online learning platform, such as a learning management system (LMS). A learning management system is designed to streamline internal educational procedures and make corporate training as convenient as possible for both learners and administrators. An LMS will help you deliver quality training that will decrease staff turnover, close skills gaps, and foster promotion and internal hiring.
Learn more about the benefits of an LMS and how it can help your company train employees more effectively or contact us for a personalized LMS demo of the TOPYX platform.
---
References:
1. https://www.chieflearningofficer.com/2019/07/01/education-investment-bending-the-curve-on-employee-turnover/
2. https://www.inc.com/chad-halvorson/5-reasons-you-should-be-investing-in-employee-development.html
3. https://www.tinypulse.com/blog/13-surprising-statistics-about-employee-retention
4. https://learning.linkedin.com/resources/workplace-learning-report-2018
5. https://www.findcourses.com/prof-dev/l-d-articles/reasons-to-spend-more-money-on-training-employees-11301
6. https://www.shrm.org/resourcesandtools/tools-and-samples/toolkits/pages/developingemployees.aspx
7. https://work.chron.com/advantages-promotion-within-6320.html