Eighty-four percent of companies anticipate a shortage of leaders in the workplace in the next five years, according to Infopro Learning.1
Twenty-five percent of organizations also claim that less than 10 percent of vital leadership positions have successors who are willing and able to assume leadership roles. That indicates a leadership skills gap that needs to be closed as quickly as possible.
The Leadership Skills Gap is Widening
Unfortunately, the skills gap shows no sign of slowing down as Millennials move through the workplace.
The Millennial generation is now the largest in the U.S. workforce, and the labor market will be made up of 75 percent Millennials by 2025. Since just 27 percent of Millennial men and 21 percent of Gen Y women consider themselves strong in leadership skills, the leadership skills gap may widen as they become more prominent in the workplace.2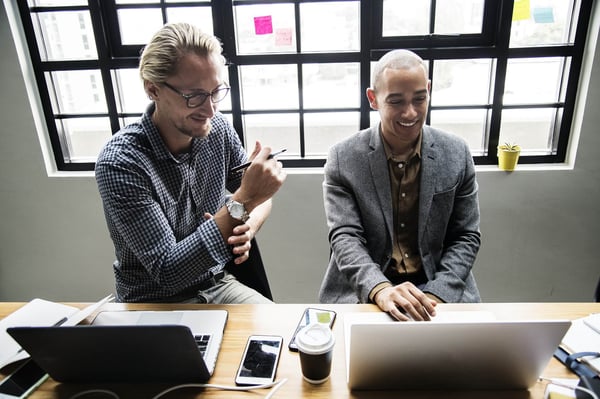 How to Develop Corporate Leaders Using LMS Software
In order for the leadership skills gap to be closed, company leaders must not only teach these skills to workers, but also develop employees' innate leadership abilities. One way to do this is by using LMS software.
"58 percent of organizations' top priority is closing leadership skills gaps." -- 13 Shocking Leadership Development Statistics
LMS software can be helpful in closing the leadership skills gap because it facilitates leadership training and gives employees hands-on opportunities to practice leading their peers. Online corporate learning is ideal for getting started with leadership in a low-pressure setting where mistakes are allowed and successes are celebrated.
Here are three ways to promote leadership in corporate learning using LMS software:
1. Utilize learning paths
Learning path functionality is a feature of LMS software that can encourages comprehension of training. Using learning path functionality can keep learners on track with their leadership development programs, as well as other employee training programs .
The LMS learning paths feature allows administrators to customize leadership training to individual learners and adjust it according to their performance and aptitude for leadership. The result is a tailored program designed to give your employees the leadership skills your company needs.
2. Deliver training in small chunks
In the world of corporate eLearning, microlearning is very popular. It caters to today's employee's shorter attention span and increases knowledge retention.3 "Another virtue of microlearning toward retention is that all the modules are available for later review. If a concept is fuzzy and needs clarification, it will be easy to go back and view it again," stated a contributor to eLearning Industry.4
LMS software lets administrators deliver leadership training in bite-sized chunks via audio, video, and other learning mediums. These bits of learning are easier to recall than bigger loads of training received in a classroom. Overall, microlearning lends itself well to leadership development training.
3. Offer mentorship opportunities with social learning tools
In today's fast-paced workplace, finding time to develop mentor-mentee relationships can be tough. However, mentorship helps develop leaders by increasing their confidence through one-on-one coaching. Also, the Saxon Group reported that mentoring is mutually beneficial, developing leadership skills in both mentee and mentor.5
LMS software can promote leadership in corporate learning when social learning tools are used. For example, you could easily set up a weekly 30-minute video chat between a new employee and a seasoned worker using your learning management system's web conferencing tool. Real-time chat also makes a mentor more accessible to a mentee.
While these tools make mentoring possible for today's busy employees, face-to-face mentoring is probably most effective.
Related Reading: How LMS Learning Path Functionality Promotes Professional Development
Is Your Company's Corporate Learning Program Developing Leaders?
If your organization's corporate learning program isn't developing employees' natural leadership abilities, consider switching to online learning. The additional tools could help you create personalized programs that upskill your employees in the way your company needs most.
Online learning platforms can help you accomplish your organizational training goals. We've developed the best tool to compare online learning platforms to help you select the best fit for your business.
---
Resources:
1. Infopro Learning. 13 shocking leadership development statistics (infographic). https://www.infoprolearning.com/blog/13-shocking-leadership-development-statistics-infopro-learning/
2. Jibe. 8 stats on Millennials and leadership in the workplace. https://www.jibe.com/blog/8-stats-on-millennials-and-leadership-in-the-workplace/.
3, 4. eLearning Industry. Ways microlearning increases attention and retention. https://elearningindustry.com/microlearning-increases-attention-retention-ways.
5. The Saxon Group. How mentoring in the workplace can improve your leadership skills. http://www.saxonsgroup.com.au/blog/leadership/mentoring-workplace-can-improve-leadership-skills/.