The technology industry has been deeply impacted by the COVID-19 pandemic. "The effects of COVID-19 are having a significant impact on the technology sector, affecting raw materials supply, disrupting the electronics value chain, and causing an inflationary risk on products," stated Deloitte.1 While navigating the coronavirus pandemic is an unprecedented challenge for tech companies, now is the perfect time for these organizations to reassess their technology training programs to determine if they are meeting the needs of the company during this critical time.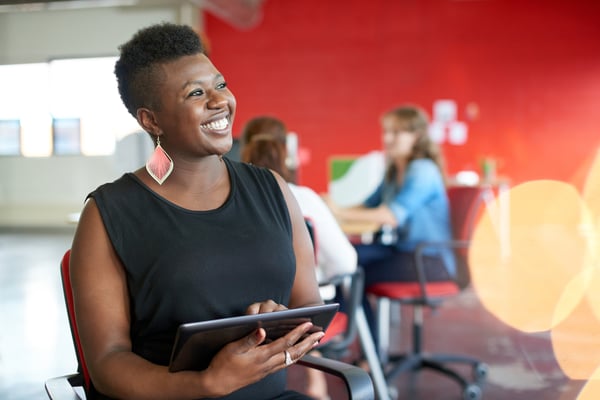 3 reasons tech companies should set new training goals in the midst of COVID-19
Here are a few reasons why your tech company should consider prioritizing remote training and setting new training goals in response to (and in the midst of) COVID-19:
1. COVID-19 has created downtime for tech companies
Business leaders know that downtime is not a good thing. It means business is slow and sales are more scarce. Due to the economic impact of the pandemic, many tech companies are selling fewer products and services than ever before. A silver lining in this unfortunate circumstance is that some tech organizations now have extra time to spend developing employees, reassess their training objectives, and set new training goals that will help them increase revenue in the future by upskilling their workforce.
2. Customers' needs have changed due to the pandemic
COVID-19 has altered many things, including the needs of tech customers. First and foremost, they need a better customer experience. "Particularly in times of crisis, a customer's interaction with a company can trigger an immediate and lingering effect on his or her sense of trust and loyalty," explained McKinsey & Company.2
To meet your customers' needs and increase their loyalty to your company, take this time to reassess your employee training program and determine whether or not most of your workers have the skills needed to deliver an excellent customer experience. Even the most personable, knowledgeable employee has room for improvement, so consider setting a goal of creating a "Customer Service in the Age of COVID-19" eLearning course that is mandatory for staff across all departments.
3. Keeping employee productivity high is critical
Tech companies are scrambling to keep worker productivity up.3 Because of the negative financial impact the coronavirus pandemic has had and is having on the tech sector, companies must do all they can to improve employee productivity. After all, productive workers will make greater sales and perform well in training, becoming upskilled more quickly. Now is an ideal time to reassess your company's employee training program to ensure it includes eLearning courses designed to improve worker productivity and performance. Additionally, offering employees incentives is an effective way to boost productivity.
Related reading: How to Solve 3 of Your Technology Company's Key Challenges With an LMS
TOPYX LMS can meet your tech company's training needs during this time of crisis
If you need tools to reassess your employee training program, create new eLearning courses, deploy technology training more effectively to all users, quickly introduce new features, create communities, and increase customer satisfaction and renewals, TOPYX LMS is for you. TOPYX is ideal for technology companies still relying on in-person training to manage end-user training, as well as companies that have implemented remote eLearning.
Did you know you can launch TOPYX in a matter of days with our Quick Start Program? Request an LMS demo to learn more.
---
References:
1. https://www2.deloitte.com/global/en/pages/about-deloitte/articles/covid-19/understanding-covid-19-s-impact-on-the-technology-sector-.html
2. https://www.mckinsey.com/business-functions/marketing-and-sales/our-insights/adapting-customer-experience-in-the-time-of-coronavirus
3. https://www2.deloitte.com/us/en/pages/technology-media-and-telecommunications/articles/covid-19-outlook-on-technology-industry.html