LMS software doesn't just train your workforce, it can also reduce the cost of hiring and improve worker engagement and employee retention. If you're not using an LMS, or if you aren't aware of how your current learning management system can improve key business metrics, your bottom line may suffer.
Struggling to Improve Your Bottom Line? You're Probably Underusing an LMS Functions that Could Improve It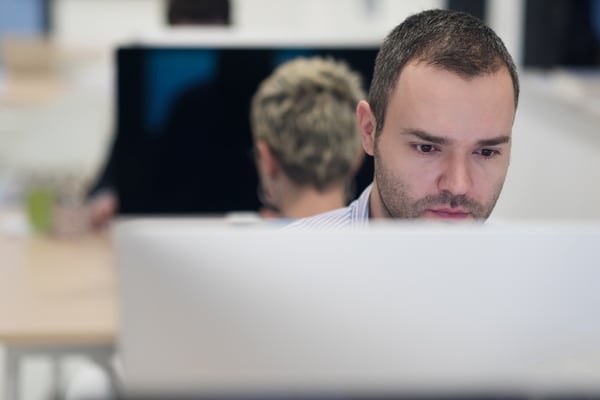 Here are a few ways LMS software can increase the financial health of your organization:
1. LMS software's hidden fees could be hitting your budget
Think you have your LMS costs nailed down? Chances are they're escalating and your team just needs to handle the extra costs.

Over half of businesses spend more than anticipated on the LMS, with the average annual spend of over $70,000. What causes the jump? Often, it's extra fees. Per user fees are the most common, causing costs to increase as businesses add more users to their LMS. Companies with large training bases, either employees, customers, partners, or other stakeholders, are typically most at risk here.

Other hidden costs could include content licensing, technical support, and system upgrades.

If you're not aware of the fees included in your LMS, or notice costs increasing steadily over time, your bottom could be taking a hit. Any additional spend on your LMS software will, after all, have to be taken out of your revenue.

For more information on LMS costs, check out: What Companies Need to Know About the Cost of LMS Software
2. LMS software's training tools could reduce hiring costs
Part of the ROI your LMS delivers is a skilled, productive, and workforce that ready to contribute even more to your company by advancing in the ranks. eLearning Industry stated, "(eLearning) trains employees for better opportunities within the company. It also provides you with a better trained staff for hiring within the company. Being able to hire in-house saves you money and keeps retraining costs down."1

Because internal hiring is typically cheaper than finding outside talent, it has a positive impact on a company's bottom line. To effectively and continuously train your workforce and prepare workers for promotion, create LMS learning paths that are consistently updated throughout an employee's time with your company.

Some learning paths, such as onboarding, should be mandatory, but some should be optional for workers who want to move up in your organization. An upskilling path, for example, should be offered to these employees. This can promote retention as 76 percent of workers desire opportunities for career growth.2 It can also reduce hiring costs.
3. LMS software could increase employee engagement
When employees are disengaged at work, companies lose a lot of money. A contributor to Forbes said that the loss of just one disengaged worker who earns an average salary can cost a company up to $16,000.3 LMS software promotes employee engagement and can help prevent some of the financial damage disengagement causes. How Using an LMS Will Boost Your Workforce Productivity stated,

"Among the many ways an LMS can help engage your workforce, the 'crowd-sourcing' of worker recognition is one of the most potent. By enabling team members, managers, and execs to easily comment on, like, and share the achievements racked up by employees, an LMS facilitates recognition of the small, everyday successes that fall through the cracks between formal performance reviews."4

Recognition increases employee engagement and motivation, which improves the bottom line. In fact, Gallup said that organizations with higher employee engagement levels see 21 percent greater productivity, 10 percent higher customer metrics, and 22 percent more profitability.5
4. LMS software could increase employee retention with mobile learning
At least 60 percent of employees prefer to participate in training via personal mobile device.6 A study on mobile learning indicated the following:
Seventy-two percent of learners feel engaged with mobile learning
At least 45 percent of learners complete courses 45 percent faster on a mobile device versus a computer
Seventy percent of learners are more motivated to learn after they've successfully navigated a course on a mobile device
Although many employees prefer mobile learning, just 47 percent of companies use mobile devices in their training programs.7 To retain workers, these organizations should rethink their training strategies to include mobile learning. By retaining employees through delivering training in the format they prefer, companies can lessen the cost of staff turnover. This can lead to major savings since losing just one employee earning an average salary can cost an organization $15,000.8
Find an LMS That Will Help, Not Hurt, Your Company's Bottom Line
An LMS should improve a company's finances by touching multiple aspects of the workforce. To bolster the bottom line, capitalize on your eLearning system's ability to foster in-house hiring and employee engagement and retention. Also, protect your bottom line by being aware of the hidden fees in LMS software that increase enterprise training costs and choosing an eLearning system that accommodates your organization's training budget.


---
References:

1. eLearning Industry. 8 ways eLearning increases employee productivity. https://elearningindustry.com/elearning-increases-employee-productivity-8-ways.
2. Forbes. How much are your disengaged employees costing you? https://www.forbes.com/sites/karlynborysenko/2019/05/02/how-much-are-your-disengaged-employees-costing-you/#365476f34376.
3. Clear Company. 5 surprising employee development stats you didn't know. https://blog.clearcompany.com/5-surprising-employee-development-statistics-you-dont-know.
4. Continu. How Using an LMS Will Boost Your Workforce Productivity. https://blog.continu.co/how-using-an-lms-will-boost-your-workforces-productivity/.
5. Gallup. How employee engagement drives growth. https://www.gallup.com/workplace/236927/employee-engagement-drives-growth.aspx.
6. Shift. Mobile learning stats that will make you rethink your training strategy. https://www.shiftelearning.com/blog/bid/331987/mobile-learning-stats-that-will-make-you-rethink-your-training-strategy.
7. eLearning Industry. 7 surprising mobile learning statistics eLearning professionals should know. https://elearningindustry.com/surprising-mobile-learning-statistics-elearning-professionals-know.
8. HR Dive. Study: turnover costs employers $15,000 per worker. https://www.hrdive.com/news/study-turnover-costs-employers-15000-per-worker/449142/.