With hundreds of learning management systems available, the LMS market reached $182 billion in 2017.¹ From these eLearning systems, some are SCORM certified, and some are not. Before deciding on an LMS to invest in, company leaders should learn what SCORM is, why it is essential, and how it can benefit an organization.
SCORM stands for "shareable content object reference model" and is a technical standard for eLearning systems. These measures render an LMS compatible with other types of eLearning software.
"The SCORM (Sharable Content Object Reference Model) was created to address...interoperability, reusability and durability challenges. As a reference model, it was intentionally designed to leverage standard web technologies as well as existing learning technology specifications." -- Advanced Distributed Learning²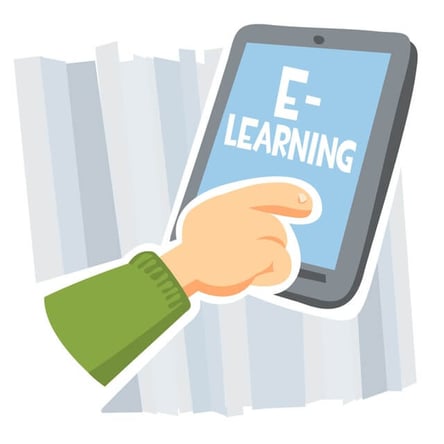 In short, the shareable content object reference model makes the process of integrating eLearning content with other online learning tools and learning systems easier.
The shareable content object reference model was a response to the need to standardize training software. President Clinton established SCORM in 1999 under the national Advanced Distributed Learning (ADL) initiative of 1999. Over the past 18 years, a SCORM certification has become a sign of a quality LMS which can streamline corporate training processes.
Related Reading: A SCORM-certified LMS Helps Companies SCORE
3 Reasons You Should Care About SCORM
If your team is looking for an LMS, it is imperative to do your due diligence and learn if the eLearning platform is SCORM certified. Not only because the shareable content object reference model increases an LMS's interoperability with eLearning content and software, but also because it:
Helps instructional designers make eLearning content more engaging.

This engagement leads to increased knowledge retention and successful training programs.³

Makes moving eLearning content to a new LMS simpler

. If it becomes necessary to change your LMS, SCORM enables the swift and safe migration to a different platform.

Reduces the cost of integrating content with a learning management system.4

The article

Benefits of SCORM

stated, "There are some who will say that integrating SCORM itself is too hard and too expensive, largely due to the sequencing specification. When applied appropriately, however, SCORM results in great cost savings."
All of these are excellent reasons to invest only in a SCORM-compliant learning management system.
To recap, SCORM:
Makes an LMS compatible with many types of eLearning software.

Protects a company's investment in online learning content by ensuring it can be moved to another LMS if necessary.

Is the industry standard for eLearning system interoperability.
Does your organization need an intuitive, user-friendly, full-featured LMS that is compatible with a variety of eLearning software? If so, request a free demo of the SCORM-certified LMS TOPYX. TOPYX is rich in features such as…
Social learning tools

Learning paths

Mobile learning tools

Salesforce integration

Learning Tools Interoperability (LTI)

Reporting tools
Learn more about the TOPYX LMS content managment tools that integrate seamlessly with our LMS features.
---
References
eLogic Learning. 15 eLearning trends and statistics to know for 2017. https://elogiclearning.com/15-elearning-trends-and-statistics-to-know-for-2017/.

Advanced Distributed Learning. SCORM. http://www.adlnet.org/adl-research/scorm/.

Hiers, Mary. How Important is SCORM in e-Learning? http://blog.cldinc.com/blog/how-important-is-scorm-in-e-learning. February 16, 2017.

Rustici Software. Benefits of SCORM. https://scorm.com/scorm-explained/business-of-scorm/benefits-of-scorm/. January 6, 2009.