The growth of the 2019 eLearning market will be incredible. It's estimated that the market will grow at a 5 percent compound annual growth rate between now and 2024, at which point it will likely exceed $200 billion, according to Training Magazine.1 Forbes predicted that the market will climb to $325 billion by 2025.2 This unparalleled growth is due to the convenient learning solutions eLearning offers corporations.
Online learning can be delivered through a variety of tools, the most effective possibly being the online learning platform. Businesses, associations, and other organizations use online learning platforms to deliver training to employees, customers, and members. As time goes on, however, the methods they use to effectively engage learners change as trends come and go. In 2019, new as well as recycled eLearning trends will impact the online learning platform market, affecting how businesses use their platforms.
Watch for These eLearning Trends in 2019
eLearning trends and technology changes can make your training more effective. Here are a few online learning trends you can expect to see next year:
1. CMI-5 -- In the past, the leader in setting technical standards for eLearning software products was SCORM (and still is). But the newest LMS standard is CMI-5, according to a contributor to eLearning Learning.3 CMI-5 stands for Computer Managed Instruction, and isis an interoperability specification that helps with communication and data in online le zarning platforms. Some believe CMI-5 will be the end of SCORM, although that is debatable.
The contributor to eLearning Learning described CMI-5 as being "far superior" to SCORM. "LMS providers are already in the process of adding (CMI-5). Not the majority, mind you, but enough to see a trend. The irony is that xAPI, a supposed savior for mobile, still does not have mass adoption and yet, and CMI-5 is in the works for many."
Depending on how well it is received, CMI-5 could have a major impact on existing learning management systems and the 2019 online learning platform market.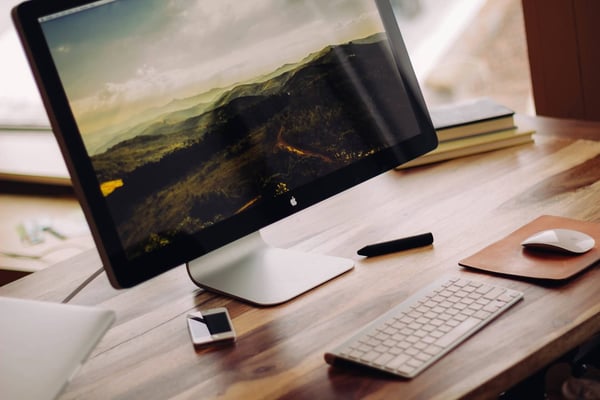 2. Alternatives to digital courses -- Courses are the go-to modes of eLearning. In 2019, we may see alternatives to online learning courses popping up. Clark Quinn, a leader in learning technology strategy, believes alternatives to courses will be the main digital learning trend of 2019.4 He wrote,
"(Course alternatives) will include performance support and social networks. Similarly, models for formal learning will shift from the 'event' model to a more sustained and distributed framework that segues from spaced learning through coaching."
This trend could impact the 2019 online learning platform market by encouraging LMS developers to expand social learning tools. Also, learning management system providers may be influenced to give learners greater access to instructors through real-time chat and other social learning features.
3. Virtual reality and augmented reality -- Augmented reality is an eLearning trend that has been present in the education sector for some time and is now making its way into corporate learning. VR is also becoming more common, with many organizations blending VR and AR into similar initiatives.
"Organizations are now looking at Virtual Reality as an important solution, as eLearning companies use effective Instructional Design strategies to enhance the VR experience...A typical scenario of AR would be a learner wanting to learn more about a device or tool, technology, or a place. Using a QR code, the learner can scan the object and get more information about it," wrote a contributor to eLearning Industry.5 "AR will be used to trigger just-in-time learning."
Many corporations consider on-demand, mobile learning to be one form of just-in-time learning that's valuable for employees who need specific information quickly. Augmented reality could take this type of learning to another level and affect the LMS market.
Related Reading: 3 Top Corporate eLearning Trends of 2018
How will 2019's eLearning Trends Affect Your Business?
Upcoming eLearning trends will impact the 2019 online learning platform market, affecting how technology providers update and enhance their products. That will trickle through into how businesses use their tools and delivery training to different audiences.
For more information on 2019's top eLearning trends, download the Corporate eLearning trends for 2019 white paper.
---
References:
1. Training Magazine. eLearning market to grow at 5% compound annual growth rate from 2017 to 2024. https://trainingmag.com/e-learning-market-grow-5-compound-annual-growth-rate-2017-2024/.
2. Forbes. eLearning climbing to $325 billion by 2025. https://www.forbes.com/sites/tjmccue/2018/07/31/e-learning-climbing-to-325-billion-by-2025-uf-canvas-absorb-schoology-moodle/#2c1e69c23b39.
3. eLearning Learning. Learning system forecasts 2019. http://www.elearninglearning.com/2019/market/?open-article-id=8631441&article-title=learning-system-forecasts-2019&blog-domain=elearninfo247.com&blog-title=elearning-24-7.
4. Clark Quinn. Trends for 2019? https://blog.learnlets.com/2018/11/trends-for-2019/.
5. eLearning Industry. 8 top eLearning trends for 2019. https://elearningindustry.com/elearning-trends-for-2019-8-top.