FOR IMMEDIATE RELEASE
BONITA SPRINGS, FL – December 7, 2015 - Interactyx, the developer of the TOPYX® learning management system (LMS) software, is honored to win the 2015 Brandon Hall Group Excellence Awards in Technology bronze medal for the Best Advance in Learning Management Technology for Compliance Training.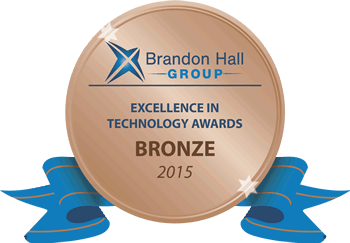 TOPYX LMS was launched in 2009 as a fully-hosted, social learning management system without user, data or implementation fees. TOPYX now has over 20 million potential global users from a diverse range of clients across all industries that include large multinational public and midsize private companies, nonprofits organizations, associations, governmental agencies and educational institutions. Clients choose TOPYX because of its ease of use, engaging peer-to-peer learning tools, outstanding value, robust feature set and dedicated support teams to provide compliance training, external portals, sales training, and other online learning management needs.
A panel of veteran, independent senior industry experts, and Brandon Hall Group senior analysts and executives evaluated the entries based on product innovation, unique differentiators, value proposition and the measurable results attributable to the learning solution. The complete list of the award winners can be found at: http://www.brandonhall.com/excellenceawards/past-winners.html.
"These award-winning solutions were closely evaluated by our judges for not only their innovation, but the real results they brought to the organizations," Brandon Hall Group Chief Executive Officer Mike Cooke said. "That is what makes our technology awards program special – connecting creativity and innovation to direct business results."
"We are honored by this prestigious award from the Brandon Hall Group, recognizing the impact TOPYX LMS has for clients in need of online compliance training solutions, which is part of our standard offering," states Alfred R. Novas, Chief Executive Officer of Interactyx. "Brandon Hall Group has acknowledged TOPYX across several categories over the years, which truly reflects the broad range of TOPYX's capabilities, as reflected by the diverse group of clients that choose TOPYX.
Added Novas, "On behalf of the entire Interactyx team, I'd like to thank everyone involved with this award program at the Brandon Hall Group."
About Brandon Hall Group, Inc.
With more than 10,000 clients globally and 20 years of delivering world class research and advisory services, Brandon Hall Group is the most well-known and established research organization in the performance improvement industry. We conduct research that drives performance, and provides strategic insights for executives and practitioners responsible for growth and business results. Brandon Hall Group has an extensive repository of thought leadership, research and expertise in Learning and Development, Talent Management, Leadership Development, Talent Acquisition and Human Resources. At the core of our offerings is a Membership Program that Empowers Excellence Through Content, Collaboration and Community. Our members have access to research that helps them make the right decisions about people, processes, and systems, combined with research-powered advisory services customized to their needs.
About Interactyx:
Interactyx, the developer of TOPYX Learning Management System (LMS), is a global eLearning software company providing engaging and interactive learning experiences to learners, businesses, associations and nonprofit organizations of any size.
Since 1995, Interactyx has worked with educational programs to develop engaging learning management solutions. Interactyx is at the forefront of developing eLearning and social LMS solutions that engage learners and enhance collaborative learning environments. TOPYX has gained acceptance as an innovative, affordable solution to deliver a complete eLearning software solution meeting the needs of today's learner that is the best value in social learning software.
Interactyx is an Inc. 5000 recognized company for two consecutive years.