The global Learning Management System (LMS) market is expected to grow from $5B in 2016 to $10B in the next five years, according to recent research by MarketsandMarkets. Rising needs in corporate learning and training will help fuel this growth, particularly within the midmarket as management discovers stand alone LMS systems like TOPYX® that can be deployed easily and cost effectively without the need for comprehensive human capital management software investments.
To assess growth forecasts within its own client base, TOPYX conducted a survey and discovered that an astounding 70% of clients anticipated growing their user base significantly within the next 12 months. This survey data points to an important consideration for organizations choosing an LMS provider, and that is the cost of growth.
Unlike other software purchases, a learning management system has the potential to touch every employee within an organization, with its usage crossing all departments and geographical boundaries. As new eLearning initiatives take hold, growth is often inevitable as organizations quickly begin identifying new ways to leverage the system in new departments, across new channels and for other unique purposes.
The cost of this growth can be significant, even cost prohibitive at times, since most LMSs in the market are priced on a usage basis - either through a tiered structure or by seat - leaving the LMS sponsor to seek new budget approvals as costs increase due to an expanding learner base. TOPYX is unique in the industry, providing a comprehensive LMS solution at a fixed price, regardless of usage or bandwidth.
"Since launching TOPYX in 2009, our mission has been to meaningfully encourage the use of TOPYX throughout our client's enterprise so that all potential learners can benefit from our LMS," said Alfred Novas, CEO of Interactyx, the developer of TOPYX. "We are further committed to offering the best possible value to our clients, which means a fully supported, very robust social learning management system at a low flat rate. This model gives our clients the ability to grow their learning initiatives unconditionally, without being penalized with high costs for additional usage."
The resulting value proposition clearly resonates with an impressive portfolio of world leading brands that rely on TOPYX for their LMS needs. These clients were surveyed to assess their LMS growth forecasts and the survey data results are shared below.
Findings 1: 70% of TOPYX clients anticipate growing their LMS user base within the next 12 months. When expanding the timeframe to two years, over 90% anticipate growth.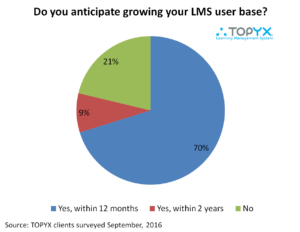 Findings 2: Of those clients that anticipate growth, 65% anticipate adding 500 or more users.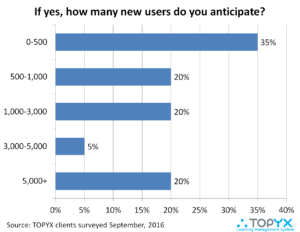 Findings 3: The top two most important LMS features to TOPYX's client base are the platform's ease of use and reporting, reinforcing the importance of the learner in TOPYX's design.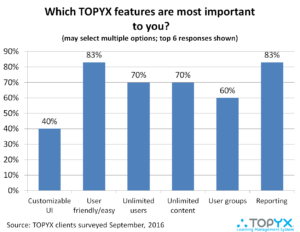 Learn more about the TOPYX social learning management system at https://topyx.com/.
About Interactyx:
Interactyx, the developer of TOPYX (http://topyx.com) learning management system (LMS), is a global eLearning software company providing engaging and interactive learning experiences to learners, businesses, associations and nonprofit organizations of any size.
Since 1995, Interactyx has worked with educational programs to develop engaging learning management solutions. Interactyx is at the forefront of developing eLearning and social LMS solutions that engage learners and enhance collaborative learning environments. TOPYX has gained acceptance as an innovative, affordable solution to deliver a complete eLearning software solution meeting the needs of today's learner that is the best value in social learning software.