Businesses know that employee training is important, but just how much does it matter?
The short answer is: a lot. Your employee training strategy and software is essential to your business's bottom line. Here are four statistics that link your LMS to improved business performance, with benefits coming in the form of higher employee engagement, better customer retention, and larger revenue growth.
1. Only 13 Percent of Employees Worldwide are Engaged¹
For almost 20 years, engagement levels have been stagnant at around 13 percent. That represents a huge loss in revenue for businesses. Why? Because disengaged employees are expensive - they cost you both revenue and customers. In fact, research from Aberdeen found that companies with engaged employees see 233 percent greater customer loyalty and a 26 percent greater annual increase in revenue.² Engaging your employees with an LMS can help you move toward those goals.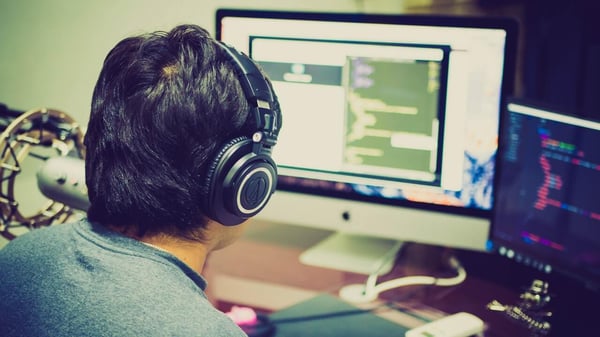 How an LMS Improves Employee Engagement
LMS software improves employee engagement through ongoing training, microlearning, and gamification. Training helps employees learn and be more effective at their jobs, while gamification makes the entire process fun and rewarding. As your employees improve and engage with your LMS content, they'll engage more with your business, which will ultimately translate to better business performance.
2. Disengaged Employees Have an Attrition Rate 12x Higher than Highly Engaged Employees³
Turnover costs the US economy $30.5 billion annually, including business losses due to production interruptions and recruiting new employees.⁴ One HR company estimates that staff turnover can cost up to $2500 per employee.⁵ Use your LMS to cut down on employee attrition through better onboarding, training, and long-term engagement strategies.
How an LMS Improves Employee Retention and Engagement
Your employee engagement is directly linked to how you onboard new employees. One study found that new employees who experience poor onboarding experiences are eight times more likely to be disengaged.³
Your LMS can help by delivering an effective onboarding program that gets all employees started off on the right foot. Start with a standard introductory content to ensure all employees have the same foundation, then offer customized training tailored to each employee's job. Use learning paths to deliver this tailored content, including a combination of written, audio, and video content in each track. By diversifying your content and allowing employees to choose how to learn, you'll increase engagement and help employees retain what they learn.
Related Reading: Does an Online LMS Increase Employees Engagement
3. Forty Percent of Employees Who Receive Poor Training Leave Their Positions Within the First Year⁵
Businesses can't afford to have 40 percent of their workforce leave or deal with chronically disengaged employees. It decreases stability and can cause massive increases in expenses, not to mention the time and effort required to replace employees who haven't even put in a full year. Put the time, effort, and financial investment into creating a great training program from the start so you don't lose employees later.
How an LMS Improves Employee Training
Learning management systems are designed specifically to improve employee training in a highly digital age. They offer mobile learning, multiple content formats to reach different learner types, and learning paths that help you customize training for different roles.
Use your LMS to improve training programs so all employees are prepared for success. New and veteran employees should have access to learning content at all times, so they can continue to look back at important information throughout their career. This will help support employees who need additional time to feel comfortable in their role, leading to increased employee retention.
4. Seventy-One Percent of Millennials Plan to Change Jobs Because of How Companies Develop Their Leadership Skills⁶
The majority of millennials (87 percent) say training and professional development are important in a job,⁷ and 71 percent will leave a job due to leadership development. Since millennials are now the largest generation in the U.S. workforce,⁸ you need to meet their needs in order to keep a stable workforce and avoid high turnover costs.
How an LMS Helps Millennials Grow Professionally
Millennials and following generations are already accustomed to using technology to consume content when they're ready, on whatever device they want. An LMS helps them transfer those habits to professional development so they can grow their skills.
Create LMS courses millennials can access on any device, then organize them into learning paths with certifications and specific outcomes at the end. Onboarding could be one path, while learning specific skills - leadership included - can be in separate paths. Leadership, management, and strategy are all good topics to create courses for here.
As you see your millennial employees completing these courses, step in to help them advance their career. You'll not only increase employee retention, you'll also gain another generation of leadership at your company.
Using an LMS for Training and Development Improves Business Results
Your employees and their training are integral to your business success. In fact, simply hiring top talent can result in a 10 percent increase in productivity, 20 percent increase in sales, 30 percent increase in profitability and a 25 percent decrease in unscheduled absences.⁹
Just imagine what you could achieve if you not only select the top candidates, but use an LMS to give those candidates the best possible training, tailored specifically to your business.
---
References:
¹ https://news.gallup.com/businessjournal/188033/worldwide-employee-engagement-crisis.aspx
² http://aberdeen.com/research/10985/10985-RR-customer-employee-engagement.aspx/content.aspx
³ http://www.marketwired.com/press-release/glint-study-reveals-new-hires-with-poor-onboarding-experiences-are-eight-times-more-2167492.htm
⁴ https://news.gallup.com/businessjournal/188033/worldwide-employee-engagement-crisis.aspx
⁵ https://www.go2hr.ca/training-development/employee-training-is-worth-the-investment
⁶ https://www2.deloitte.com/global/en/pages/about-deloitte/articles/millennialsurvey.html
⁷ https://news.gallup.com/businessjournal/193274/millennials-jobs-development-opportunities.aspx
⁸ http://www.pewresearch.org/fact-tank/2018/04/11/millennials-largest-generation-us-labor-force/
⁹ https://news.gallup.com/businessjournal/189212/attracts-best-employees-company.aspx