Almost 13 percent of jobs in the United States are full-time sales positions, according to the Brevet Group.¹ But it comes as no surprise that companies experience a high level of turnover among their salespeople. Sales is demanding, stressful, and highly performance-based. It's also crucial to business health and growth. That leads to a difficult position where newcomers struggle to succeed and experienced sales professionals can quickly burn out.
As a business, it's your job to alleviate these issues by investing in your sales team and giving them the tools and skills they need to succeed. Creating an effective sales training program can help by teaching your sales professionals how to sell effectively, while also increasing employee engagement and helping reduce turnover.
Why Company Leaders Should Invest in Sales Training
Organizational leaders should not hold back from spending on L&D programs for sales employees. Not only does it help salespeople successfully function within their roles, it also increases employee satisfaction. Training Industry stated,
"A higher investment per salesperson results in a higher level of satisfaction with the training within the organization."²
Since sales is an area notorious for turnover, company leaders should provide ample training to employees who work in this arena.
"There is a minimum of 20% annual turnover in sales." -- Forbes³
There's also a demonstrable impact on sales and revenue by properly trained sales professionals. According to recent research, up to 55 percent of salespeople currently lack even basic sales skills,⁴ and investing in sales training can measurably improve their results. One study found that for every dollar invested in sales training, companies see a $29 return in incremental revenue.⁵
Sales training programs are essential for both revenue and employee retention, with a direct impact on key metrics. If you don't already have a program in place, or have a program that isn't performing, now is the time to do so. Using your LMS to create an effective training program that you can easily distribute to all sales employees is a good place to start.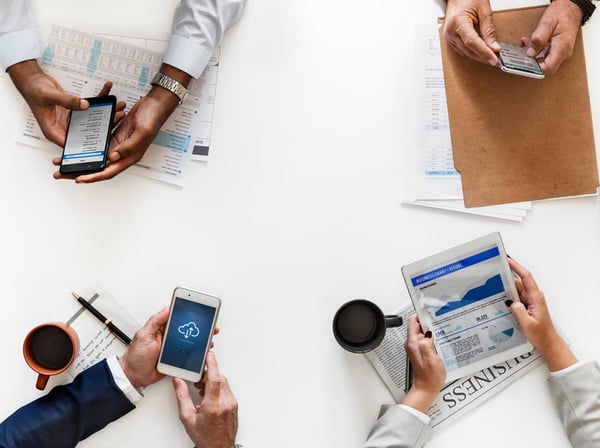 3 Steps to Create a Sales Training Program with a Learning Management System
Investing in your sales team by implementing a learning management system is a smart business move. An LMS distributes, tracks, and reports on sales training, as well as mobilizes training, allowing salespeople to bring in onto the sales floor via mobile device
Here are three steps to help you create a sales training program with an LMS:
1) Determine the skills your employees need -- Many salespeople give up early on in a new job simply because they don't have the skills they need to meet their sales quotas and managers' expectations. You can prevent this by considering what each employee's position will demand of him or her, then customizing an LMS learning path to distribute training that will set the individual up for success.
Some examples of training modules that might be included in a salesperson's learning path include customer service, fundamentals of sales, cold calling, inbound sales, sales management, and leadership.
2) Create training modules that promote resilience and persistence -- "Eighty percent of sales require five follow-up calls after the meeting. Forty-four percent of sales reps give up after one follow-up," wrote a contributor to the Brevet Group.⁶
Most of your new hires won't know that salespeople must be this persistent, but you can educate them by integrating content that promotes resilience and persistence into your sales training program. Use your LMS to create this type of course by pulling content from its content library.
Other options for creating eLearning courses that promote resilience in sales team members include hiring an instructional designer or purchasing the content from a vendor.
You can also leverage the experience of your most successful sales professionals. Ask each of your top performers record a 5-minute video with their top tips for new sales employees or those struggling to connect with prospects. Hearing real experiences from colleagues can jumpstart new hires and help other employees overcome current challenges. If your top sales professionals are willing, you could even create a blended learning program that incorporates in-person mentoring with these staff members as well.
3) Identify training gaps to optimize your content -- A sales training program can always be improved. A great way to better a sales training program is to use LMS reporting and analytics features to discover what is and isn't working. Unboxed Training and Technology stated,
"Track how popular and helpful discussion threads and resources are. Track course ratings and reviews. And merge your LMS data with other business results like VOC scores (Voice of the Customer), sales, revenue, how long it takes to get new employees up to speed, etc. Armed with these analytics, you can identify training gaps."⁷
Once you identify gaps, make improvements in your content so it better services your sales staff. Perform these checks regularly, combining data with feedback from learners so your program evolves over time.
Related Reading: Why an LMS is a Great Sales and Marketing Tool
Increase Employee Engagement and Drive Sales with an LMS
Are your salespeople disengaged at work and with training? Or are you struggling with high turnover within your sales team? If so, you may not be investing enough in your employees via sales training. Implementing a sales training program is a sensible first step in making improvements and increasing employee satisfaction. Leverage your LMS software to make that happen faster, so you can accelerate results.
---
References:
1, 6. Brevet. 21 mind-blowing sales stats. https://blog.thebrevetgroup.com/21-mind-blowing-sales-stats.
2. Training Industry. Sales training: is it worth it? https://trainingindustry.com/magazine/issue/sales-training-is-it-worth-it/.
3. Forbes. Salespeople are burning out faster than ever -- here's why. https://www.forbes.com/sites/christinecomaford/2016/06/18/how-leaders-can-engage-retain-top-sales-talent/#76ce3dd25cbb.
4. Forbes. 6 Tips for Hiring Your Next Sales All-Star. https://www.forbes.com/sites/drewhansen/2012/10/16/6-tips-for-hiring-your-next-sales-all-star/#57ea617c13fa.
5. Summit Recruitment & Search. The myths and fact about sales training. https://www.summitrecruitment-search.com/the-myths-and-fact-about-sales-training/.
7. Unboxed Training and Technology. 8 modern LMS features that drive learner engagement. https://www.unboxedtechnology.com/modern-lms-features/.