BYOD, or bring your own device, is a growing global trend that refers to employees bringing personal devices to their place of employment to complete work activities or functions. Smartphones are most commonly used, but some employees bring their own laptops or tablets to the workplace as well.
A recent report from Syntonic¹ showed that 87% of companies are dependent, to some extent, on employees using personal smartphones to access business applications; and 77% expect that trend to continue.
Benefits of BYOD for Businesses
And as BYOD acceptance spreads, companies are realizing benefits from allowing employees personal devices. One report² showed that using personal devices at work saves employees 58 minutes per day, providing a 34% increase in overall employee productivity. Employees reported that BYOD policies help to increase the speed of innovation (42%), provide more flexibility (41%), and improve the quality of work (35%).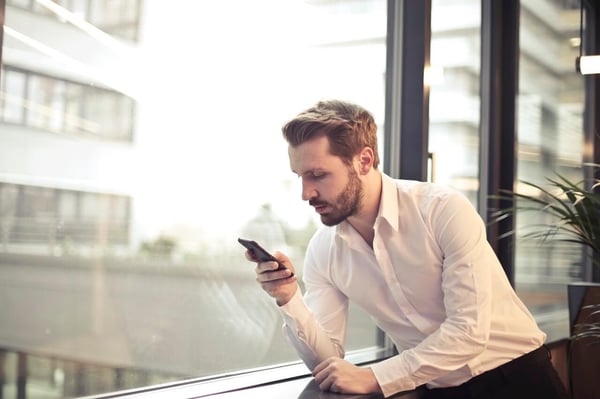 Related Reading: The Link Between BYOD and Increased Productivity
One of the fastest-growing applications of BYOD concepts, however, is in training and development. BYOD can easily be incorporated in L&D strategies if your learning management system (LMS) supports it, but what if it doesn't? Is your company really missing out on anything from a training perspective if you don't incorporate BYOD?
Typically, the answer is: yes. An LMS that supports BYOD will be much more flexible and effective for educating employees, providing many benefits for an organization including:
Increased Employee Satisfaction
Allowing employees to complete training courses on their own device improves satisfaction in two ways: first, it meets the growing expectation – especially among millennials – that applications can be accessed anywhere, anytime. BYOD-supported e-learning makes courses both convenient for learners, and allows it to be completed on the device the learner is most comfortable with.
Higher Employee Engagement
Because BYOD is preferred by learners, it can increase participation in e-learning courses, as well as collaboration and communication between students. Personal devices enable learners to consume a variety of training materials, including multimedia material like videos and images, more easily. The CEO of WorkCast, Inc., for example, noted that his company found an increase in engagement level, from 30% to 60-70%, with employees that use online video learning.³
Better Retention and Synergy
Mobile learning, completed on a learner's preferred device, leads to accessible, repeatable, measurable consumption of training content, with certain platforms providing periodic updates and learning boosts to keep skills updated and fresh.
Also, as mobility in training brings learning into the real world, it makes synergy possible, so that users can easily apply skills and knowledge gained in training to real-world scenarios.
BYOD's Benefits Outweigh Its Challenges
Some organizations hesitate to adopt a bring-your-own-device policy for e-learning, citing concerns with maintaining security and connectivity, and ensuring that courses are compatible on different channels and devices.
However, the challenge of supporting multiple devices is one that companies must increasingly address regardless of BYOD. How many businesses are already reaping the benefits of tablets for mobile workers? And the benefits that can be afforded to businesses that leverage BYOD for mobile learning are substantial.
Related Reading: Easy Ways to Integrate BYOD into Corporate Training
---
References
¹https://syntonic.com/wp-content/uploads/2016/09/Syntonic-2016-BYOD-Usage-in-the-Enterprise.pdf
²https://insights.samsung.com/2016/08/03/employees-say-smartphones-boost-productivity-by-34-percent-frost-sullivan-research/
³https://www.hrdive.com/news/want-a-fresh-approach-to-learning-let-workers-take-it-on-the-go/504187/