To lead their industry, financial services companies must provide results-driven training to employees. There is no replacement for training, and its effect on an organization's bottom line shouldn't be underestimated. "Ad spends and campaigns cannot rival the revenue that can be generated from well-trained and motivated employees," wrote a contributor to Forbes.1
What is Effective Employee Training?
Is your financial services training program effective? Here are a few signs that it is delivering the results your company and employees need:
Employees are happy with training -- Employee engagement with training is a clear sign of a quality L&D program. Employees should actively interact with your training content and feel as though the material prepares them for their job. For example, bank representatives should feel prepared to answer customer questions and provide basic money management advice regarding your institution and its services.
Customers are satisfied -- A great employee training program equips workers to better serve customers, increasing customer loyalty and satisfaction. As stated above, your employees should be able to answer general questions and provide a clear path forward, to a manager or separate department, should customers' questions go beyond their skillset.
Workers are retaining what they're learning -- Knowledge retention, made obvious through an increase in employee skill and competency, is the byproduct of a helpful training program. Banking and core financial services processes should be clear and easy for employees to perform after your training course. Not only will this help employees be more efficient, it will also help your organization in audits and performance evaluations.
Related Reading: 5 Elements of an Effective Employee Training Program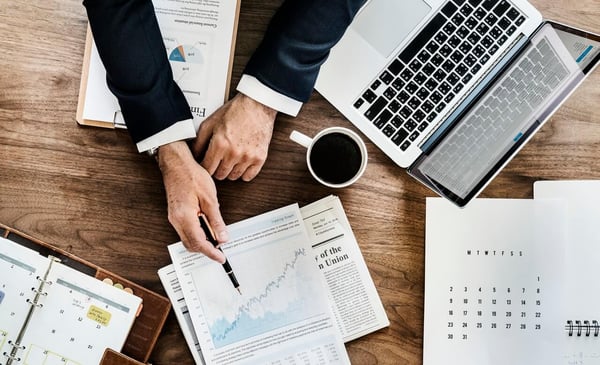 How to Optimize a Financial Services Training Program
Not getting results from your company's training program for finance professionals? Improve it with these tips:
1. Digitize training content -- In-person financial services training is valuable and sometimes the most appropriate option. But making training available online also has a host of benefits for both employee and employer. According to CommLab India2, digital training is:
More cost-effective than traditional training.
Interactive and engaging.
Available across many different devices.
Capable of meeting the needs of different types of learners.
Digital training content is also easier for employees with busy schedules to access and for training managers to update. Changing financial regulations and compliance needs necessitate regular adjustments so employees have the correct information, while busy schedules often leave little time for training. Your institution's employees are more likely to make time for regular training (and getting up to speed on regulatory changes) if you make it easy for them to access content during short breaks, time at home, or in between tasks.
The first step in digitizing the content of an employee training program is choosing a deployment method. A learning management system (LMS) is a go-to resource many companies use to create, deliver, and track employee training.
Alternatively, you can publish training content directly using its own URL, creating a learning portal via an intranet, or creating a password-protected training website.
2. Promote learning in the flow of work -- Eighty percent of learning happens informally, which is why it's important to include aspects of informal learning in a financial services training program. To do this, promote learning in the flow of work.
"Learning in the flow of work," a term that originated with Josh Bersin, founder of Bersin by Deloitte, refers to informal microlearning that takes place while employees are performing job tasks. It is delivered with adaptive or intelligent learning platforms and helps professionals immediately apply new skills on the job. Bersin wrote,
"Employees new to a position or role need macroprograms (e.g., onboarding), but once they get started they need microlearning to remind them of tips, inform them of changes, and keep their skills current."3
For example, an accountant being trained in a new analytics program may take a 5-minute break between clients to read a seasoned accountant's blog about how to resolve problems with the program and use it correctly. Learning in the flow of work can be that simple.
Learning experience platforms and microlearning platforms best support learning in the flow of work. These platforms often include social learning tools that allow workers to communicate with their peers, asking questions, sharing helpful articles, and helping one another solve unexpected problems.
3. Let employees choose their training content -- Giving workers a say in what they are learning can have a significant impact on how engaged they are with a training program. One way to do this is by providing a training stipend for each employee.
"Establish a personnel development fund that gives each employee a set amount of money each year that can be used for any job-related learning activity, such as professional meetings, books, or videos," suggested the American Management Association.4
Getting employees' input when arranging their individualized learning paths will also motivate and engage them. Career pathing can be a helpful precursor to this.
Examples of training content that finance professionals could choose from might include adopting a consultative approach, finding and keeping clients, personalizing financial services, using social media to increase customer reach, and leveraging technology for professional growth.
Find More Ways to Improve Your L&D Program
Competent finance professionals are the direct result of effective training. To optimize training, consider implementing a new learning technology, such as a learning management system, promoting learning in the flow of work, and enabling employees to choose the content of their learning paths.
Related Reading: Best Practices to Create a Best-In-Class Corporate L&D Program
---
References:
1. Forbes. Four elements of effective employee training. https://www.forbes.com/sites/forbesagencycouncil/2018/04/04/four-elements-of-effective-employee-training/#1833cdd51818.
2. CommLab India. Advantages of going digital with your corporate training. https://blog.commlabindia.com/elearning-design/advantages-of-digital-corporate-training.
3. Chief Learning Officer. Learning in the flow of work. https://www.clomedia.com/2018/04/02/learning-flow-work/.
4. American Management Association. 12 ways to make your training program a hit. https://www.amanet.org/training/articles/12-ways-to-make-your-training-program-a-hit.aspx.