LMS software is a significant investment, often requiring a one to three year contract along with hours of work getting the system up and running. The last thing you want is for all that time and money to go to waste because your LMS implementation fails. But it's a real possibility. When insufficient planning goes into a learning management system implementation, it can fail altogether, causing more problems than you bargained for.
Organizational decision makers must know that to get the results they want from an LMS, proper implementation is critical.
"If you don't have a successful implementation period for your new (LMS) software, you could end up wasting a lot of time and money and still not having new software that does the job it was intended for." -- eLearning Industry¹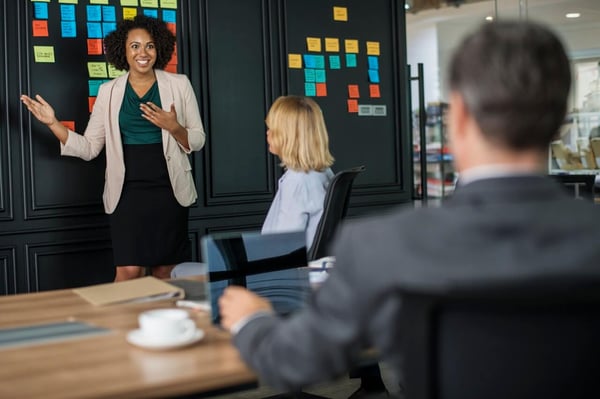 Be Aware of These Obstacles to Proper LMS Implementation
Leaders can insulate their businesses from LMS implementation problems by learning what obstacles complicate the process. For example, a typical reason why LMS implementation fails is because companies choose the wrong eLearning system.
Every organization is different and has unique needs. That's why there is a sea of LMSs on the market. This is both a blessing and a curse in that it gives companies a huge selection of eLearning systems but can make finding the ideal LMS difficult.
Other obstacles to proper LMS implementation include having unrealistic expectations of what an eLearning system should accomplish and failing to train staff in change management.
Ensure a Successful LMS Implementation
With These 3 Tips
Learning management systems are significant financial investments. Make sure your money is well spent and get your software up and running faster with these LMS implementation tips:
Research LMSs before making an investment


Taking the time to thoroughly research learning management systems is the best way to ensure a smooth implementation. Some eLearning systems are more complicated and feature-rich than others. There are also platforms designed for specific industries and a wide variety of LMS prices. With this in mind, define what your company needs from a learning management system before you dive into research. Also, demo any LMS that stands out to you so you know you'll have the tools you need after you implement your LMS.
Set realistic expectations


It's important to understand what an LMS can and can't do. It can improve training, but it can't fix a faulty L&D strategy. "Any LMS is simply a platform and can enhance and improve the way you train your staff but an LMS is not a solution to fix what you train them on. You still have to have a strategy of how you can get most out of your LMS. Strategy first, LMS later," stated Top 10 Reasons Why LMS Implementations Fail

.²
Implement a change management team


Adjusting to an LMS is a huge change for employees. Help them not feel overwhelmed by implementing a change management team to help with the software and data migration. Additionally, train regular staff who will be administering the LMS on a daily basis. These individuals should know the LMS inside-out and be prepared to answer questions about the platform and aid users in navigating it with ease.
Related Reading: How to Do a Learning Management System Comparison
Implementing an LMS Doesn't Have to Be Complicated
The LMS implementation process can easily become dragged out or costly when it isn't planned for in the right way. By taking enough time to research eLearning systems before making a purchase, having reasonable expectations of an LMS and allowing a change management team to oversee the migration, administrators will help ensure a successful LMS implementation.
---
References:
[1] https://elearningindustry.com/lms-implementation-obstacles-avoid-8-top.
[2] https://elearningindustry.com/top-10-reasons-lms-implementation-fail.