LMS learners waste up to 40 percent of their time due to "frustrating experiences" with online courses, per eLearning Industry.1 This statistic indicates that many eLearning courses aren't as effective as they should be, but measuring the effectiveness of each course exactly can be a complex process.
By using a few LMS metrics designed to measure the efficacy of an online learning course, learning management system administrators can determine just how well eLearning is performing and then make necessary adjustments to content.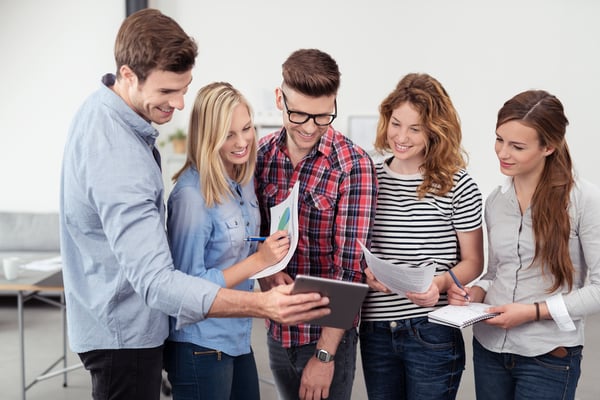 3 Insights Into the Effectiveness of eLearning
When measuring the success of an eLearning course or program, pay attention to these three LMS metrics:

1. Quiz scores -- Quiz scores are the obvious first choice for revealing how well learners are retaining information. However, before you can assess how well employees are retaining course-related knowledge via their quiz scores, you must understand what an average quiz score for your learner base is as well as what score employees need to achieve to be effective. Once you have a grasp on this, you can determine how well an online course is performing.

"As project managers, we need to work closely with our Subject Matter Experts to identify the purpose of testing and accurately determine what a passing score should be," stated eLearning Brothers.2 "Using (the) expertise of an SME will allow you to determine an acceptable passing score."

If the majority of course participants are consistently scoring well on quizzes, there's a good chance the course is fine as is. But if scores are on the low side, you will need to take steps to improve those metrics. A couple ways to do this include updating course content and conducting interviews with employees to find out the root cause of the problem.

Pro Tip: When evaluating quiz scores, don't just focus on the numbers. Dive into the questions as well. Are the questions you're asking too easy? Too hard? Develop questions that hone in on what you want employees to take away from the course, as those are the ones that will most accurately indicate how well your course is performing.

2. Pre- and post-course surveys -- Surveying online course participants is a more personal way to determine eLearning effectiveness and can be invaluable to measuring the course success. Some companies just survey course participants post-course, but this approach isn't as helpful as performing both pre- and post-course surveys.
A training company testing the efficacy of an online college course had good results using the pre- and post-course survey method.3 In their pre-course survey, learners were asked what results they expected to see after completing the course. Results could include expectations such as "getting an internship in this field" or "getting a good score on course exams." Six months after the course wrapped up, the company reached out to learners to find out if their expectations came to pass in a post-course survey. This gave the organization deeper insight into the effectiveness of the eLearning course.

For corporate employees, the expectations of taking an online course may include "gain a new skill or skill set," "get a promotion," or "earn a badge or certification." By distributing pre- and post-course surveys, LMS administrators can assess how successful a course was in helping learners reach their goals.

3. Course completion -- Course completion rate is one of the most common metrics companies use when measuring eLearning efficacy because it provides a wealth of insight into how a course is performing.

For example, when a course is abandoned by one or more learners, LMS reporting and analytics will reveal learner drop-off points. This shows you where the course started losing learners, which can lead to discussions about why employees dropped off. Pinpointing the major reason behind poor completion rates then allows you to take direct action to solve the problem. For example, if learners drop off because they lost interest in the content, you can update material with interactive elements, microlearning, or video to help hold their attention.

Keep in mind that compliance courses must have a 100 percent completion rate. If an employee doesn't complete the course, company leaders should actively locate them to ensure they go through all the necessary material. LMS reporting gives you an immediate, birds-eye view into all employees who are enrolled in online courses - compliance related or not - as well as who has completed each course.
Other LMS Metrics That Measure
eLearning Course Success
The metrics mentioned above are just a small sampling of tools you can use to measure the success of an eLearning course or program. According to eLearning Guild,4 a few other eLearning report metrics to use include:
Fill rates by class, course, program, curriculum, location, or learning methodology.
Courseware utilization rates (available vs. used ratio).
Financial summary (cost-per-course, cost-per-student, cost/benefit).
Learner cancellation rates by class, course, program, curriculum, location, or learning methodology.
Enrolled vs. attended ratio by class, course, program, curriculum, location, or learning methodology.
By using a full suite of metrics, as well as analyzing quiz scores, pre- and post-course surveys, and course completion rates, your business can accurately determine the effectiveness of its eLearning courses.
Already measuring course efficacy but need help making improvements? Check out 3 Ways to Increase the Effectiveness of Online Training Courses with an LMS.
---
References:
1. https://www.efrontlearning.com/blog/2017/11/how-use-training-metrics-measure-effectiveness.html.
2. https://elearningindustry.com/can-measure-learning-effectiveness-of-online-courses-create-positive-roi.
3. http://edtechreview.in/e-learning/3211-5-steps-to-measure-effectiveness-of-an-online-course-or-training.
4. https://www.elearningguild.com/pdf/2/110303mgt-h[1].pdf.