It is the rare workplace that doesn't utilize online learning to some degree. Many companies rely 100 percent on online learning, also referred to as eLearning, to deliver training to their employees. Others use a blended learning model. This model includes both online and in-person training. A high percentage of companies that utilize some type of eLearning do so through a social learning management system (LMS).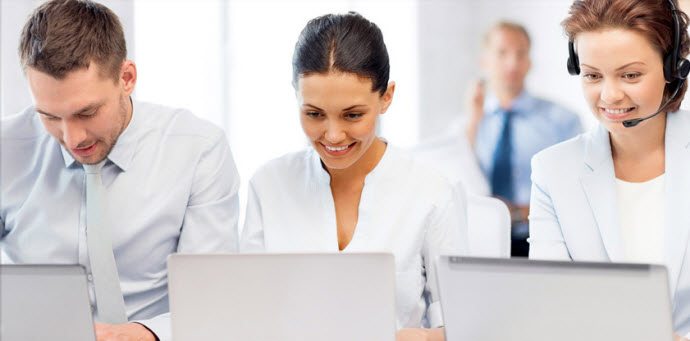 Easy Ways to Engage Employees in Online Training via LMS
Company leaders who use online learning for training purposes are constantly looking for ways to improve their employees' eLearning experiences. Here are a few easy ways to engage employees in online training through an LMS…
Make eLearning as social as possible
Humans crave social interaction. This basic instinct doesn't disappear when we go to work. It's recommended to make eLearning experiences as social as possible. This will keep employees coming back for more. As the nature of a learning management system is social, this task can be simple. For example, full-featured eLearning systems can offer many engaging options. These include calendaring, realtime chat, social media, and video conferencing. These features make learning more fun. They should be taken advantage of and enabled as often as possible.
Use humor and suspense in eLearning content
Administrators who are having trouble keeping employees interested in online training may want to try more engaging strategies. Such as using humor and suspense in their company's eLearning content. In his article 17 Tips to Motivate Adult Learners, Christopher Pappas wrote, "Humor works great even with the most demotivated learners on your course. When your students know you are funny, they will listen to your material carefully. They won't want to miss on your witty sense of humor. You can never lose with that." Speaking of the use of suspense in online learning, he said, "Don't give out everything your course is about in the beginning. Yes, you need an overview, but keep some interesting points until the time is right. No one likes to read a book if they know what's about to happen."
Make use of microlearning
An effective way to engage employees in online training is to feed the training to them in manageable chunks. How to Improve Learner Retention in eLearning Courses and Avoid Drop-Outs says, "A common cause for learner drop-outs is frustration. This may seem like a rather simple challenge that can easily be addressed, but the truth is that frustration can diminish learners' self-confidence and cause them to completely disconnect from the eLearning course, itself. They may begin to feel as though the eLearning course is just too difficult or that they are being overwhelmed by the amount of information they are being given. For this very reason, eLearning professionals should break eLearning courses down into more manageable units that are spread out over time." Since an LMS is designed to allow learners to pace their own learning, it is an ideal tool for facilitating this.
Visually appeal to learners
Visually appealing to learners is another method of increasing both their interest in online training and their chances of interacting with it on a regular basis. Our brains are powerfully impacted by visuals such as infographics, videos, and icons – that's why these things are so vital to learning retention and learner engagement. The article 8 Tips for Creating Effective Microlearning Courses states, "Videos, images, and graphics create a strong impression on the learner's mind, while audio narration helps in retention of information. Provide video control to learners so that they can pause, rewind, and play the video at their convenience. Infographics create a powerful visual impact and help in visualizing and remembering information. Use engaging and visually appealing images to highlight key points of a topic that learners can quickly go through and keep in mind." Additionally, Psychology Today's contributor Haig Kouyoumdjian Ph.D said, "A large body of research indicates that visual cues help us to better retrieve and remember information. The research outcomes on visual learning make complete sense when you consider that our brain is mainly an image processor (much of our sensory cortex is devoted to vision), not a word processor." With these facts in mind, LMS administrators should include as many images as possible in eLearning content.
Is Your Company's LMS Engaging to Employees?
Not all learning management systems have the potential to engage adult learners in the workplace. Only those that have social learning features, allow administrators to design content that is both humorous and suspenseful, and facilitate the integration of visually appealing microlearning into employee training are going to fit the bill. Does your company's eLearning system fit this description? If not, launching a free trial of a full featured, cloud-based LMS may be a great first step toward ensuring that every employee is engaged in the training offered to him or her.