Providing better training experiences for your employees can have far-reaching positive effects on your business. And you can start making improvements with something as simple as utilizing storyboards. This tool communicates the story of an eLearning course, giving course designers a visual concept of what the course should consist of before they start crafting it. This can save training designers time, promote collaboration, and ultimately ensure that learners receive more effective online employee training.
"At their core, storyboards are a set of sequential drawings to tell a story," said a contributor at StoryboardThat. "By breaking a story into linear, bite-sized chunks, it allows the author to focus on each cell separately, without distraction."1
Storyboards are cost-effective, engaging, and can increase the quality of an eLearning course. Best of all, they can be easily created for an L&D team's use.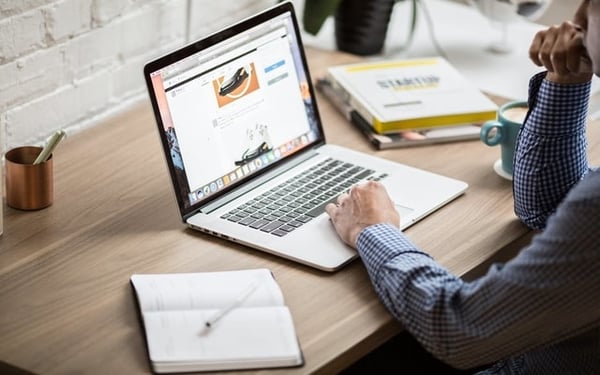 4 Tips for Creating eLearning Storyboards
Here are a few ways you can assemble effective storyboards that will help your learning and development team create the best possible eLearning content:
1. Identify your target audience
The first step in creating a storyboard is pinpointing your primary audience. What group of professionals is going to be looking at the storyboard? Chances are you'll need more than just your L&D staff to review it. Subject matter experts and other professionals within an organization may also need to see the storyboard. Once you know who will be looking at the storyboard, you'll have a better idea of how to craft it.
2. Choose a storyboard type based on the needs of your L&D team
When choosing the type of storyboard you'll create (Word and PowerPoint are two examples of storyboard types), it's critical to consider the needs of your staff. For example, a Word storyboard is ideal for busy employees as it can easily be opened and reviewed. Another scenario is that your training designers are responsible primarily for the graphics of the course. In this case, creating a storyboard in PowerPoint would work best due to the software's features and flexibility.
3. Describe media for the eLearning course in the storyboard
Online courses that get great results usually include at least a couple different types of media, such as videos and animations. Use your storyboard to describe the forms of media you'll include in your eLearning course.
An article on eLearning Industry stated, "Decide upon all the multimedia elements you will incorporate into your eLearning course by including an analytical description of each in the corresponding part of your eLearning storyboard. Be sure to leave room on each screen for visual and audio elements, such as clips, narrations, and interactive scenarios."2
Once you have your eLearning course multimedia elements mapped out on your storyboard, you can begin adding them into the course using your online learning platform.
4. Assess the effectiveness of the storyboard
After designing and implementing a storyboard, it's important to follow up with both training designers as well as learners who took the course created from the storyboard. An easy way to do this is by distributing surveys to both parties.
Surveying learners, as well as your L&D team, is the best way to get the feedback you need to tweak future storyboards or decide if storyboards are right for your training design team. L&D staff surveys will give you an idea of whether or not the storyboard was helpful in the creation of the online course. Learner surveys will give you an inside look at whether or not the course created from the storyboard was considered by learners to be more engaging than past courses.
Find More Ways to Optimize eLearning
There are many ways to ensure a better eLearning experience for your employees. Creating storyboards that training designers can use to craft higher-quality training is just one. Others include adding microlearning, pre- and post-training assessments, and a greater variety of multimedia content to your employee training program.
For more information on additional ways you can optimize eLearning, read our blog post, "5 Elements of an Effective Employee Training Program." Or if you would like to learn more about how the TOPYX LMS can transform your business, request a personalized demo.
---
References:
1. https://www.storyboardthat.com/blog/e/what-is-a-storyboard
2. https://elearningindustry.com/12-tips-to-create-effective-elearning-storyboards