Healthcare companies are experiencing gaps in employees' skills that's hurting performance. For example, a study conducted by the Studer Group indicated that 8 percent of hospital staff are underperforming due to a lack of soft skills such as collaboration.1 New physicians are in need business skills, per NEJM Catalyst.2 And some nurses believe that skills related to end-of-life care are under-utilized, stated NCBI.3
The healthcare skills gap hurts everyone involved. Patients have a less than optimal experience, healthcare workers may experience trouble working with colleagues or growing professionally, and healthcare organizations perform at a lower level.
To solve the problem, many healthcare organizations are using learning management systems to upskill healthcare employees. By taking advantage of certain LMS features, healthcare companies can optimize training to close skills gaps.
3 Tips for Upskilling Employees with Online Healthcare Training
Healthcare companies can upskill employees and improve training by using an LMS in the following ways:
1. Identify the skills employees lack -- The first step to closing a skills gap is pinpointing what skills employees are missing. While every organization is different, there are some definite trends in the area of healthcare-specific skills gaps. According to Healthcare Informatics3, a significant amount of healthcare workers are lacking common skills. They include but are not limited to:
Strategy (55 percent gap)
Program management (39 percent gap)
Project management (39 percent gap)
Clinical trials (22 percent gap)
To determine your employees' deficiencies, distribute staff assessments designed to help your organization understand workers' current skill sets and their confidence in them. Polling patients about their experiences with staff may also prove helpful in recognizing soft skills, such as bedside manner, that workers need to improve. An extended enterprise LMS can provide social learning features that you can use to poll patients and/or employees to identify skills gaps.
2. Personalize training based on learners' needs -- Customization is a vital aspect of a healthcare training program that upskills employees effectively. A contributor to Axonify4 wrote,
"Every employee's learning style and level of expertise is unique, and so are their knowledge gaps. Personalization is key in reducing these gaps."
Find out how each employee learns best with LMS reporting and analytics. Learning management system reports, based on real-time data, track learner performance, activity, and progress, and help company leaders measure the efficacy of training. You can also use polls to ask employees how they learn best - some may prefer video training, while others want a combination of written documentation and on-the-job training.
Insights derived from LMS analytics provide information necessary for customizing healthcare training. This information helps administrators make changes to employees' learning paths based on their individual needs made evident through advanced reporting.
3. Offer onboarding and continuing education that prepares workers for the future -- What competencies will your healthcare staff need in the future for their personal success and that of your organization? Discovering this through eLearning assessments and industry research can help your organization design onboarding and ongoing professional development programs that will narrow current skills deficiencies and help prevent new ones from developing.
To get ahead of potential future skills gaps, healthcare organizations should consider educating staff on emerging trends such as home remedies, wearable devices, and self-diagnosis. Keep in mind that educating your staff doesn't mean you necessarily need to promote these trends (self-diagnosis is often problematic), but it will help your staff deal with the issues that they bring up.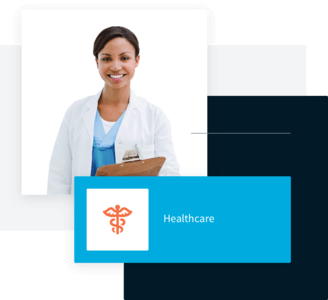 Additional Ways an LMS Benefits Healthcare Organizations
For a healthcare company, the capabilities of an LMS go beyond providing training that upskills employees. For example, Healthcare Training says a learning management system can lower the cost of training, increase compliance, and ensure better care for patients.
If you'd like to implement an LMS but are not sure where to start, read The Top 5 Things to Look for in a Healthcare LMS Solution.
---
References:
1. Select International. 8% of hospital staff are underperforming. http://www.selectinternational.com/healthcare-hiring-blog/8-of-hospital-staff-are-underperforming-how-to-improve-quality-in-healthcare-staff/.
2. NEJM Catalyst. New physicians will need business school skills. https://catalyst.nejm.org/new-physicians-need-business-school-skills/.
3. NCBI. Nurses' identification of important yet under-utilized end-of-life care skills for patients with life-limiting or terminal illnesses. https://www.ncbi.nlm.nih.gov/pmc/articles/PMC2938887/.
4. Healthcare Informatics. Closing the healthcare industry's skills gaps. https://www.healthcare-informatics.com/article/leadership/closing-healthcare-industry-s-skills-gaps.
5. Axonify. 7 strategies for reducing employee knowledge gaps. https://axonify.com/blog/7-strategies-for-reducing-employee-knowledge-gaps/.