Companies like Ellie May, Amazon, Lending Tree, and Payware Software all have one thing in common: These companies are growing quickly.¹ A company doesn't have to make it onto the Fortune list to be considered fast-growing. While companies such as these usually earn impressive income, they can also encounter unique problems. One unique problem encountered is how to go about employee training for fast growing companies. According to Fortune, a few of those problems include²:
Cash flow issues

Retaining top talent
Pressure to depend on large clients
Lack of work-life balance for company leaders and employees
Balancing the use of capital with hiring the right talent at the right time
Establishing and maintaining healthy company culture
In addition to the above issues, fast-growing companies face training-related problems that hinder growth as well as cash flow.
Fast-Growing Companies Face an Employee Training Problem
Of all the problems fast-growing companies face, the most serious one may have to do with employee training. Todd Palmer, Owner and President of Diversified Industrial Staffing, said,
"The biggest challenge faced by fast-growing companies is a lack of employees with the skill sets needed to continue to drive revenue. The public school system in America is failing miserably to build the next generation of working professionals at a rate to match businesses' needs. Combine this lack of homegrown talent with the visa challenges to bring in skilled talent from outside the U.S., and American small businesses are battling for talent on a daily basis."³
Some fast-growing companies lack employees with the skill sets needed to continually drive revenue. This is a training problem. The solution to this dilemma is simple: Train employees consistently to ensure they own the skills needed to consistently drive revenue.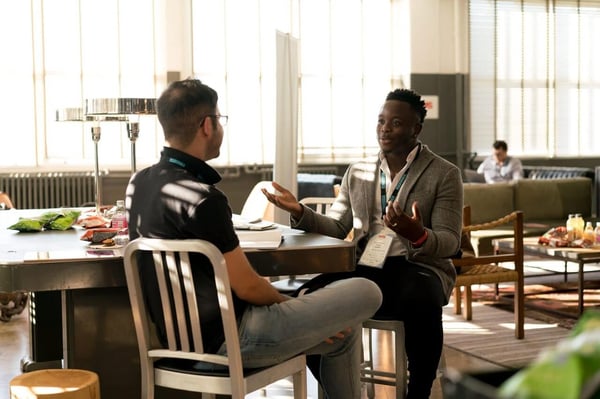 Why Booming Businesses Should Standardize Training
Training is important for all sizes and types of organizations. In the case of a fast-growing business, quality, ongoing training is especially important. This is because booming businesses are often onboarding new hires at a rapid pace. Bringing new hires on board without effectively training them can cause or exacerbate the problems listed above. Employee training for fast growing companies is an issue that is becoming more prevalent.
To be effective, training in a fast-growing company must be standardized to a degree. In some cases, standardized training is a key to maintaining the continuity and integrity of company culture. Leaders of various fast-growing companies are finding that eLearning technologies such as learning management systems can be efficient solutions to employee training problems.
Related Reading: 3 Ways to Optimize Onboarding with Your LMS Program
The Solution to the Employee Training Problem: an LMS
A learning management system (LMS) can be part of the solution to fast-growing companies' training problems. An LMS delivers, tracks, and reports on employee training, streamlining the training process and giving workers constant access to training via mobile device. It also standardizes training while at the same time allowing for personalization of employee learning paths.
The answers to all your questions about what an LMS is and how it can benefit you.
---
References
1.Fortune. Fortune's 100 Fast-Growing Companies of 2017. http://fortune.com/100-fastest-growing-companies/.
2, 3. Fortune. 12 challenges faced by the fastest-growing companies. https://www.forbes.com/sites/johnhall/2013/11/03/12-challenges-faced-by-the-fastest-growing-companies/#33827659657e.