The most exceptional eLearning software increases company productivity, streamlines your budget, and ensures training efficiencies – while the wrong one can cost you untold time, money, and employee resources.
Here are the six most important qualities to consider when evaluating your learning management system (LMS) options, to ensure that you select the right one for your organization:
1. Upfront pricing. It's rare – but not unheard of – to find a learning management system with upfront pricing. However, it should be a non-negotiable feature. Flat rate pricing ensures that prices don't change as your company grows, simplifying budgeting and eliminating the risk of surprise costs.
2. Data tracking. Most LMS offer different levels of data tracking and analysis. Some feature basic user data, while others provide performance data and other key metrics. Access to in-depth analytics and granular demographic data (such as who your learners are, how they access your courses, and how long it takes to complete a training) is a worthwhile investment because it increases your understanding of your business.
3. Ease of use. Is the software intuitive? Simple to use? Your managers and employees will (ideally) be engaging with this system on a regular, if not daily, basis. The goal is to find an LMS that allows them to create content and complete training with ease.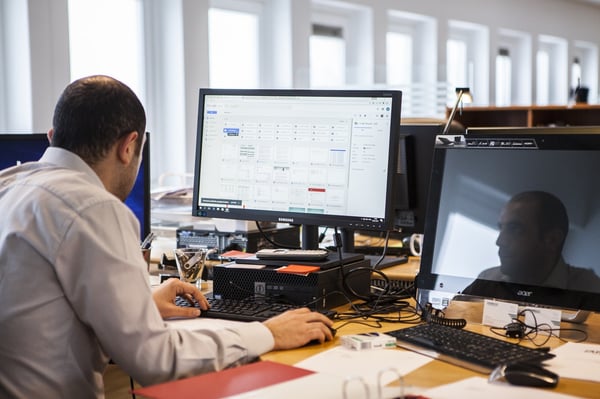 4. Scalability. The ideal LMS can scale according to your needs. If you suddenly have to create additional materials for a major project or industry-wide compliance changes, a scalable tool lets you do so quickly. It can grow as your company does to prepare you in case any unforeseen circumstances arise.
5. Support and service. Dedicated phone, chat, and email support, as well as a plethora of FAQs, are vital. These features ensure that your learners can quickly get their questions answered and resume engagement with the LMS.
6. Creative control. The best eLearning software gives you control over color palettes, fonts, and logo placement – so that you maintain brand consistency. With the right system, you will have the final say in regards to what your content looks like and how your employees interact with your trainings. Following these six tips can guide you in selecting the best eLearning software for your company's needs – saving you time, money, and resources in the process. Once you've narrowed your search down to a few options, we recommend asking your final contenders for a demo of their tool, as there is no substitute for a hands-on evaluation. To learn more about TOPYX, a robust LMS solution, request a demo today.