Onboarding is a hot topic this year. "As we enter into 2023, strategic employee onboarding will be a key focus for many organizations," an article by Sapling stated.1 Companies (that) invest in improving the onboarding experience are more likely to see key benefits, such as increased engagement levels, decreased time to proficiency, and decreased turnover."
From increased retention to better revenue, there are many benefits to onboarding. No organization can afford to not have a formal onboarding program. But before creating an onboarding program, company leaders should become aware of some of the current statistics related to onboarding. This will help them deliver onboarding programs that are more effective.
Onboarding Statistics to Know About in 2023
Are you current with today's corporate onboarding statistics? Here are a few stats you need to know about, derived from the article 10 Employee Onboarding Statistics You Must Know in 2022 2: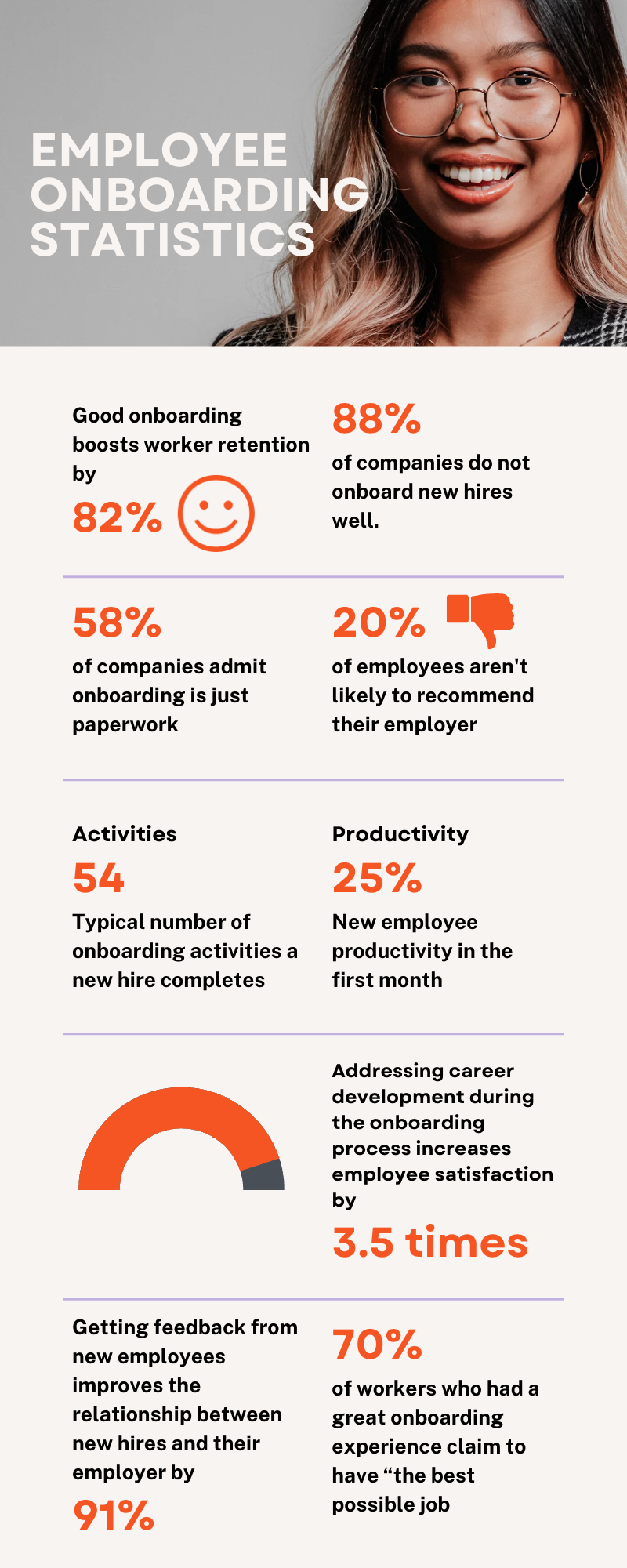 Good onboarding boosts worker retention by 82%

88% percent of companies do not onboard new hires well

58% percent of organizations admit their onboarding program is primarily focused on paperwork and processes

20% of new employees aren't very likely to recommend their employer to others

The typical onboarding experience consists of 54 activities

New employee productivity is around 25% during the first month on the job

Addressing career development during the onboarding process increases employee satisfaction by 3.5 times

Getting feedback from new employees improves the relationship between new hires and their employer by 91%

70% percent of workers who had a great onboarding experience claim to have "the best possible job"
Now that you've caught up on current stats related to onboarding, you know that too many new hires are dissatisfied with their onboarding experience. You also know that when new hires have a good onboarding experience, both they and their employer benefit. Read on to find out how to deliver an exceptional remote onboarding program.
5 Foolproof Tips for Successfully Onboarding Remote Employees
It is essential that remote workers get onboarded effectively. They are more vulnerable to experiencing bad onboarding than in-person employees since they are solely interacting with their new managers and peers digitally, as well as participating in training digitally. A few simple practices can help ensure remote onboarding programs are engaging for new hires.
1) Space online paperwork out
As mentioned earlier, 58% of organizations admit their onboarding program is primarily focused on paperwork and processes, not training. While it's inevitable that a company will need paperwork filled out during onboarding, it's essential that administrators design the onboarding program in a way that doesn't overwhelm new hires with online forms and e-signatures.
One way to space online paperwork out is to insert an engaging activity between online forms. For example, administrators could place a short video explaining the company's mission statement or a blog post between online paperwork to give new hires a break from it and make their experience more enjoyable.
Administrators could also think about cutting out nonessential online forms/paperwork or making the process of filling it out less tedious. Is there a form that isn't 100% necessary? Are there forms that can be consolidated into one? Making little changes can make a big difference in how a new hire feels about your company and their job, so keep online paperwork as stress-free as possible.
2) Assign each new hire a welcome buddy
Being a new employee, even when working remotely, is tough. No one likes being the new person at work. Make things less awkward and more fun by assigning each new employee a welcome buddy to make their onboarding experience more enriching.
"...we recommend partnering up one employee with your new hire using the buddy system," stated an article by We Work Remotely.3 "This one person will be their designated, go-to employee to 'show them the ropes' and be there if they get stuck. They'll feel less confused about where to ask for help and more comfortable knowing they always have someone to talk to."
The article suggested assigning the new hire a welcome buddy that they will be working with in the future. Ideally, both employees should regularly check in with each other on a set schedule via email or another form of communication that doesn't have to take place in real time. "This will help everyone balance their tasks with reaching out (and not overwhelm either employee)," the article stated.
With a welcome buddy they can easily connect with, new hires are more likely to have a remote onboarding experience that is positive.
3) Explain company culture to new hires from day one
Feeling left out is no fun, especially when you are working and training from home, and sometimes onboarding can leave new hires feeling lonelier and more anxious than they were before. This can happen when company culture is not explained to new employees during the onboarding process.
"Many organizations rely on organic ways of communicating shared history and norms," stated an article by the Harvard Business Review.4 "Whether virtually or not, memorializing a company's history in videos, in the 'about us' section of your website, and in documents can help accelerate a process that might otherwise take longer to capture over a series of many interactions with longstanding members of the organization."
The article encouraged company leaders to provide direct guidance around dress code, messaging norms, the company's level of formality, working hours, and virtual etiquette for web conferences. "Don't leave new employees to guess at these issues; doing so can create ambiguity and stress," the article explained.
Also, having a welcome buddy will help new hires understand company culture, feel less isolated, and acclimate more quickly to the organization.
4) Set up easy-to-use technology
Without the right technology, it is impossible to onboard employees remotely. Instead of piecing together technology to deliver a satisfying onboarding program, it is more expedient to use an online learning platform, which is basically a one-stop shop for new hires being onboarded. An online learning platform like TOPYX LMS is perfect for onboarding because of built-in features like learning paths, which are ideal for delivering onboarding programs and role-based training.
With online learning path functionality in TOPYX LMS, you can create a sequential order of delivery for onboarding materials. The course/material sequence can also be allocated to select users or user groups. You can set eligibility requirements for more advanced courses or modules within an onboarding program using this feature. More advanced courses become available only after users finish previous courses or materials. Also, users/new hires can only access content assigned to their online learning path.
Other online learning platform features that make onboarding easier include mobile learning, LMS reporting, and social learning. Social learning in particular can make remote onboarding feel less isolating by connecting new hires with their peers and supervisors via webinar, email, real-time chat, forums, and online communities.
With easy-to-use technology like an LMS, new hires will find the onboarding process more streamlined, organized, and enjoyable.
5) Personalize each new hire's onboarding experience
Personalized onboarding tends to be more effective than a one-size-fits-all onboarding program. Thankfully, onboarding programs can easily be tailored to meet the needs of individual learners.
One way to personalize onboarding is to use the learning paths feature, discussed earlier, in your online learning platform to customize a new hire's experience. Another is to let new hires learn at their own pace instead of having them adhere to a rigid schedule. In the article 6 Steps to a Great Remote Onboarding Process,5 360 Learning quoted Raphaël Moutard, Senior Engineer at Spendesk:
"'The best thing to show a new learner you care, especially when working remotely, is to give them time to absorb information, and to stay flexible…. Not everyone's situation is the same, and your onboarding process needs to reflect that.'"
Practically, this looks like customizing onboarding content and providing a lot of flexibility to each new employee.
Optimize Your Remote Onboarding Program with an LMS
Did you know that your company can optimize onboarding with an LMS like TOPYX online learning platform? Using an LMS not only allows you to create, deliver, track, and report on onboarding - it also enables you to leverage onboarding to get better business results.
Good remote onboarding practices promote employee retention, boost revenue, and improve employee and customer satisfaction. With TOPYX online learning platform, administrators can create and deploy onboarding programs that get the results they want.
Interested in offering better remote onboarding to your employees? Request a free LMS demo of TOPYX online learning platform.
References:
1, 2) Sapling. https://www.saplinghr.com/10-employee-onboarding-statistics-you-must-know-in-2022.
3) We Work Remotely. https://weworkremotely.com/6-best-practices-for-your-new-virtual-onboarding-process.
4) Harvard Business Review. https://hbr.org/2021/05/how-to-set-up-a-remote-employee-for-success-on-day-one.
5) 360 Learning. https://360learning.com/blog/remote-onboarding-process-steps/.