Of all learning management system features, LMS reporting is the most effective at helping administrators refine training to drive business results. LMS reports can also help companies calculate an accurate ROI for training, spot problems early on in a training program and give facilitators and learners helpful feedback.
What many L&D and business professionals may not know is that LMS reports can provide insights above and beyond the employee training sphere.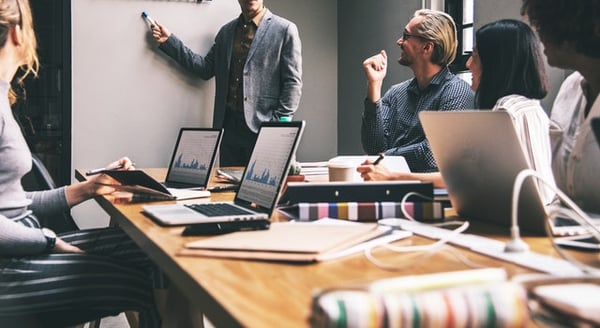 4 Unusual Ways Businesses Can Use LMS Reports
Here are a few facts you may be unaware of concerning learning management system reporting and analytics:

1. LMS reports can be used to find future company leaders -- Looking for employees to promote? LMS reports can be used to help you find qualified internal talent to move into management positions.

"Using course engagement data, managers can determine which employees are the most highly engaged with optional professional development content," stated eFront Learning.¹ "What courses are they taking? Do they have an increased interest in a particular area? Are they developing a skill set outside their normal job requirements?"

You can use this data to identify employees who are ambitious and have the skills and personal drive needed to assume leadership responsibilities.
2. LMS reports display a wide array of metrics that can indicate company-wide trends -- LMSs are extremely versatile. This is made evident in their robust reporting capabilities. For example, an eLearning system can report on more types of data than you may be aware of, including:
eLearning course quality
Learner participation, completion and performance rates
Online training certification tracking
Learner satisfaction ratings
Online assessment results
Course overviews
Online trainer approval ratings
LMS reports are designed to give you deep insights into every facet of training and its effect upon learners, which can indicate wider trends within your workforce. For example, consistently low learner satisfaction ratings may be an early indication of overall dissatisfaction in your workforce. Start measuring employee satisfaction with their positions, their managers, and their advancement opportunities by sending out anonymous email surveys. If dissatisfaction is common, your business may be facing high turnover and low ratings on sites like Glassdoor that are impacting your talent pool and HR costs.

Use LMS reporting as an early warning sign into negative workforce trends and identify opportunity areas. By making improvements to training and job positions that increase employee satisfaction, you could decrease turnover costs and increase the skillset of your workforce, for instance.

3. LMS reports give learners and managers more control over their advancement through access to personal data -- Learning management system reports aren't always one-sided. Some not only give administrators access to vital data, but also give learners access to report cards, transcripts and competencies.

Finding out how well they are doing in a course can be exciting for learners, driving engagement and encouraging continued participation. On the other hand, simply being aware that their performance is sub-par can be enough to light a fire under other learners. By giving your employees access to their information, you empower them to take control over their career and personal development. Not only does this help you pick out ambitious future leaders as mentioned above, it also encourages employees to engage and retain ownership over their position and performance.

4. LMS reports help employees and managers choose how they develop professionally -- Modern LMS reports give companies feedback from individual learners. Managers can use this data to identify individual strengths and weaknesses, shaping and individualizing learning paths to include courses that lead employees down the best career path for them. They can also empower learners by making the data visible to them. A contributor to eLearning Industry wrote,

"Today, LMS reporting features often include individual-level feedback that helps learners figure out what their strengths are and where their development areas lie. For example, a report might summarize the certificates and badges a learner has earned during a training course. This encourages learners to continue learning, as well as to practice their strengths in the workplace."²

The biggest advantage here is that LMS reports can help you place skilled employees in the right positions. For example, LMS reports may show that a recent college graduate who enters your company as a customer service representative has strong sales skills. Managers can then nurture that employee with additional sales training courses, helping them transition to a professional sales position that fully leverages their skills. The employee will likely be more fulfilled in their new position, and your company retains a valuable employee.

Similarly, employees engaging in eLearning may find subjects they're interested in and want to pursue further. A discussion with management can help create a custom career path that benefits the employee and your company.

Related Reading: Are You Missing Crucial Insights from Your LMS Reports?
Are You Satisfied with Your LMS's Reporting Features?
Some LMS reporting features outshine others. It may be time to switch to a new learning management system if your current LMS reports aren't:
Giving you clear insights into learner performance, engagement and participation that indicate company-wide.
Providing feedback at an individual level that helps employees and managers identify potential career paths.
Giving learners access to data that promotes engagement and ownership over professional development.
Helping you find internal candidates for management positions.
---
References:

1. eFront Learning. 3 things to look for in your LMS reports. https://www.efrontlearning.com/blog/2017/06/3-things-look-lms-reports.html.

2. eLearning Industry. How to use reports to help learners commit to training. https://elearningindustry.com/how-lms-reports-boost-learner-engagement.