No one knows exactly when the COVID-19 lockdown will end and when employees will be allowed to return to the office. While many companies have begun the process of reopening, others are still closed or are operating at a lower capacity than they are used to. The good news is that the coronavirus lockdown won't last forever. And as the virus becomes better-controlled, an increasing number of businesses will reopen. During the waiting game, organizations can implement a few tips to prepare for their employees' return to the workplace.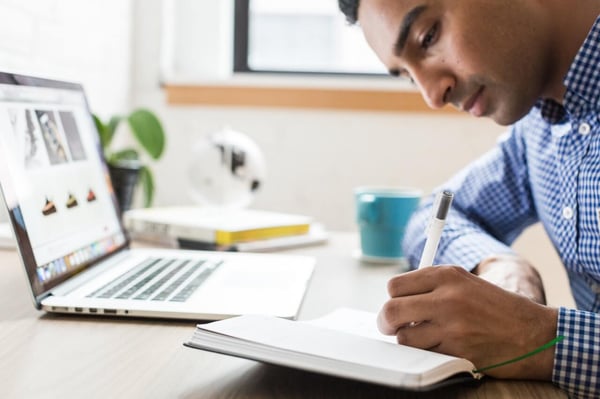 3 ways to put your workers first
before the end of lockdown
No one knows when exactly the COVID-19 lockdown will fully come to an end. "Now is the time to show your people just how important they are to your business, to your mission, to your customers, and to the community," according to Recruiter.com.1 Here are a few practical ways to put your workers first while preparing for the end of the lockdown:
1. Upskill employees through remote eLearning

There are many downsides to slow business, including less revenue. The vast majority of organizations affected by the coronavirus have experienced this. However, when business is slow, companies have a unique opportunity to upskill their employees and close any existing skills gaps.
Skills gaps can be very detrimental to a company. They often reduce productivity and lower business income. Using a learning management system, companies can deliver remote training to workers no matter where they are currently located. This training can be targeted to narrow skills gaps so that employees are prepared to perform at a higher level when the coronavirus lockdown ends.
Before you begin upskilling your employees, assess them to see what their strengths and weaknesses are. By analyzing where employees are at currently, you can identify areas of growth and then implement an online training program using an eLearning system. Use your LMS's built-in tools, such as assessments, surveys, and LMS reporting, to determine where employees currently stand concerning both technical skills as well as soft skills.
Related Content: 4 Simple Ways to Increase Employee Engagement within a Remote Workforce
2. Create a workplace health and safety policy

Workplace health and safety has never been more critical than it is now. "Maslow's hierarchy of needs provides a nice guideline for the topics leaders should keep addressing: basic needs come first," explained Recruiter.com.2 "Health and safety are paramount, especially as employees begin reporting back to work and customers return. Remember, virus protection at work affects (not) just employees themselves, but also their families."
One way companies can prepare for business to safely resume is by creating a workplace health and safety policy that is readily accessible online. Policies should be unique to each company and give both company leaders as well as employees instructions about how to practically implement new safety standards. Explain your company's policy in a compliance course designed for employees who will be returning to the workplace once the COVID-19 lockdown has ended. Compliance courses can be easily managed with an eLearning system's certifications feature.
Related Content: 4 Tips to Make Online Employee Training More Effective for Remote Workers

3. Open the lines of communication

Amid a global health crisis, communication between employer and employee is more critical than ever. For some companies, changes are being made on a day-by-day basis, and company leaders must keep every employee in the loop. "A crisis, whether a natural disaster, a corporate meltdown or the outbreak of a disease affects employee morale," stated Workforce.com.3 "Effective communication can still bind your team together even during times of uncertainty."
You can use LMS social learning tools such as real-time chat, video conferencing, online learning communities, peer-to-peer learning, and forums to open the lines of communication and promote employee engagement before the lockdown ends. Moreover, these tools will help keep communication strong during an employee's critical transition back to work, and throughout the coronavirus pandemic.
Prepare for employees' return to work
by launching an LMS
Most companies have already begun the process of having employees return to work. Still, many organizations won't be back to business as usual for months. You can prepare for your employees' eventual return work by launching a learning management system that enables you to quickly and effectively upskill workers, create a workplace health and safety policy and deliver it via online compliance course, and strengthen communication before the COVID-19 lockdown ends. Check out the TOPYX Quick Start Program to learn how you can deploy an LMS in just days.
---
Sources:
1. https://www.recruiter.com/i/poll-reveals-what-business-leaders-must-do-before-the-lockdowns-end/
2. https://www.recruiter.com/i/poll-reveals-what-business-leaders-must-do-before-the-lockdowns-end/
3. https://www.workforce.com/news/how-to-strengthen-workforce-communications-during-the-covid-19-crisis