Good communication is critical to the success of a corporate eLearning program. Without clear communication between instructors and learners, an online learning program risks failing to transfer usable skills and information to employees.
When communication is fuzzy, learners may feel isolated and confused as to where to go with questions. Avoid these problems and optimize your eLearning program by utilizing LMS features that open up the lines of communication between employees and administrators.
LMS Features that Improve Communication Between Online Instructors and Employees
Communication cues that translate easily in a classroom, such as body language, don't always come through in an online setting. Here are a few examples of how to promote communication with your learners, and what LMS features to use:
Build online communities to promote connectedness -- Virtual instructors can improve communication with learners by creating an online learning community in which learning management system users feel comfortable sharing their thoughts with administrators and others. Create a sense of community by enabling forums, putting together a Facebook page for course participants, and encouraging learners to share their insights and questions.
"Fostering a sense of community in online classes will make the learning experience more meaningful for online students and help them stay connected during the life of the course. Learning management systems (LMS) have built-in tools to assist in communicating with your online students," stated PB Pressbooks.¹
Make help available to learners through social learning tools -- To keep lines of communication open and seem approachable to learners, have set times that HR staff or LMS administrators will be available to answer questions. Even half-hour periods of availability will help.
There are several LMS features that can be used to communicate with learners about their concerns, including social learning tools such as live chat and video conferencing. Live chat is helpful when an employee needs quick answers, and web conferencing encourages comprehension by allowing learners to observe individuals' facial expressions as they provide explanations.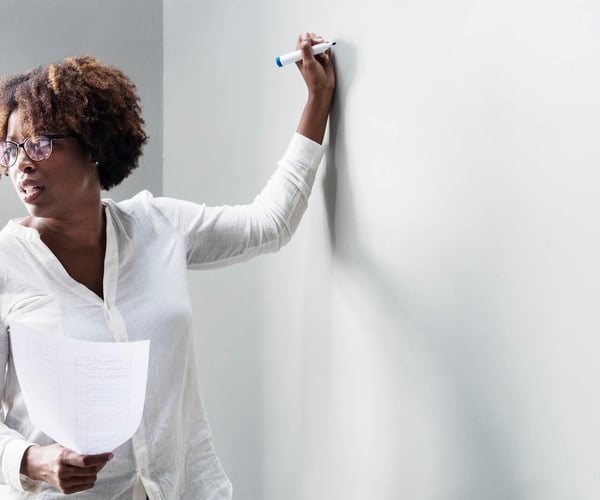 Assess learner comprehension using reporting tools -- Live instructors have the advantage of immediately assessing whether or not students are comprehending the concepts being presented to them. Virtual instructors don't, but they can make up for this deficiency by using

LMS reporting tools

.
"The eLearning process is a little different (than the in-person learning process) because instructors do not have a way to alter the course content to enable better communication of it. It is a closed process. Because of this, they have to build a way to assess a learner's understanding and provide meaningful feedback," wrote a contributor to the Rapid eLearning Blog.²
The way to assess LMS user understanding of training is by analyzing learner progress reports generated by the learning management system. Reporting tools give you an inside look at how your participants are doing, where they need to improve, and how you can best communicate with them.
Related Reading: 4 Ways a Social Learning Management System Can Improve Communication.
What LMS Features Improve Communication in Your eLearning Courses?
These LMS features not only promote instructor-learner communication, but also peer-to-peer communication, which leads to knowledge sharing and a robust learning culture. When evaluating an online learning platform it's important that you find a solution that fits your specific needs. We've created a tool that will allow you to find the best solution for your organization. Download it below.
---
References:
PB Pressbooks. Let's talk: effectively communicating with your online students -- humanizing online teaching and learning. https://humanmooc.pressbooks.com/chapter/lets-talk-effectively-communicating-with-your-online-students/.
The Rapid eLearning Blog. How do you communicate with your eLearners? https://blogs.articulate.com/rapid-elearning/how-do-you-communicate-with-your-e-learners/.